SourceBased on Business Listings, Vetted Biz requires Businesses for Sale to share financial information on sales and earnings through credible sources, including but not limited to Tax Returns, Accounting Software, Point of Sale Software, etc….: 2020 Super Green Solutions Financial Disclosure Document (FDD)
What is Super Green Solutions?
A Super Green Solutions Business provides a long-term, holistic solution to the energy needs and sustainability goals of businesses and commercial and residential property owners by offering sustainability advisory services; energy auditing; sustainability planning; energy efficient products which both lower energy bills and the carbon footprint of its customers. The previously mentioned products include solar power, efficient water heating systems, atmospheric water filters, window inserts for sound mitigation, skylighting and natural lighting systems, LED and other efficient lighting, ventilation, weatherization, and insulation, energy management and climate control systems. In addition to selling these products, your SuperGreen Solutions Business can conduct an energy assessment; advise the client on a sustainability program; develop the enhancements plan; coordinate the design, construction and installation of these products at the customer's location; and promote the client's status to the market.
Initial FranchiseA franchise is when a business (franchisor) allows a party (franchisee) to acquire its know-how, procedures, processes, trademarks, intellectual property, use of its business model, brand and rights to sell its products and services. The franchisee signs a contract (franchise agreement) with the franchisor to acquire the franchise and generally has a territory granted to operate. What is a Franchise?… More Fee
$19,500-$29,500
All franchisees purchasing a new SuperGreen Solutions franchise pay an initial franchise fee of $29,500, plus taxes. Eligible United States military veterans, will receive a discount equal to 10% of the standard franchise fee.  
SuperGreen Solutions Franchise Cost:
The total investment necessary to begin the operation of a SuperGreen Solutions business is from $49,751 to $75,731. These amounts include $38,541 that must be paid to the franchisor.
Additional Cost Breakdown:
Below is a list of the costs that factor in the range of startup costs from $49,751 to $75,731.
Initial Franchise Fee: $29,500

Initial Advertising Fund Fee: $500

Travel and Living Expenses while at training school: $210-$490

Equipment Package: $8,496 plus applicable tax

Insurance: $500-$1,000

Licenses: $500-$8,500

Technology Fee: $45

Opening Supplies: $500-$1,000

Costs to Acquire Virtual or Shared Office Space: $0-$1,200

Additional Funds: $9,500-$25,000
Ongoing Franchise Costs and Fees:
Royalty: 5% of gross revenues for the month or $300 per month for the first 12 months of operation*
Marketing: $200 per month
Technology Fees: $45 per month or then current fee 
Payment: RoyaltiesFees paid by a franchisee to their franchisor in order to operate a franchise location. They are usually on a weekly or monthly basis…. More are due monthly 
*Minimum Royalty: The monthly royalty fee increases each year, ranging from $300 to $700.
Greener Energy LLC Income StatementOne of the major financial statements focused on a business's revenues and expenses in a particular period. It is also known as the profit and loss statement. The income statement includes the gross profit, earnings before tax, and net profit.Tax Returns: The forms a business makes on an annual statement of income and personal circumstances sent to the IRS to…: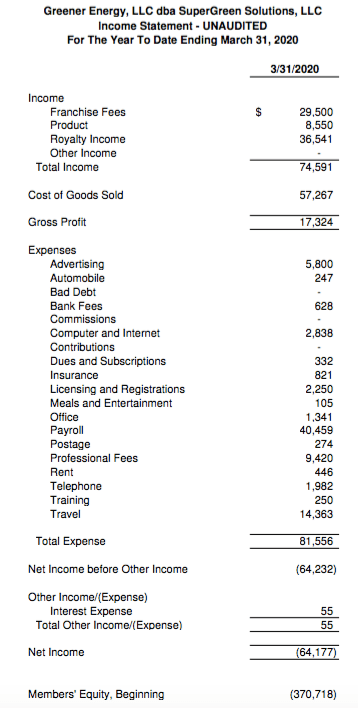 Key Insights Income Statement
SuperGreen Solutions has a negative net income of $64,177. 
Competition:
Your competitors will include large box retailers that sell and provide installation services for large appliances and building materials and building contractors specializing in remodeling and repair. 
Conclusion: 
A SuperGreen Solutions franchise operates a business offering sustainability advisory services, energy auditing, sustainability certification, energy efficient products and services, and other related services. 
Download our industry guide! See how SuperGreen Solutions  compares to its peers and explore other business services franchises!