Published on
7 Apr 2022
●
Time
11 min read
●
Last update by
16 Nov 2023
Is It Easy to Start a Waffle House Franchise in 2023?
Play Video
This article is based on the video featured above, originally recorded for Vetted Biz Youtube Channel.
WH Capital, L.L.C., or Waffle House, is an American restaurant chain with 2,100 locations in 25 states in the United States. Most of their locations are in the American South where the chain is deeply imbibed into the culture. The chain is headquartered in the Atlanta Metropolitan Area in GA.
The first Waffle House opened on Labor Day weekend in 1955 in Avondale Estates, Georgia. That restaurant was conceived and founded by Joe Rogers Sr. and Tom Forkner. Rogers entered the restaurant business as a short-order cook in 1947 at the Toddle House in New Haven, CT.
Forkner suggested naming the restaurant "Waffle House", as waffles were the most profitable item on the 16-item menu. The fragile nature of waffles also made the point that it was dine-in, not a carry-out, but it confused patrons as to meal availability other than breakfast. Rogers continued to work with Toddle House, and to avoid conflict of interest, sold his interest to Forkner in 1956.
In 1960, when Rogers asked to buy into Toddle House, and they refused, he moved back to Atlanta and rejoined Waffle House, now a chain of three restaurants, to run operations. Shortly after Joe returned full-time, Tom followed suit.
After opening the fourth restaurant in 1960, the company began franchising its restaurants and slowly grew to 27 stores by the late 1960s, before growth accelerated. The company is privately held and does not disclose annual sales figures, but says they serve 2% of the eggs used in the nation's food-service industry.
How Is Waffle House Franchise Positioned in the Food and Beverage Industry?
The food industry has a significant share within regional economies and the U.S. economy. It employs human resources prominently and is a stable industry providing significant employment and labor income with around 13% of all U.S. manufacturing employment. The industry responds fast to the needs of the customers and has made significant innovations to satisfy the taste buds of the customers. The American consumer market figures over 320 million American consumers and has 5% of gross domestic product (GDP), 10% of total U.S. employment, and 10% of U.S. consumers' disposable personal income (DPI).
The sales of this market clock at around $1.4 trillion and around 10% of this figure is generated by the food and beverage industry alone. With the fast delivery systems in place and drone technology being initiated to deliver food the food and beverage industry shows signs of expansion.
The industry royalty is around 5.3%, marketing expenses are around 2.25%, the stability of units is expected to be over 75%, the growth rate of the industry is more than 15% and the average investment to establish a new unit is $466K.
How Much Is a Waffle House Franchise?
The initial franchise fee is $37,500 for a defined protected territory with the requirement of a minimum of 150,000 people or a radius of 5 miles. You have to pay this upfront fee when opening a Waffle House franchise.
Waffle House Franchise Cost
The estimated total investment necessary to begin the operation of a Waffle House Franchise ranges from $600,000 to $1,000,000. The following costs are part of the upfront costs included in the initial investment for a Waffle House. Many of these are one-time fees that are needed to launch the franchise.
However, we are not able to provide more information on the exact costs of opening a Waffle house franchise as Waffle House does not offer franchises publicly and new franchises usually go to people already inside the company and those who are intimately familiar with it already.
How Much Do Waffle House Franchise Owners Make?
Since Waffle House does not provide any financials publicly, we will estimate Average Unit Volume (AUV) using figures from the industry and what they disclose.
In our estimate, the average Waffle House franchise had an AUV of $655,897 in 2021.
2021 Waffle House Average Unit Volume: $655,897
| Initial Investment (midpoint) | %Profit margin of average franchise sales | Estimated profits | Time to recoup investment |
| --- | --- | --- | --- |
| $800,000 | 10% | $65,589 | 14.5 years |
| $800,000 | 15% | $98,384 | 10.5 years |
| $800,000 | 20% | $131,179 | 8.5 years |
Based on the median sales provided by Waffle House's franchise locations, at an average of a 15% profit margin it will take around 10.5 years to recoup your investment. This is longer than other franchise opportunities. You may not get a 15% profit margin which would elongate getting a return on your investment.
Many factors affect the sales, costs, and expenses of your Franchised Store. Such as the Franchised Store's size, geographic location, menu mix, and competition in the marketplace. The presence of other Waffle and Breakfast stores; the extent of market penetration and brand awareness that Waffle House stores have attained in your market. Also, the quality of management and service at your Franchised Store are major factors.
Is the Waffle House Franchise Profit Worth the Franchise Cost?
To assign a valuation multiple for Waffle House franchises, we leverage estimates from DealStats, a database of acquired private company transactions sourced from U.S. business brokers and SEC filings. We reviewed the larger franchise industry as well as selling price multiples for larger systems where more transaction data is available.
When you go to sell a Waffle House franchise based on the median multiple of .34 and average unit volume in 2021 of $655,897, it would sell for $223,004. This is significantly lower than the midpoint investment of $800,000.
The more franchises you own, the more earning potential you have as private equity firms become interested in your business instead of individual owner-operators.
How Many Waffle House Units Have Opened and Closed?
Because Waffle House does not provide information publicly, we do not know how many Waffle House units have opened and closed, but we do know that the chain has 2,100+ locations in 25 states.
How Does Waffle House Operate?
All Waffle House locations are open 24x7x365 every year. The chain's restaurants almost always had jukeboxes, which have traditionally played 45-rpm singles. In some cases, CDs are also played. Waffle House has released music through its own record label, Waffle Records. Songs from "Saturday Night At My Place" by Gary Garcia released in 1995 to "They're Cooking Up My Order" by Alfreda Gerald released in 2006 are all Waffle House's creations.
The songs are on ordinary discs, which are produced for Waffle House and are not commercially sold, but the chain has made a CD of some of the songs available for sale. In 2012–13, most (if not all) of the locations have removed the 45-rpm/CD jukeboxes in favor of digital touchscreen jukeboxes provided by TouchTunes, which, at Waffle House restaurants, still feature all the original Waffle House songs.
Waffle House provides reservations and candlelight service on Valentine's Day.
The servers use a proprietary version of diner lingo to call in orders, and the menu suggests some use of the same lingo when placing orders for hash brown potatoes: "scattered" (spread on the grill), "smothered" (with onions), "covered" (with cheese), "chunked" (with diced ham), "diced" (with diced tomatoes), "peppered" (with jalapeño peppers), "capped" (with mushrooms), "topped" (with chili), and "all the way" (with all available toppings). The option of "country" was added for hash browns with sausage gravy on them.
Waffle House claims to be the largest seller in the world of namesake waffles, ham, pork chops, grits, and T-bone steaks.
What Are Alternatives to a Waffle House Franchise?
Because of the extremely long waitlist for a Waffle House Franchise and the nature of the company to only offer franchises to insiders, you might want to consider alternatives. Let's discuss some of these below:
IHOP
The International House Of Pancakes or IHOP is an American chain of pancake houses specializing in breakfast foods. It is owned by Dine Brands Global — a company formed after IHOP purchased Applebee's, with 99% of the restaurants run by independent franchisees. IHOP also offers lunch and dinner options on its menu, even though its focus is mainly on breakfast foods.
The company has 1,841 locations in the Americas, the Middle East, and the Indian Subcontinent, including 161 that are owned by area licensees and 1,680 that are franchised. It is led by its President, Jay Johns.
Jerry Lapin, Al Lapin, and Albert Kallis founded the International House of Pancakes in the Los Angeles, California area in 1958 with the help of Sherwood Rosenberg and William Kaye. The breakfast food menu later expanded (especially in the 1980s) to include standard lunch and dinner items found in similar restaurant chains such as Sambo's and Denny's.
The estimated total investment necessary to begin the operation of an IHOP Franchise ranges from $1,152,954 to $6,089,550. Based on the AUV for IHOP's franchise locations, at an average of a 15% profit margin, it will take around 13 years to recoup your investment. This is longer than other franchise opportunities. You may not get a 15% profit margin which would elongate getting a return on your investment.
Over the last three years, the company has been in decline.
Franchising units have decreased. Over the last three years, franchises have closed at a rate of 17 units a year. This is an indicator that these stores may not be performing well. Or that franchisees' franchise terms are up and they are not renewing it.
IHOP is an established brand in the US market, but its cost is just too high at this point. More franchisees are leaving the business at an accelerating rate.
Denny's
Denny's restaurants are a full-service, family-style restaurant chain that offers and serves a wide variety of food. The chain offers a casual dining atmosphere with moderately priced food in order to appeal to the average consumer.
Denny's was founded in 1959 under the name of Denny's, Inc and began offering franchises in 1963. Over the years, through different acquisitions and name changes, it evolved into Denny's Corporation, which is based in Delaware.
Currently, there are over 1,500 Denny's around the United States, and you could own the next one. John Miller is the CEO of Denny's Corporation. He was named the CEO in 2011. Prior to that, he was the CEO of Taco Bueno Restaurants.
The estimated total investment for beginning operations of Denny's franchise is between $1,428,422 and $2,326,537. Based on a midpoint investment of $1,877,479 with estimated profits of $171,839 at a 15% profit margin, it would take about 13 years to recoup your investment.
Denny's is one of the biggest restaurant chains in the fast-food industry in America.
People continue to consume it after all these years because of its style and pricing. However, the recent rise of healthier food options will have an impact on restaurants like Denny's so keep that in mind.
If you open a Denny's franchise you can recoup your investment in 10 to 18 years depending on profitability, which is a very long time. On top of that, when you go and sell your franchise it will most likely not make your initial investment back if you just develop one location. However, if you develop 5 or more locations you can make a healthy profit margin.
Denny's also had a hard time during the pandemic. Its family dining style which encourages people to sit down at the restaurant is not very appealing during Covid times. This is something that you should definitely take into consideration when thinking about developing a franchise.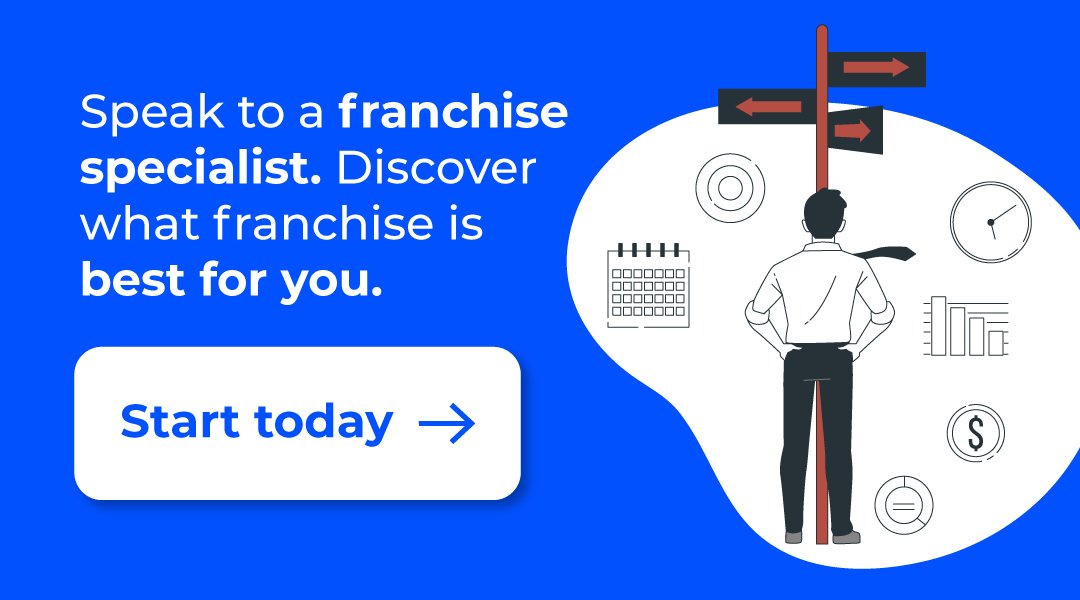 Waffle Cabin
The minimum investment amount required to open a Waffle Cabin franchise is $91,600 and can go all the way up to $229,700. Keep in mind, that you should also allocate additional funds to live off of while the Waffle Cabin business ramps up. This can take as little as 6 months to over 2 years depending on the franchise opportunity. Owning a Waffle Cabin franchise requires a 5% royalty fee and a 2% marketing fee.
The net unit growth rate for Waffle Cabin over the past 3 years is 7%. Over the last year we have data for, Waffle Cabin had a net unit growth rate of 2%.
Waffle Cabin is another Waffle chain founded in 2012, serving quick-serve Belgian sugar waffles and beverages such as coffee, tea, and hot cocoa.
It is not necessary to open a brick-and-mortar store with Waffle Cabin, and it has other franchise offerings such as Catering Mobile Units, Waffle Trucks / Waffle Trailer, Amusement Parks (Water Parks, Theme Parks,…), Ski Resorts, Sports Events, and Life Celebrations.
Waffle House, as a franchisor, is also in a strong financial position. Growing 100% between 2020 and 2021 based on retained earnings.
You should speak to at least 5 Waffle Cabin franchisees to understand the true cost of opening the franchise and how long it takes to: 1) start a Waffle Cabin business 2) pass break even 3) hit significant income.
Conclusion
Waffle House is a popular franchise but it is extremely expensive and difficult to get. We recommend looking into the alternatives we have discussed above.
While this may be the business for you, make sure also to check out other companies offered on Vetted Biz and in the Food and Beverage Industry.