Published on
7 Jun 2021
●
Time
16 min read
●
Last update by
15 Nov 2023
Can You Open a Chipotle Franchise? Key Takeways (2023)
Play Video
much doesThis article is based on the video featured above, originally recorded for Vetted Biz Youtube Channel.
Chipotle Mexican Grill, Inc. popularly known as Chipotle, is an American chain of fast-casual restaurants in the US, UK, Canada, Germany, and France. They specialize in bowls, tacos, and Mission burritos that are made to order in front of the customer. The name derives from chipotle, the Nahuatl name for a smoked and dried jalapeño chili pepper.
Contents
Have You Ever Thought about Running Your Own Chipotle Franchise?
Chipotle was founded by Steve Ells, who attended the Culinary Institute of America in Hyde Park, NY. In 1993, Ells founded the first Chipotle location in Denver, CO near the University of Denver, using an $85,000 loan from his father. Ells and his father calculated that the store would need to sell 107 burritos per day to be profitable. After a month, the restaurant was selling over 1,000 burritos a day.
The company is currently led by Brian Niccol (Chairman and CEO), Jack Hartung (CFO), Chris Brandt (CMO), Curt Garner (CTO), and Scott Boatwright (Chief Restaurant Officer). Chipotle had 2,750+ locations at the end of 2020.
How to Start a Chipotle Franchise?
Unfortunately, Chipotle does not offer franchises. All of its 2,750+ locations are company-owned. However, you can look at alternatives to a Chipotle Franchise below. We also discuss the financials of Mexican-themed franchise alternatives, in case you want to learn more.
What Markets Does Chipotle Operate in?
As of 2018, there were 33 locations outside of the United States with 19 locations in Canada (Ottawa, Toronto, Markham, Vaughan, Mississauga, Oakville, Vancouver), 6 locations in The United Kingdom (London), 6 in France (with 1 in Lyon, and the rest in Paris), and 2 in Germany (Frankfurt).
How Much Do Chipotle Franchise Owners Make?
Based on the median sales provided by Chipotle's franchise locations, at an average of a 22% profit margin it will take around 5.5 years to recoup your investment. This is longer than other franchise opportunities. You may not get a 22% profit margin which would elongate getting a return on your investment.
Many factors affect the sales, costs, and expenses of your Franchised Store. Such as the Franchised Store's size, geographic location, menu mix, and competition in the marketplace. The presence of other stores; the extent of market penetration and brand awareness that Chipotle stores have attained in your market. Also, the quality of management and service at your Franchised Store are major factors.
Is the Chipotle Franchise Profit Worth the Franchise Cost?
To assign a valuation multiple for Chipotle franchises, we leverage estimates from DealStats, a database of acquired private company transactions sourced from U.S. business brokers and SEC filings. We reviewed the larger franchise industry as well as selling price multiples for larger systems where more transaction data is available.
Under $1 Million Net Sales
Estimated Selling Price = Net Sales * 0.31
$1 Million – $5 Million Net Sales
Estimated Selling Price = Net Sales * 0.34
Over $5 Million Net Sales
Estimated Selling Price = Net Sales * 0.89
When you go to sell a Chipotle franchise based on the median multiple of .34 and net sales estimate in 2021 of $2,176,363, it would sell for $739,963. This is significantly lower than the midpoint investment of $1,400,000.
However, as an owner of multiple Chipotle franchises, you do have the ability to make a profit. Owners in the Food and Beverage Industry with over $5 million in sales have a median multiple of .89. So, if you had 10 Chipotle franchises this would be $2,1763,630 in sales. This would be significantly higher than the initial investment of 14,000,000.
The more franchises you own, the more earning potential you have as private equity firms become interested in your business instead of individual owner-operators.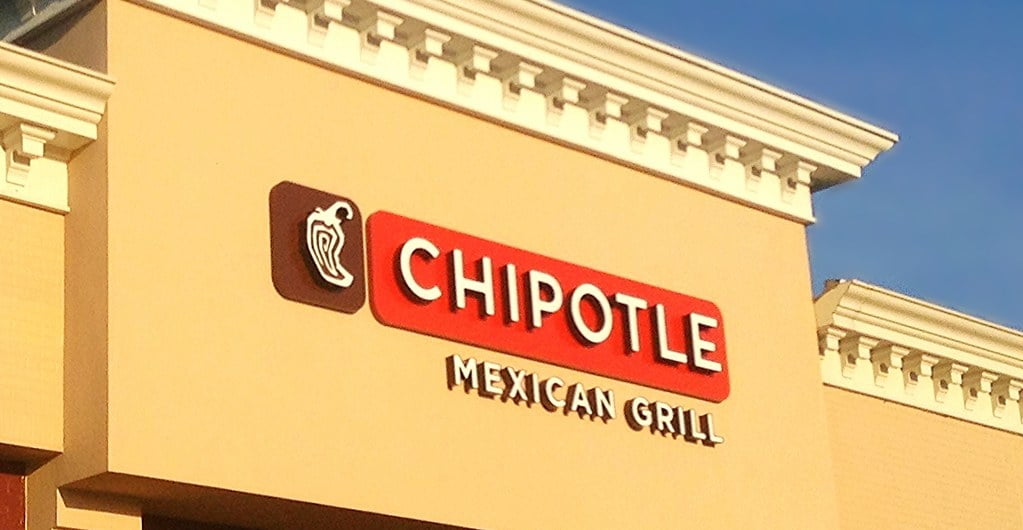 How Has Chipotle Performed?
In 2021, Chipotle's revenue 26.1% to $7.5 billion. Digital sales, which include delivery and customer pick-up, were $3.4 billion for 2021. Representing 45.6% of total revenue compared to 46.2% of total revenue for 2020.
Consolidated Statement of Comprenhensive Income (in thousands)
Years ended December 31,
2021
2020
2019
Net income
$652,984
$355,766
$350,158
Other comprehensive income (loss), net of income taxes:
Foreign currency translation adjustments
(1,125)
1,134
726
Unrealized gain on available-for-sale
–
–
147
Other comprehensive income (loss), net of income taxes
(1,125)
1,134
873
Comprehensive income
$651,859
$356,900
$351,031
The comprehensive income in 2021 was $651 million, an increase of almost 100% from 2019 when it made $351 million. This is a strong sign for the franchisor and its growth as a company.
What Are the Risk Factors for Chipotle Franchises?
COVID-19
COVID-19: The pandemic has affected and will continue to have an impact on the sales of Chipotle locations. During the peak of the pandemic in 2020, and subsequent resurgences of the virus, government restrictions forced Chipotle to close some restaurants and dining rooms, and offer only takeout and delivery. The pandemic also forced the imposition of social distancing, requiring proof of vaccinations, and enforcing the wearing of face coverings. In addition, the pandemic requires difficult decisions about COVID-19 protective measures, such as:
requiring employees and guests to get a vaccine and/or wear face coverings,
impacting the Chipotle brand, employee satisfaction,
hiring and retention, and
the willingness of guests to frequent their restaurants.
Human Capital
The company relies on its restaurant-level employees to consistently provide high-quality food and positive experiences to our guests. In addition, their ability to continue to open new restaurants depends on the recruiting, training, and retaining of employees to manage and work in restaurants. The market for qualified talent continues to be competitive and we must provide increasingly competitive wages, benefits, and workplace conditions to retain qualified employees. In addition, the great resignation has impacted the business heavily and will continue to do so.
The Delivery Business
In 2021, 45.6% of Chipotle's total revenue was derived from digital orders, which includes delivery and customer pickup in-restaurant and through their "Chipotlanes". Approximately 21.5% of the 2021 total revenue consisted of delivery orders for which they are reliant on third-party delivery companies. The ordering and payment platforms used by the third parties, or the mobile app or online ordering system could be interrupted by technological failures, user errors, cyber-attacks, or other factors, which could adversely impact sales.
Those are some of the major risk factors for Chipotle that also extend to the Food and Delivery business.
Estimated Chipotle Franchise Cost
Type of Expenditure
Estimated Amount
To Whom Payment Is to Be Made
Low
High
Chipotle Franchise Fee (if they franchised)
$20,000
$25,000
Them
Real Estate Purchase or Lease
(may vary substantially based upon the location)
Seller or landlord
Site Preparation and
Completion Costs
$150,000
$400,000
Contractors
Construction Costs
$550,000
$700,000
Contractors
Operating Equipment
$150,000
$160,000
Suppliers
Furniture, Fixtures and Decor
$ 25,000
$35,000
Suppliers
Signage and Installation
$25,000
$45,000
Manufacturers and installers
Point of Sale System
$40,000
$55,000
Suppliers
Initial Inventory
$15,000
$22,000
Suppliers
Grand Opening Marketing
$8,000
$12,000
Suppliers
Pre-Opening Training (Travel and Living Expenses)
$32,000
$45,000
Suppliers
Miscellaneous Opening Costs
$20,000
$65,000
Governmental authorities, providers, and other third parties
Additional Funds
$25,000
$35,000
Various suppliers and providers
TOTAL ESTIMATED INITIAL INVESTMENT (without real estate costs)
$1,060,000
$1,599,000
Chipotle Restaurant Key Takeaways from Income Statement
Surprisingly, the net income for 2020 actually increased from the previous year, despite the economic hardships brought about by the COVID-19 pandemic, increasing by about $5 million from $350,158,000 in 2019 to $355,766,000 in 2020. The majority of their revenue comes from sale of food and beverage products, but they also experienced a large increase in revenue from delivery service revenue, making more than double from this avenue than in 2019.
Chipotle Cash Flow Statement Insights
The cash flow statement is considered the most important document out of the three financial statements because it is supposed to give the most accurate overview of a company's financial health. Companies can go to great lengths to manipulate their earnings, but the amount of cash it has demonstrates its true ability to meet expenses and repay investors. Chipotle holds a significant amount of cash, which increased from the previous fiscal year (2019). By the end of 2020, they held over $600 million in cash, about a $100 million increase from the previous year.
What Are Alternatives to a Chipotle Franchise?
While you cannot start a Chipolte Franchise, there are some alternatives you might want to consider. They operate in the same general industry as Chipotle and offer franchises
Qdoba
Qdoba Mexican Eats is a fast-casual Mexican-themed restaurant. Qdoba offers a wide variety of menu options that range from burritos to Tacos and Quesadillas. All menu items are made to order and are in a tiered pricing structure giving customers flexibility. Most Qdoba locations also offer catering services, which helps expand revenue streams. Customers can also place online mobile ordering through the corporate-operated App and website.
Qdoba is a subsidiary company of Quidditch Acquisition, a Delaware Corporation, that acquires and operates restaurant chains. The Qdoba directors are from a variety of investors and food service professionals. Anthony Miller and Partner Robert Hauser first started Qdoba in 1995 in Denver Colorado. Miller was a financial professional at Merrill Lynch and Hauser was in culinary school. They pooled their resources together to start Zuma Fresh Mexican Grill, which later turned into the Qdoba.
Today, Andrew Jhawar serves as the Chairman of the Board and is a Senior Partner at Apollo Management. He has also served in pivotal roles in other major companies such as Michaels. At the end of 2021, Qdoba had a total of 739 outlets. 333 of these locations are corporate-owned, and 406 are franchises.
How much does it cost to open a Qdoba Franchise?
Qdoba itself charges a 5% royalty fee, 1.25% marketing fee, and 1.75% local marketing fee. This means that Qdoba's primary fees are on par with industry trends. To open a Qdoba location you must expect to pay between $252,800 to $816,700 for a non-traditional and $476,800 to $1,096,700 for a traditional. By comparison, the leading competitor Chipotle, which does not franchise, would cost between $800,000 to $2,000,000 if you were to open a franchise. Additionally, Chipotle makes the Mexican fast-casual space very competitive.
While Qdoba is less expensive to open than leading competitor Chipotle it is one of the more expensive Mexican-themed restaurant franchises. Rusty Taco, a smaller chain, costs between $532,000 – $897,000 to open. Meanwhile, Taco Bell, another national competitor, costs between $253,000 – $590,0000 to open. Qdoba, while an expensive franchise, has national brand recognition and is still fairly priced within Food and Beverage.
How long will it take to recover my initial investment?
Based on our analysis, a Qdoba restaurant will take between 4 and 6 years to recover the initial investment with just the profits.
Qdoba Mexican eats while an expensive franchise is an excellent investment opportunity. It competes in a tight space, but already has national distribution and brand recognition. The company itself operates over several hundred locations allowing them to provide the necessary experience to get off the ground.
Rusty Taco
Rusty Taco is an American-based chain of fast-food restaurants originating in Atlanta, Georgia in 1962. It was founded by Rusty Fenton and his wife, Denise Fenton. Rusty Taco is a subsidiary of Inspire Brands. The chain serves a variety of Mexican-inspired foods, including tacos, burritos, nachos, and desserts. As of 2022, there are 37 restaurants in nine states.
Inspire Brands is an American holding company and the owner and franchisor of the Arby's, Buffalo Wild Wings, Sonic Drive-In, Jimmy John's, Rusty Taco, Mister Donut, Dunkin' Donuts, and Baskin-Robbins restaurant chains.
How much does it cost to open a Rusty Taco Franchise?
Prospective franchisees must have a minimum of $500,000 in liquid capital and a net worth of at least $1,000,000. Rusty charges a 6% royalty fee and a 2% marketing fee. This means that Rusty's primary fees are on par with industry trends. To open a Rusty Tacos location you must expect to pay between $532,000 and $897,000. Keep in mind that you should also allocate additional funds to live off of while the Rusty Taco business ramps up. This can take as little as 6 months to over 2 years depending on the franchise opportunity. You should speak to at least 5 Rusty Taco franchisees to understand the true cost of opening the franchise and how long it takes to 1) start a Rusty Taco business 2) pass break even 3) hit significant income.
Being a relatively newer player wanting to expand aggressively, Rusty Tacos is offering incentives: "With our new development incentives, opening your first store in 2023 will get you 0% royalty for the first 12 months and additional royalty discounts through the 3rd year: 2% year 2, 4% year 3, 5% for the remainder. You will get 0% for 6 additional months if you beat your development commitment opening date by at least 3 months. We are also offering 2 years of discounted royalty fees for opening in 2023–2025: 1% year 1, 2% year 2, 4% year 3, and 5% for the remainder."
How long will it take to recover my investment?
Based on our analysis, it would take around 6 to 8 years to recover the initial investment of a Rusty Tacos franchised location if the average revenue of $1,099,722 gives a profit of 15%. This includes 2.5 years for the franchise to get set up and start reaching its full potential.
The net unit growth rate for Rusty Taco over the past 3 years is 88%. Over the last year we have data for, Rusty Taco had a net unit growth rate of 20%.
Overall, Rusty Taco is still in the initial stages of ex[anding. However, it is supported by its parent Inspire Brands heavily and with an extensive portfolio of brands, the parent might want to rapidly expand Rusty Tacos.
Scooter's Coffee
Moe's Southwest Grill is also a big competitor for Chipotle. Moe's Southwest Grill, referred to informally as Moe's, is an American fast-casual restaurant franchise chain founded in Atlanta, GA, in 2000. The name "Moe's" originates as an acronym for "Musicians, Outlaws and Entertainers." Moe's is a part of Focus Brands – the company that also operates and franchises Schlotzsky's, Carvel, Cinnabon, McAlister's Deli, Jamba, and Auntie Anne's.
Moe's offers items on its menu, including burritos, tacos, quesadillas, nachos, salads, stacks, burrito bowls, and house-made seasonal salsas. The customer can alter the Ingredients from the standard entree for customization. Every order comes with chips and salsa on the side.
How much does it cost to open a Moe's Southwest Grill Franchise?
The minimum investment amount required to open a Moe's Southwest Grill franchise is $474,900 and can go all the way up to $1,109,840. Moe's has seen a decline in locations in both 2020 and 2021. Between 2019 and 2021, Moe's saw 8% of its outlets close with 41 and 22 closing in 2020 and 2021, respectively. The total number of Moe's outlets is now 659, including one company-owned location.
How long will it take to recover my investment?
The median Moe's location made $1,015,559 in sales in 2021. This is very comparable to other players in the same industry. The midpoint investment for a Moe's location is around $792,500. At a 15% profit margin, it will take around 9 years to recover your initial investment. This is longer than other franchise opportunities.
Based on the median multiple of 0.34, if you try to sell your Moe's location, you can expect its value to be at around $345,290. This is almost half of your initial investment. However, as an operator of multiple franchises, you have the opportunity to make a profit. However, as an owner of multiple Moe's franchises, you do have the ability to make a profit. Owners in the Food and Beverage Industry with over $5 million in sales have a median multiple of .86. So, if you had 5 Moe's franchises this would be $5,077,795 in sales. This is around $1 million more than your initial investment of $3,962,500.
Moe's is competitive but the huge loss in the number of franchises is a worrying sign. We recommend speaking to existing Moe's franchise owners before entering into business with them.
Taco Bell
Taco Bell opened its first store in Downey, California in 1962 after its founder, Glen Bell, sold his former Taco store to his existing business partners. After having seen the success a business could make in selling tacos as the pilot dish on their menu, Bell decided to seek a larger challenge and instead developed the business model in place across all stores to this day that involves serving a variety of Mexican and Tex-Mex foods such as tacos, burritos, and nachos.
Origins of Taco Bell
Franchising began two years after Bell opened his first Taco Bell store when Kermit Becky – a retired L.A. policeman – opened his own Taco Bell in Torrance, CA.  Today, Taco Bell is now a subsidiary of Yum! Brands —an American fast-food corporation that owns other famous franchises like Pizza Hut and KFC.— and has over 6,800 franchised stores in the US and another 500 in international markets. Taco Bell current headquarters are in Irvine, California, with Mark King who previously served as the president of Adidas North America and CEO of TaylorMade running it.
Taco Bell Franchisor, or TBF, has been franchising units since 1964, making them one of the oldest franchises in the United States.
The origins of Taco Bell go back to its founder Glen Bell. He opened his own hot dog stand in 1948. The long lines at a neighboring Mexican restaurant, inspired him to learn how to make tacos himself. And after undergoing several name changes, he settled on Taco Bell. Today, the headquarters of Taco Bell are in Irvine, California, and its current standing CEO is Mark King.
Is the Taco Bell Franchise Profitable?
The Taco Bell franchise remains a profitable business. Although they have revealed limited financial information, we can see that Taco Bell has remarkably low costs and expenses. However, this does NOT necessarily mean that the financial success of Taco Bell is true for individual franchises. In fact, because Taco Bell does not allow financial representations to be made regarding the performances of individual franchises, we cannot ensure how well franchisees do with an investment in a Taco Bell establishment.
Although Taco Bell may have a relatively high net income, much of its income is not liquid, as shown in its cash flow statement. As a matter of fact, the $467 million that Taco Bell ended up with as net income amounts to about $34 million in cash.
There are both pros and cons to investing in a Taco Bell franchise. Taco Bell as a corporation is a profitable business, but it is unclear if this profitability extends to individual franchise units. After all, the lack of detail in their financial statements means that the only visible source of revenue is from franchise and license fees (along with affiliate royalty fees), and combined with the fact that Taco Bell has rather high royalty rates could be a negative sign for potential franchisees.
However, at the same time, Taco Bell has shown significant growth in the number of franchised units. They are opening significantly more stores than closing them down, which could point to a sustainable business model. However, it is important to note that this is only true for traditional, free-standing Taco Bell units — for Taco Bell Express franchises the number of units has actually been decreasing.
Conclusion
While Chipotle might not offer franchises itself, it is clear to see that it is a strong player in the industry with a very high value. You might be interested in any of the other franchises above. If not, make sure to also check out other businesses offered on Vetted Biz and in the Food and Beverage Industry.