Small Business Administration Loans Analysis
When it comes to the numbers, over the past 10 years, our analysts have examined 560k loans issued under the Small Business Administration program (SBA). The franchise success rate was 11 to 1 for business services; for every 11 SBA loans paid back in full for someone that was operating in the business services industry, one was charged off for franchise business services.
As for non-franchise, the numbers showed a higher success rate; for every 12 loans that were paid in full, there was one that defaulted and presumably, the business failed. Those averages are both stronger than the overall industry averages for both franchise businesses and non-franchise businesses over the last 10 years.
SBA loan
The records for the last 30 years are more accurate for franchising; given the unique franchise identifier code that we can use and the name that is used in the SBA loan record. For business services franchise, the success rate is 5 to 1; this means that for every 5 franchisees that paid their loan in full, 1 defaulted. Personally, I don't like those odds; if I'm going to start a franchise, I would be more comfortable with 10 to 1 or 20 to 1. That's why it's important to understand the industry and its fundamentals and then take a deeper look at the actual franchise and talk to franchisees, look at the FTD, take a look at the Vetted Biz profile. You can see how many closures there has been over the last 3 years.
The 5 to 1 success rate is not necessarily a concern but it shows how much it's important to be highly mindful on the individual businesses that you're evaluating to see to see their success rate. However, 5 to 1 is better than the overall franchise success ratio over the 100.000 loans that have been issued under the SBA loans program to franchises over the last 30 years.
One notable thing for franchises, insurance, and payroll services etc. is that the average franchise royalty is quite higher compared to food and beverage for example; it's right around 10%. Part of that is because the franchisor might be providing the service and supporting in terms of the product where you're more focused on the client service, salesThe total amount in dollars made in the business before expenses are deducted. See also Gross Revenue. etc. Then, the marketing fee is pretty standard across different franchises at 2%.
Exploring the Business Services Section of Our Website
The Business Services section of our website can be found by selecting the "Industries" tab on our website, choosing "More" then selecting "Business Services".
At the beginning of the page, you will find some statistics and as you scroll down, you will find a few of the different franchise opportunities that we're working with.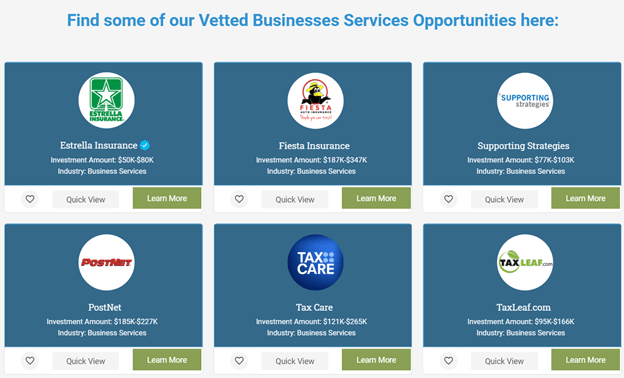 You can also find and existing business for sale just like this one which also happens to be a franchise: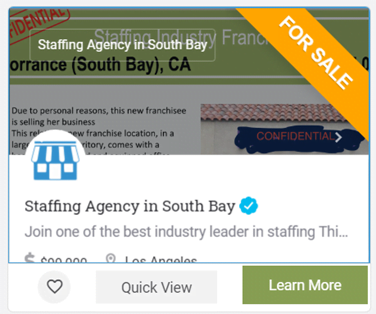 Let's check one of those and see what details and information a franchise page on our website has to offer.

This is a franchise called "Estrella Insurance" and I did a live stream with their head of franchise development a couple of weeks ago. You can find the live stream by clicking this link.
Our franchise page starts with the review section which presents a description and some key numbers related to the franchise. Then, we there is the "Metrics" tab and the "SBA Loan Data".
The "SBA Loan Data" shows details such as loan eligibility for SBA financing and the additional requirements that you have to go through to get that SBA financing.
The page offers general and specific details from when the franchise was founded to the value of its initial investmentThe amount of funds necessary to begin operations of a business or franchise including the first three months of operation.. There are also key figures that show the royalty percentage of revenue; the average, as I mentioned, the average for business services franchises and it's 10.4% in this case. You can also find a video section.
In this section, we will check the page of a franchise that is for sale: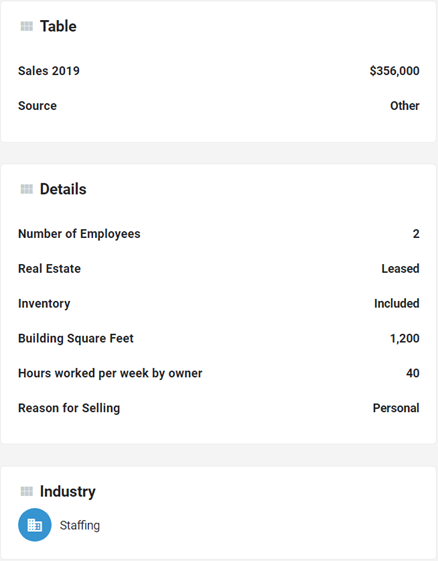 You can find a very detailed layout of the business and some numbers that demonstrate how it has been performing, the number of employees, and the reason why the owner wants to sell.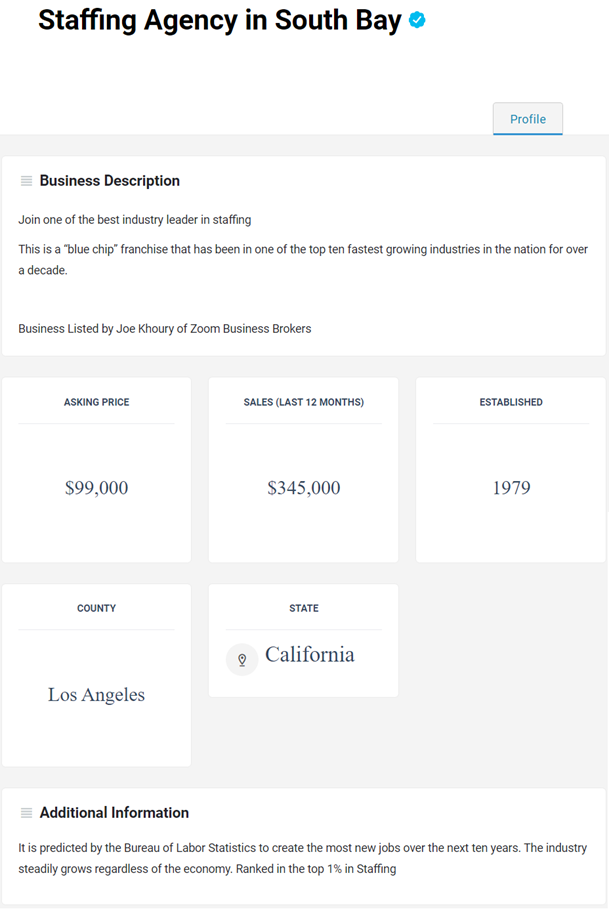 Franchise business
This could be an option if you're looking to enter a business services space and you want to start with an already existing book of clients with cash coming in from day one. It can be a great option to buy an existing franchise business.
If you reached the end of this article, I want to thank you for your time and attention. Check our website vettedbiz.com and I hope that you will follow the coming articles.