Franchise Business Trends
Many franchises are in industries that have been negatively impacted by the pandemic, however, it remains to be seen whether franchises will outperform independent businesses. Frandata research on franchises recovering from thepandemic has shown that only  26% were unaffected by the economic
Business Acquisition & Loan Financing
Although the early months of the pandemic witnessed a sharp decrease inbusiness salesThe total amount in dollars made in the business before expenses are deducted. See also Gross Revenue…., the third and fourth quarters of 2020 saw a rebound in activity. Data from BizBuySell shows that total business sales reached levelsabove previous years in October and small business sales came close to the2019 levels in the third quarter. According to their survey data, the sales are being driven by buyer confidence in being able to purchase businesses at adiscount relative to previous years, compared to decreased seller confidence ingetting a better price than precious years. At the same time, the median price of businesses sold has increased over last year, reflecting a trend in the sale of businesses at a premium that are able to perform well in the pandemic. Fort hose looking for business opportunities, Vetted Biz has useful tools and information on over a thousand businesses for sale.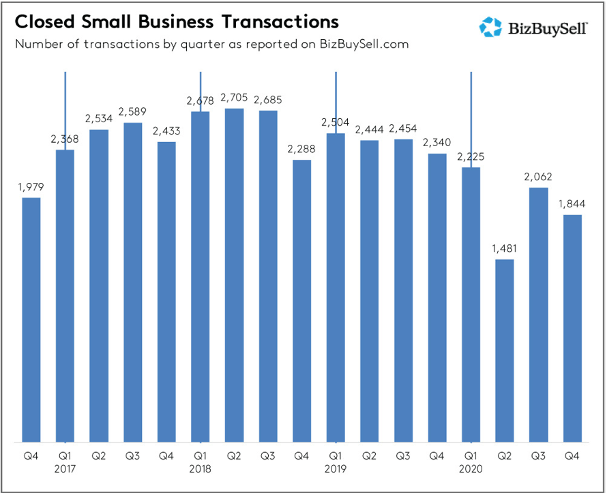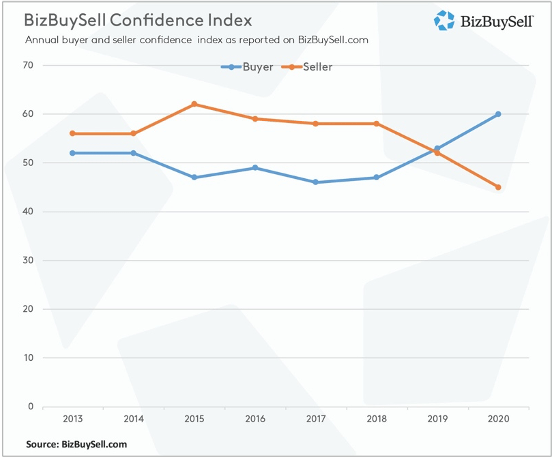 Economic Recovery & COVID-19
The ongoing global pandemic has left current and prospective businessowners with more questions and answers. Although it is impossible to perfectly predict the future,
 Vetted Biz analysis on recession recovery trends provides insights into the different models of economic recovery the country and small businesses could experience. The additional waves of COVID-19 have prolonged and slowed the recovery process, especially recently as cases reach all-time highs. However,this still fits within the "Nike Swoosh" recovery model of a sharp crash andslower recovery.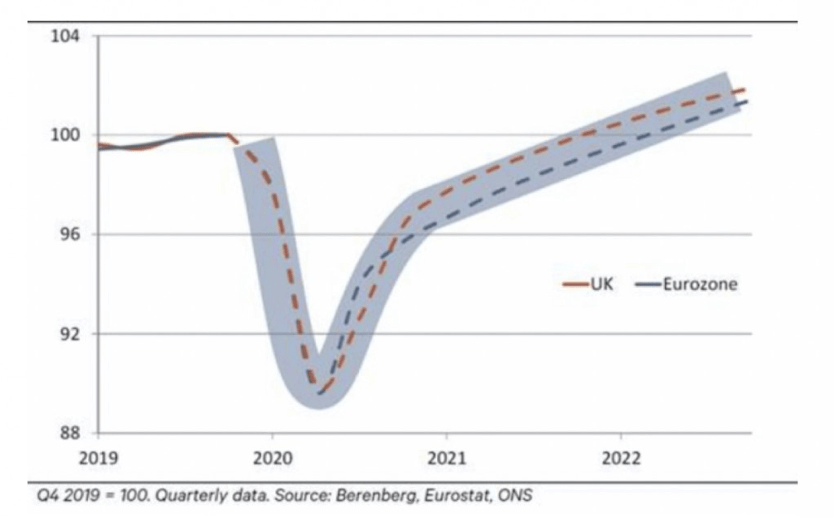 "The Nike Swoosh" COVID-19 Recovery Model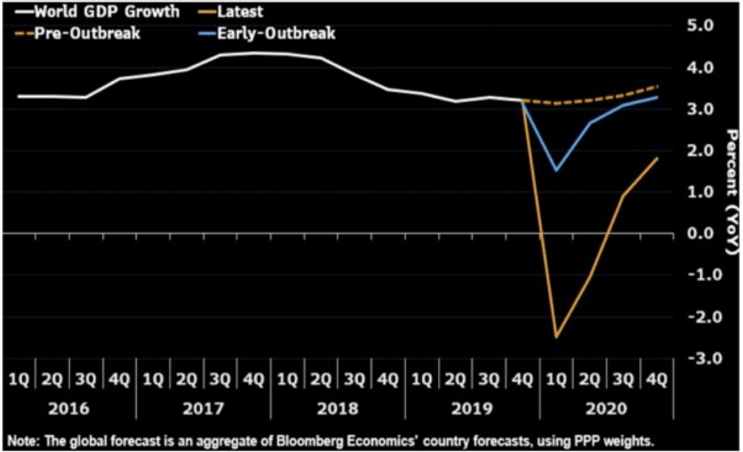 The "V-Curve" COVID-19 Recovery Model
A pattern we have not fully seen due to lingering health and economic issues
Moving Forward 
Looking ahead to the future, vaccine administration and the new Biden administration's policies will have a large effect on business acquisition and administration over the upcoming months. New stimulus packages are possible that could provide consumers with money and loans through the Small Business Administration. Additionally, new or loosened restrictions on businesses could affect their ability to remain profitableWhen the earnings in a given period of time is more than the expenses in a business….. Be sure to check Vetted Biz for up-to-date information on the rapidly changing business and regulatory environments in these uncertain times.
About Us
Vetted Biz is the leading platform for accessible and analytical data on franchises and businesses available in the U.S. Our goal at Vetted Biz is to bring transparency to potential franchisee owners as they navigate the process of buying a franchiseA franchise is when a business (franchisor) allows a party (franchisee) to acquire its know-how, procedures, processes, trademarks, intellectual property, use of its business model, brand and rights to sell its products and services. The franchisee signs a contract (franchise agreement) with the franchisor to acquire the franchise and generally has a territory granted to operate…. as well as franchisors that are vetting potential franchisees. Our research team has reviewed over 2,900 franchises and knows the key facts and data that signal a successful franchise system. Data is collected from sources including but not limited to Franchise Disclosure Documents, industry reports, SBA loan data, and other business research. The business owners and business brokers listing businesses for sale must confirm that numeric information matches those in the point of sale software, tax returns, or other credible sources.If you are an aspiring business owner looking for a place to start, Vetted Biz can provide you the analytics and resources to power your search and analysis for your future business. The team behind Vetted Biz has advised hundreds ofentrepreneurs in finding and analyzing franchises across the U.S. and noware offering key analysis and data directly on Vetted Biz.