The chain of restaurants is unique to its delicious chicken wings, French fries, cole slaw, dips and the list goes on. With locations across the United States, Wingstop has been flying high since 1994. And nothing seems to be flying away with its signature wings and its huge supporter base. In fact, Wingstop is still expanding across the US and Mexico. They hold a strong 50% paid in full rate based on total loans dished out and a 51:0 paid in full to charged off ratio.  At number 7 on the list, Wingstop is one of the most profitableWhen the earnings in a given period of time is more than the expenses in a business. franchises in the fast food industry.
49.5%
Paid-in-Full-Rate
0%
Charged Off RateAlso can be referred to as the SBA Loan Default Rate, the charged off rate is percentage of businesses in set field (e.g. industry) that defaulted their loan, are unable to pay their loan in full, and/or there is no confidence that they will be…
51:0
SBA Loan Success Ratio
While they constantly preach that "your peace in mind is important to us" they have proven to make informed and conscious decisions to make the right decisions for its clients. A renowned name in the industry the brand has showed no real signs of regression for the financial component of its borrowers and lenders looking to own or operate a franchise. An Impressive average for every 137 loans paid in full, 1 have been charged off. A noteworthy player that has years of experience and excellence. 
45.8%
Paid-in-Full-Rate
0.3%
Charged Off Rate
137:1
SBA Loan Success Ratio
This barber franchise has a wide range of hair and beauty services portrayed with a high emphasis on the theme of sports. From its Triple Play Haircuts to its Paul Mitchell products, you know, your hair and your classic barber talks are in tremendous hands. The franchise takes pride in providing outstanding quality service and an even better customer experience from the moment they walk in the door. This is why on average, for every 135 loans paid in full for 1 charged off. But the MVP stat has to be the incredible 77% Paid in full rate based on all approved loan counts for the franchise. 
76.7%
Paid-in-Full-Rate
0.6%
Charged Off Rate
135:0
SBA Loan Success Ratio
One of the most popular pizza restaurant chain, who doesn't love a good Domino's Pizza to get you smiling during the day or night. A renown business model that is commonly utilized by individuals and groups of people per transaction. Global retail salesThe total amount in dollars made in the business before expenses are deducted. See also Gross Revenue. remain through the rough through its 17,200 plus stores. It is no wonder that on average for every 132 loans paid in full, only 1 has been charged off. 
63.8%
Paid-in-Full-Rate
0.5%
Charged Off Rate
132:1
SBA Loan Success Ratio
Known as one of the largest chains in the industry, they literally have locations all over the United States. They offer a range of quality lodging and travel services that are both affordable and reliable to its client base. Quit saving your Best Western Rewards, because an investment in this franchise will prove an impressive 118:1 paid in full to charged off loan status. 
55.4%
Paid-in-Full-Rate
0.5%
Charged Off Rate
118:1
SBA Loan Success Ratio
This chain of hair removal salons is extremely unique and one that isn't necessarily thought of at first as successful nor sustainable. However, these wax centers are starting to turn heads through its range of unique services in skincare, body and eyebrow components of the business model. For that reason, look, don't miss the next big opportunity in a self-care industry. 
32.5%
Paid-in-Full-Rate
0.3%
Charged Off Rate
105:1
SBA Loan Success Ratio
15. Chevron (Gas Station)
We do not generally recommend gas station investment. However, Chevron Gas Stations have shown high levels of loan success over time. They take pride on giving their clients the best gasoline for their vehicles and acknowledge that is more of an important decision that what most think. Much like your vehicle is an investment, you expect this company to stand by that philosophy. With that said, 92:1 loan success ratio is a great way to do so. 
46.5%
Paid-in-Full-Rate
0.5%
Charged Off Rate
92:1
SBA Loan Success Ratio
This chain of hotel is one of the largest worldwide and has more than 2,400 locations. Its parent company is the Wyndham Hotels and Resorts. A brand name that sticks out to most people and one that has proven successful with an   88:1 loan success ratio. 
  24.8%
Paid-in-Full-Rate
0.3%
Charged Off Rate
88:1
SBA Loan Success Ratio
Red Roof in is synonymous with its ability to provide very affordable and quality lodging. Despite its lower prices, it's still comes as a very positively reviewed player in the market. It is no secret for every 83 loans paid in full, only 1 has been charged off. 
   33.3%
Paid-in-Full-Rate
0.4%
Charged Off Rate
83:1
SBA Loan Success Ratio
This is a chain of sub sandwich style restaurants that highlights tasty beefs, bacons, turkey breast and much more. At Jersey Mike's you will not only be eating good, but you are bound to have a successful franchise served on your plate nice and hot. Jersey Mike's shows a great 74:1 paid in full to charged off ratio. 
29.6%
Paid-in-Full-Rate
0.4%
Charged Off Rate
74:1
SBA Loan Success Ratio
19. Allstate Insurance
A highly renowned brand in the insurance industry and one that usually dominates the market share. On top of its financial services, its unique selling proposition is its car insurance category. They hold a strong 63% paid in full rate and a 66:1 loan success ratio from paid in full to charged off counts. 
63%
Paid-in-Full-Rate
1%
Charged Off Rate
66:1
SBA Loan Success Ratio
What more is there to say about this company. Probably one of the most recognized, credible and reliable company. You can assure that their coffees or their top-notch baked goods are the only thing satisfying your needs. They carry a strong loan success ratio of 126 paid in full loans for every 2 charged off loans with an obvious 75% paid in full rate. 
75.4%
Paid-in-Full-Rate
1.2%
Charged Off Rate
63:1
SBA Loan Success Ratio
Honorable Mentions: Little Caesar's Pizza, Days Inn, Plato's Closet, Motel 6, Dairy Queen, Home Instead Senior Care, Papa Murphy's Take & Bake Pizza, Great Clips, Subway, Jimmy John's
Most Profitable Franchises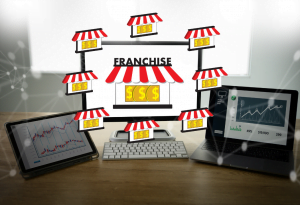 In summary, there are many takeaways from these top 20 best franchises. While most carry a paid in full rate greater than at least 30%, what sets their success apart is their ability to keep their charged off rates extremely low. 
Looking at the data, there is not a single franchise in this ranking that has a charged off rate that's great than 2%. This demonstrated a strong and secure ability that any investment, from a lender's perspective, with be financially profitable through its loan repayment schedule plus interestA payment from a borrower or deposit-taking financial institution to a lender or depositor of an amount above repayment of the principal sum, at a particular rate. In Vetted Biz, it is typically the additional rate of a loan a business buyer would pay off…. 
Having multiple or significant locations evidently provide higher loan success ratios. The travel & hospitality, food & beverages, business services and the healthcare services predominantly have high levels of probable loan success as shown. However, given the COVID-19 pandemic, we expect a higher charge off rate for travel & hospital as well as fitness franchises. 
Best Franchises
Many of the bigger and high revenue generated businesses are frequently franchised. It is important to look at financial stability and historical performance of financial strength, management, brand recognition and market presence in order to assess the loan and business success for any particular franchise. The ability to pay back your loans in full plus interest is looked upon very favorably for your future financing options and entrepreneurial endeavors. This shows credibility, reliability and strong financial management for the franchise. Making it a lucrative business for the top banks and lenders in the nation in addition to your best franchises of choice. 
Analysis Provided By: Alex Bourhas, Data Analyst, Vetted Biz Intern
Guidelines of Analysis: 
Paid-in-full Counts (PIF Counts) are the loan is fully paid off by the small business owner including interest, indicating financial strength

Charged off Counts (CHGOFF Counts) are the loan counts that default where loans have no confidence in being paid off by the small business or franchise owners
Loan Success Ratios are ranked from descending order (best to worst)

Analysis time frame: From 2010 up to 2020 (Q3)