Interim HealthCare Hospice Franchise

A franchise is when a business (franchisor) allows a party (franchisee) to acquire its know-how, procedures, processes, trademarks, intellectual property, use of its business model, brand and rights to sell its products and services. The franchisee signs a contract (franchise agreement) with the franchisor to acquire the franchise and generally has a territory granted to operate….

Review (2019) 
Franchise Background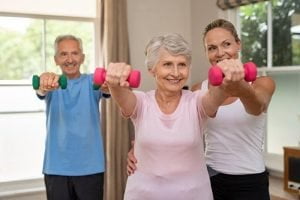 Founded in 1966, Interim HealthCare's locally owned and operated home care, hospice and medical staffing franchises have become a trusted sourceBased on Business Listings, Vetted Biz requires Businesses for Sale to share financial information on sales and earnings through credible sources, including but not limited to Tax Returns, Accounting Software, Point of Sale Software, etc…. of care and services. With more than 325 independently owned and operated franchise locations in 43 states, Interim's independent franchisees provide non-medical, medical, hospice and healthcare staffing services to approximately 50,000 people annually.
Interim HealthCare Hospice is a compassionate, patient-centered approach to medical care and support for people who are at their end-of-life and their families.  It is based on a philosophy of improving the quality of life when quantity of time is limited. Hospice offices provide physical, emotional and spiritual support to patients and those who love and care for them.
Partnering with hospitals, nursing homes and community based organizations, Interim Hospice meet the specific needs of terminally ill individuals and their families. Interim provides care most frequently in patients' homes however, care can also be provided in nursing homes and senior living residences including independent and assisted living.
Management Team
Interim HealthCare is managed under the Caring Brands International umbrella, whose management has many years of experience in the healthcare industry. 
In 2013, Caring Brands International was developed and launched as a future-focused healthcare enterprise to address the global shift that has begun. Forming the Caring Brands International platform base is Interim HealthCare, a leader in the U.S. care franchise industry for over four decades. The first acquisition in September 2013 under the enterprise umbrella was Bluebird Care, a well-known domiciliary franchise company in the United Kingdom and the Republic of Ireland. In October 2014, Just Better Care, a care franchise company based in Australia, joined the Caring Brands International enterprise. Today, three market-leading franchise care brands with more than 300 franchise owners operating 530 locations in seven countries generate nearly a billion dollars U.S. in combined system-wide salesThe total amount in dollars made in the business before expenses are deducted. See also Gross Revenue…. under the Caring Brands International umbrella.
Franchise Home Care Services Industry Analysis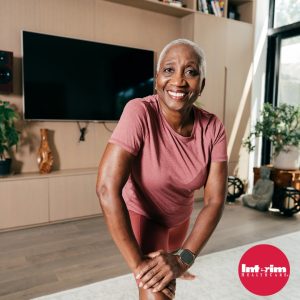 Franchise Strengths 
One of the oldest establishedThe year a Business for Sale was established. If the business has been running for a minimum of ten years, Vetted Biz will qualify the business for sale as a "Well-Established Business."… brands in the Home Care industry, having been founded in 1966
High quality care – one of the few home care providers to exclusively use home care employees with CNA (Certified Nursing Assistant) certifications
High margin, recurring revenue business where most costs are only incurred during home visits
Franchise Weaknesses
Reputation-heavy industry, which means that bad experiences with other franchise operators can significantly impact the system
Success dependent on finding competent CNA's
Home Care Services Franchise Opportunities 
Over 96% of the population over the age of 75 have a chronic disease
As the brand is well established with a strong reputation, opening in an open territory that is growing can yield strong results
Technology is expected to continue to allow for improved service in the industry
Many patients who do not qualify for Medicare or Medicaid are eligible for hospice coverage under private insurance.
Threats in the Home Care Services Franchise Market
Profitability can be negatively impacted by close location of like competitors 
Potential for government to implement more oversight and regulations within the homecare industry
The IHC franchise system needs to continue remaining strong in order for the whole system to flourish
Estimated Initial InvestmentThe amount of funds necessary to begin operations of a business or franchise including the first three months of operation….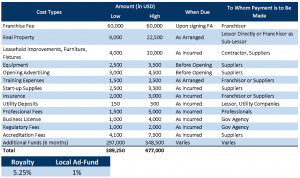 According to Items 6 and 7 of IHC Hospice 2018 FDD