According to a Jacari Care Inc. report, there are an estimated 16,000 – 18,000 outpatient physical therapy clinics. With the largest single clinic operator being Select Medical/Physio, having close to a 7% market share.
This estimate is a lot lower than official data reported by the 2012 U.S. Census of Service Industries. The Census reported 34,251 PT establishments in operation (facilities, sites or branches), operated by 24,342 firms.
Updating this figure to 2016, based on data reported by the County Business Patterns survey, there are now at least 38,814 establishments.
The top-5 players by number of clinics are:
Select Medical / Physiotherapy Associates – 1,100+
ATI Physical Therapy – 800
S. Physical Therapy – 590
Upstream Rehabilitation/ Drayer Physical Therapy Institute (DPTI) – 650+
Athletico Physical Therapy – 475
Consequently, these five companies combined operate an estimated 3,615 physical therapy clinics.
Receipts rose from $17.78 billion in 2007 to $24.49 billion in 2012. This represents a 37.7% increase over that 5-year period, or an average annual rate of 7.5%.
Physical Therapy Centers Industry Definition
With the 1997 Census, new NAICS codes were created to replace SIC codes.  NAICS are more specific and will cover markets and industries not previously covered. The NAICS code for this industry is 621340
---
Defined as: "offices of physical, occupational and speech therapists and audiologists". Offices means establishments or facilities or centers.
---
Physical therapy started life as a female only profession. The first professional association was formed in 1921. Was known as the 'American Women's Physical Therapeutic Association', and included 274 members.
It quickly changed its name in 1922 to the 'American Physiotherapy Association'. And men were allowed to join. By 1930 membership had grown to just under 1,000 members. Today, based in headquarters in Virginia, American Physical Therapy Association (APTA) represents more than 95,000 members throughout the U.S.
Physical therapists are movement experts who optimize quality of life. Through prescribed exercise, hands-on care, and patient education.
After making a diagnosis, physical therapists create personalized treatment plansl. That help their patients improve mobility, manage pain and other chronic conditions. Recover from injury, and prevent future injury and chronic disease.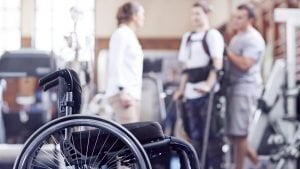 Physical Therapy Centers Industry Trends
A decade ago, electronic documentation was a fairly novel concept in the PT world. Now, ten years later, more than 80% of PT clinics are using some type of EMR. But even though the last decade has seen massive tech adoption among physical therapy practices, it also has seen massive regulatory change.
So, while PT centers are documenting in a more cost-efficient manner, they've simultaneously experienced reform-driven cuts to their payment rates.
The industry is quickly consolidating. With all of the large players having aggressive acquisition programs. The most recent large merger was Upstream Rehabilitation (more than 400 clinics in 23 states). Purchasing Drayer Physical Therapy Institute (more than 160 clinics in 16 states), announced in early January 2018.
The pressure on revenue per visit is likely to persist. Since Medicare (the largest single payor for PT services) is reducing reimbursement for 2018.
Diversification. Many practices are looking at alternative methods of bringing money into a practice. Via wellness programs, massage, and other cash-based programs. To combat the continual decline of insurance reimbursement.


Technology Changes Will Transform Physical Therapy Referral Source

Based on Business Listings, Vetted Biz requires Businesses for Sale to share financial information on sales and earnings through credible sources, including but not limited to Tax Returns, Accounting Software, Point of Sale Software, etc.

Due to hospitals and doctors having more ownership in PT billing and practices, independent PT practices will find it harder to rely on physicians as their primary referral sources. Hospitals and doctors will want to keep patients within their network. And will be less likely to refer out.

Therefore, private owned practices will need to look for different ways to obtain referral sources. And will have to rely on new innovations in physical therapy. Direct access, social media marketing and digital patient engagement tools all represent technology changes in PT. That can help maintain or increase their patient caseload.
Increased Patient Engagement Tools, Will Spark New Innovations in Physical Therapy. Patient engagement is a hot topic throughout the healthcare world. And technology changes in PT geared toward this goal will continue to make their way into the market. In an effort to keep patients connected to clinicsand ensure that they will return for their next visit. PT practices must create meaningful relationships with their patients. And keep them connected to the clinic even when they are not physically at the clinic.
MIPS (Merit based incentive Payment System) for Physical Therapy Billing. 2019 marks the first year that MIPS for physical therapy becomes a relevant topic. It is in this year that PTs are finally eligible to enroll in the program. MIPS physical therapy in 2019 refers to a payment adjustment system that's based on quality data. It is one of the new innovations in physical therapy. That is set to be a replacement for PQRS data reporting. And its goal is to decrease the cost of care while increasing quality.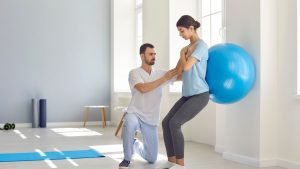 Industry Operating Ratios
 This industry employed 368,244 people in 2017. With an annual payroll of $15.4 billion.  This industry employed 309,252 people in 2012. Payroll costs represented 49.7% of revenues, compared with 50.3% five years earlier in 2012.
The average "establishment" (office, branch, physical site or location) had receipts of $769,065 in 2017. Up from $715,249 in 2012.  Based on the 6.2% average annual growth in receipts posted by the industry from 2012 to 2017, Marketdata estimates that average receipts per facility stood at about $804,000 in 2020.
Revenues per employee stood at $84,487 in 2017, versus $79,205 in 2012.
There was an average of 9.1 employees per establishment in 2017.
Physical Therapy Industry Snapshot: 2017, 2012, 2007, 2002
(employers with payrolls)
|   | 2002 | 2007 | 2012 | 2017 |
| --- | --- | --- | --- | --- |
| No. of estabs. | 19,673 | 30,328 | 34,251 | 40,407 |
| Industry Receipts ($ mill.) | $10,685 | $17,785 | $24,498 | $31,112 |
| Annual payroll ($ mill.) | $4,871 | $8,328 | $12,311 | $15,409 |
| Total employment | 161,543 | 241,908 | 309,299 | 368,244 |
| Avg. receipts per estab. (000) | $543,130 | $586,421 | $715,249 | $769,065 |
| Receipts per employee (000) | $66,143 | $73,519 | $79,205 | $84,487 |
| Payroll per employee ($) | $30,153 | $34,426 | $39,803 | $41,844 |
| Employees per estab. | 8.2 | 8.0 | 9.0 | 9.1 |
Source: U.S. Census Bureau, Marketdata calculations
Outpatient rehabilitation
Outpatient rehabilitation was a $29.6 billion industry. That was expected to grow 7% annually through 2018 (According to Harris Williams & Company 2014 report on the industry)
Physical therapy accounts for an estimated $26.6 billion. Or approximately 90%, of all outpatient rehabilitation spending.
Highly fragmented with largest 50 competitors comprising less than 25% of the market.
Physician-owned physical therapy practices ("POPT") comprise an estimated 10-15% of all physical therapy clinics. And represent a large, compelling market opportunity.
POPTs provide an attractive opportunity for physician groups. To provide their patients with greater convenience. Improved outcomes, and continuity of care by offering therapy in their office setting.
Most physician practices are ill equipped to oversee the provision of physical therapy services. From a clinical perspective or manage the associated administrative functions.
Outlook for reimbursement has been favorable even during the recent economic recession. That is because of the cost savings and effectiveness of outpatient rehabilitation.
Commercial payors reimburse at a "usual and customary" rate or a negotiated contractual rate on a per service basis.
Medicare/Medicaid reimbursement is governed by the Medicare Physician Fee Schedule.
The 50% MPPR policy will reduce overall provider payments by approx. 6-7%, which will be partially offset by a 4% increase that resulted from CMS' use of new survey data of practice expenses.
Workers' compensation features higher reimbursement levels than commercial or governmental payors.
Smaller, independently owned clinics account for roughly 45% of all physical therapy clinics.
Established

The year a Business for Sale was established. If the business has been running for a minimum of ten years, Vetted Biz will qualify the business for sale as a "Well-Established Business."

platforms well positioned for growth through de novo expansion and ongoing consolidation
Industry Size & Development
 Since there is accurate and reliable information about the size of this industry, from the U.S. Census Bureau, our job has been made easier. The government's 5-year survey is the most comprehensive survey available, including the operations of the greatest number of physical therapy clinics one can find.
According to Harris Williams & Company,  Physical Therapy Market Overview 2/2014)
"…Physical therapy represents a $30 billion industry with an annual growth rateGrowth Rate The Growth Rate is the percentage change of total franchise units from one year to the next. A higher Growth Rate signifies an expanding franchise system. More of 7% within the U.S. There are several factors contributing to this expansion, such as the aging US population, increase in sedentary lifestyles, and growth in employment.
Despite the size of this market, it remains highly fragmented and extremely competitive with the largest 50 competitors comprising less than 25% of the market. The market is primarily composed of small, independent practices that are all vying for a piece of the pie. Although nearly any industry has its fair share of front-runners, physical therapy lacks a clear winner. Where no single participant commands over 5% of the market."
According to the Health Value Group
"The Physical Therapy sector is going through a period of growth and is expected to increase by 3.6% annually to become a $34.6 billion sector by 2020. The PT industry is experiencing heightened M&A activity from both strategic suitors and private equity investors.
The PT business is highly fragmented with the 50 largest competitors comprising less than 25% of the market, which makes it ripe for consolidation.  This consolidation will be led by private equity backed firms as they continue to expand their footprint through add-on acquisitions to gain market share and improve margins by leveraging infrastructure and systems. 
Nine of the top twelve outpatient companies are private equity backed. The outpatient rehabilitation sector is highly fragmented with the three largest players controlling only 8.3% of the market share and 13.1% of the facility base. 
While there are a few national companies, the industry consists predominantly of small to medium regional providers with annual revenue of slightly over $1 million per clinic. Physician-owned PT practices comprise an estimated 10% -15% of all PT clinics and represent a large compelling market opportunity for consolidation."
Size of the U.S. Physical Therapy Market: 2007-2016
 
No. of establishments
Annual Payroll
($ 000)
Estd. Annual Receipts *
($ 000)
2016
38,813
$ 15,307,580
$ 30,615,160
2015
38,541
$ 14,416,939
$ 28,833,878
2014
35,257
$ 14,086,779
$ 28,173,558
2013
34,665
$ 13,266,285
$ 26,532,570
2012 (Census)
34,251
$ 12,311,000
$ 24,498,000
2011
32,879
$ 11,528,429
$ 23,056,854
2010
32,697
$ 10,685,471
$ 21,370,942
2009
30,798
$ 9,950,486
$ 30,615,160
2008
29,986
$ 9,163,302
$ 18,326,604
2007 (Census)
30,328
$ 8,328,000
$ 17,785,000
2006
27,169
$ 7,437,775
$ 14,875,550
* We can derive an estimate of those receipts by using the ratio of payroll to receipts from the 2012 Census. We know that payroll accounted for about 50% of industry receipts in 2012. It probably has not changed much since then, so we can just take the payroll figure from County Business Patterns and double it.
2018 – 2023 Estimates & Forecasts by Marketdata
Going with a conservative projection of 6.2% annual growth, Marketdata analyst feel very confident in projecting that rate through 2018, 2019, and 2023.
Marketdata estimates that the physical therapy centers market was worth $34.5 billion in 2018.
We estimate the industry to be worth $36.6 billion in 2019.
We forecast the industry to be valued at $45.7 billion by 2023.
Marketdata sees steady and moderate growth through 2023.
The availability and cost of qualified physical therapists should not be an issue. As the number of therapists is expected to grow significantly over the next decade.
Physical therapy services still provide a cost-effective way to prevent short-term disabilities from becoming chronic conditions. To help avoid invasive procedures, to speed recovery from surgery and musculoskeletal injuries and eliminate or minimize the need for opioids.
Changes in health insurance reimbursement, both public and private, have encouraged the earlier discharge of patients to reduce costs. Clinics believe that early hospital discharge practices foster greater demand for outpatient physical therapy services.
In general, the elderly population has a greater incidence of disability and falls (resulting in broken hips, legs, arms, etc. that may require physical therapy), compared to the population as a whole. As this segment of the population continues to grow, including aging Baby Boomers, it is believed that demand for rehabilitation services will expand.
The high incidence of and increases in American obesity should also contribute to more accidents. Falls and sprains, and sports injuries, as overweight Americans continue to overestimate their physical capabilities.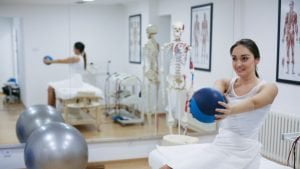 Physical Therapy Franchises
Following are the leading chains and/or franchises in the industry.
S. Physical Therapy (franchise)
ATI Physical Therapy (not a franchise)
Select Medical / Physiotherapy Associates (not a franchise)
Upstream Rehabilitation/ Drayer Physical Therapy (not a franchise)
Athletico Physical Therapy (not a franchise)
PT Solutions (franchise)
CORA Health Services
Pivot Physical Therapy
Professional Physical Therapy
Physical Therapy Now (franchise)
FYZICAL Therapy & Balance Centers (franchise)
Note:
The complete 20-page Marketdata Overview contains more detailed information about the physical therapy centers industry: regulation, operations, customer demographics, as well as a Reference Directory of industry trade associations, reports and other sources.