Best Franchises Under $50k 
I'm gonna go through different industries that are well-suited for those wanting to invest less than $50,000 in a franchise or business opportunity in the United States. So let's get right into it. What industries are well-suited or even available for those wanting to invest in a franchise less than $50,000?
They're generally not going to be food and beverage franchises. Popular brands like Domino's Pizza, Papa John's, are going to be at least $200,000. McDonald's and Burger King cost over over 1 million dollars to open up!. There is an exception, though.
Chick-Fil-A Franchise & Steak 'n Shake Franchise for $10k? 
You can invest in Chick-fil-A for $10,000. You can also invest in Steak 'n Shake for $10,000. However both brands don't fully operate as a franchise, and you can basically have some split of ownership like 50/50 for Steak 'n Shake to buy an existing location and actively manage and operate that business. For Chick-fil-A, you have a percentage of the profits split, and Chick-fil-A corporate's will invest millions of dollars to develop and open up that location where you are essentially a senior employee managing that multimillion-dollar business.
Food Franchise under $50k
So there are a few exceptions on the food side for those that don't have $50,000 to invest in a business. And you could look at different concepts that are just focused on delivery and takeout. However, if you don't already have a restaurant or a very recognizable brand and area, it can be hard to sell through the third-party apps a new brand that consumers are not used to that's fully virtual. You can also look at converting an existing business.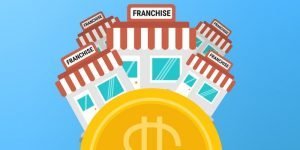 Technology Franchise for $45k
So if you have a cell phone repair business, there's a franchise, Techy, that we've had clients invest with, that you can convert an existing location for as little as $45,000 into a Techy franchise, and also do the smart home installation and other technology-related services.
Sports Franchise for $45k
There are a few different sports-related businesses like TGA Premier Sports. It has 100-plus locations where you can open up sports clinics to help with golf, tennis, even soccer in your local community. I believe that it starts at around $40,000.
Be careful when evaluating Children Programs franchises
And then children's programs is another industry that you can invest in. But beware, I haven't been that impressed by the figures I've seen on children's programs. I see there are a lot of opportunities that you can open up for $30,000, $40,000, $50,000, even $80,000, but the average salesThe total amount in dollars made in the business before expenses are deducted. See also Gross Revenue. of their franchisees are $80,000. So even if you're making a profit of 30%, 40%, you're not even making $40,000. And most of those opportunities you have to work full-time in the business. So I would be a little skeptical for children's programs franchises based on the information that we've reviewed. However, there are a few diamonds in the rough in the children's programs space.
So if you're investing in a franchise that's less than $50,000, keep in mind, it's competitive. It's easy for people to enter into this space. It's not like you open up a laundromat where you've got to invest half a million dollars and you have all these capital expenses and it's harder for a competition to open up given the high capital expense. So less than $50,000, the failure rateThe Failure Rate represents franchise unit terminations, non-renewals and franchises that ceased operations for other reasons in a given year relative to the total number of franchise units. A lower closure rate, overall terminations, and non-renewals indicate a more stable franchise system. Franchise failures… More we've seen can be higher than investments at $100,000, $150,000 for similar types of service-related businesses.
And then keep in mind also, if you're an American green card holder or a U.S. citizen, you might be eligible for the SBA 7(a) loan program where you could only put up 30% of the total investment amount. So say a $50,000 franchise, including additional working capital, franchise fee, you might only have to invest $15,000 and get a loan of $35,000. And rates aren't that bad, right now around 5%, so it's great for the franchise investor. However, again, that draws more competition as people only need $15,000 cash to open up a franchise that's the total investment is $50,000.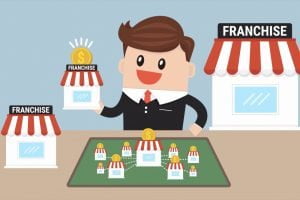 Get ready to work hard!
For most franchises I see under $50,000, you have to work hard. So get ready to roll up your sleeves and be willing to work 40, 50, 60 hours a week at least for the first 18 months. We've had hundreds of clients invest in franchises and we've had the privilege to accompany their journey throughout the first initial months of deciding what franchising, to investing in the franchising, to opening the business and growing from there.
So looking at one client case, I have a client that invested in a real estate property management franchise, that the starting investment is even lower than $50,000, the first 6 months were tough. A lot of hard work, a lot of outreach, leaning on the franchisee community, leaning on the franchisor for training and support, lead generation. However, that client who invested not so much capital has now grown to have over 300 properties under management in a period of a little over 3 years.
So you can turn that investment of, say, $50,000 into a business where if it's real estate property management, it's valued, if you wanna sell the business in the future, generally off 1 times the sales, so if you're doing $500,000 in sales and you invested $50,000, to me, that's a very nice high return investment to think about. And the beauty of service-based businesses is they can be valued at a much higher amount compared to the investment that you initially contributed, where food franchises unless you have 5, 10, you'd be lucky to get your money back sometimes. And maybe if you invested, say, $250K, do you get $350K back when you do decide to sell that business?
Top franchise Industries under $50k
So in summary, I'm a big fan of service-based businesses like accounting, insurance, real estate property management, commercial cleaning, especially for those that are willing to work hard and might be on a tighter budget.