The U.S. contract cleaning & maintenance services industry is a huge and competitive $117 billion business that employs 2.4 million Americans.
It is expected to grow to $155 billion by 2025, and plays a vital role in keeping public buildings clean, sanitized, and in good working order. Like most sectors, commercial cleaning will be affected by the Covid-19 crisis, but these services will take on a new long-term importance and growth is expected to recover strongly in 2021 and beyond.
Commercial Cleaning Industry Scope & Definition…
The Census Bureau of the U.S. Government defines this industry as "Services to Dwellings and Other Buildings", under the NAICS code number 5617.  The industry is further broken down into the following categories:
"Disinfecting and Pest Control Services"
"Janitorial services"
"Carpet cleaning services"
"Other services to buildings."
Janitorial Services Businesses
Janitorial Services includes establishments primarily engaged in furnishing building cleaning and maintenance services such as: window cleaning, janitorial services, floor waxing, and office cleaning.  General contractors and special trade contractors mainly engaged in building repair work are NOT included in this category. Residential cleaning services ARE included in this category.
The following services are included in this segment of the industry: acoustical tile cleaning, interior building cleaning services, chimney cleaning services, custodians of schools on a contract or fee basis, floor waxing, housekeeping (cleaning service) on a contract or fee basis, janitorial services on a contract or fee basis, lighting maintenance services, maid service, building maintenance (except repairs), office cleaning services, service station cleaning and degreasing, venetian blind cleaning, and window cleaning.
It is inaccurate to call this industry simply office building cleaning and maintenance services, since the scope of buildings serviced extends far beyond commercial office buildings — retail stores, supermarkets, independent professional offices (dentists, MDs, CPAs, lawyers, chiropractors), factories/industrial plants, banks, department stores, warehouses, airport terminals, schools and colleges, hospitals, clinics, nursing homes and other healthcare institutions. Residential cleaning services take place, obviously, in private homes.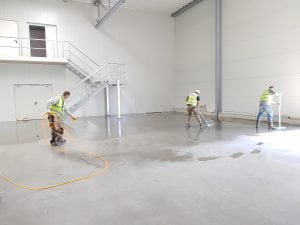 Commercial Cleaning Industry Structure
Summary Statistics: 2017 – Average Annual Receipts
 
Establishments

Receipts

($ Millons)

Receipts per Establishments

($ 000s)

Services to Buildings & Dwellings – Total
200,074
$153,176
$765.6
Exterminating, pest control
14,465
13,079
$904.1
Janitorial services
60,219
50,420
$837.3
Carpet cleaning
7,488
3,426
$457.5
Landscaping
104,179
77,820
$747.0
Other services #
13,723
8,431
$614.4
# pressure washing, parking lot maintenance, duct cleaning, lighting, etc.
SourceBased on Business Listings, Vetted Biz requires Businesses for Sale to share financial information on sales and earnings through credible sources, including but not limited to Tax Returns, Accounting Software, Point of Sale Software, etc….: U.S. Census Bureau, Marketdata calculation
Key Industry Trends
There are several trends in the cleaning industry that are really hitting home for building service contractors.
Cost pressure
Cleaning contractors are under such huge restraints to keep costs down and maintain high levels of service. The U.S. economy has been a major force when it comes to budgets. The end user is asking, "How can we get more for less?" They're seeing a short-term solution as repairing old equipment rather than replacing it with new. As a result, "reliability" and "low maintenance" are common needs in today's marketplace.
This industry is 65-70% labor intensive, so a wage increase more greatly affects what is charged to the client.
The office building cleaning end-user segment is shrinking
There are a lot less workers in office buildings these days as they move to telecommuting and home offices. This trend will probably accelerate this year, as the COVID-19 virus in the U.S. forces employers to evaluate more closely just how many employees they need to come into an office each day, versus work from home.
Vendor consolidation
The industry is seeing a lot of companies going with regional or national RFPs. Smaller firms with special expertise in specific markets are being acquired by larger ones.
Commercial cleaning services are evolutionary in nature. That is, they tend to start out as mainly janitorial service, then some of them move into other areas such as lighting, green plants maintenance, heating/ventilation/air conditioning, security, landscaping, parking lot striping, pest control services, etc. It's much easier for the building manager to deal with one company that can do all of this than with separate firms or people for each task. Typically, the medium-sized or large cleaning firm is the one most capable of offering such a wide range of services, rather than the 1-2 person mom & pop operation.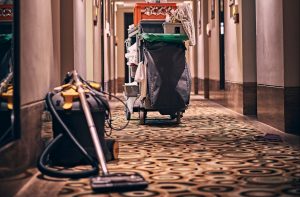 Diversification
This entails providing value-added services to existing customers. When the economy is slow with no development by developers, salesThe total amount in dollars made in the business before expenses are deducted. See also Gross Revenue…. stagnate. Therefore, the need for constant growth will have to come from selling customers on the idea of transferring more of their needs to one supplier.
The hiring and training and productivity of employees
This is becoming a big issue. Contractors have to make sure their employees have national background checks. To keep the business, they have to train employees to be able to work very fast and effectively to make sure they keep up with the service schedule and the price points.
Finding and retaining good workers is getting tougher. Younger people are not entering this industry, as there is no attractive career path. It takes at least $10/hr. to attract workers. Cleaning workers are a transient workforce and it doesn't take much for them to leave once they find better opportunities and higher wages.
The industry worker turnover rate ranges from 200% to 400% per year, and this is nothing new.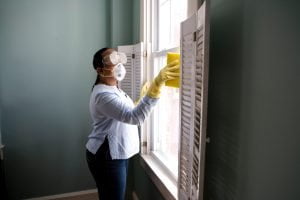 Commercial Cleaning Franchises are still very popular
In recent years, many franchisors had trouble selling franchises, due to some operating on the fringes of ethical behavior. There are a lot of unrealistic earningsTotal earnings received by a business based on the U.S. Income Tax Return. The financial numbers of these earnings depend on the type of business, but can include income, guaranteed payments, compensation, interest, depreciation, elective deferrals, and contributions.For further details on how to calculate earnings and where to find financial numbers on tax return forms based on the type of… claims and churning (reselling) of accounts. Some franchisors prey on minorities and have been pressured by state Attorneys General to clean up their act.
Green cleaning
The increasing awareness of green cleaning products is identified as one of the primary contract cleaning services market trends. Green cleaning is treated as the standard now and not an "option." It is now a prerequisite for LEED certification of buildings. Green cleaning is fundamental. It is not an option anymore. You have to be green and figure out how to get rid of trash, strip and refinish floors and clean carpets without affecting the health of anyone.
Green cleaning is popular and will continue to be popular, but is a "feel good" concept. Green cleaning is a marketing slogan; by itself it is meaningless. The term "green" is still being used as buzz word, much like a fad. Green can be a valuable marketing tool for a contractor's customer.
Cleaning Industry Size & Growth
Factors Affecting Demand & Industry Sales Growth:
The main drivers of growth in this industry include the following:
Increases in the number of building maintenance companies and establishments, franchised and non-franchised
Amount of existing non-residential commercial floorspace in the U.S.
Level of new non-residential construction activity: industrial, retail, healthcare, manufacturing, hotels & lodging
Office building vacancy rates
Increases in the price per square foot for building maintenance
2020 Marketdata Forecast
 The industry's growth will depend upon the general economy and how fast it will recover from the Coronavirus crisis, the health of the commercial real estate market, franchising success, demand from healthcare, education and municipal and military end-users (more of whom are outsourcing janitorial services), and the growth of specialty markets.
All indications from economists as of early April point to a deep but short recession in 2020. After the COVID-19 crisis passes, most are expecting a strong recovery in the second half of the year, as pent up demand by consumers takes hold.
Workers will return to office buildings and manufacturing plants, restaurants, sporting events, schools, retail stores and to small businesses.
Thanks to COVID-19, most office buildings across the larger cities are currently standing pretty much empty because employees are working from home. However, office space is typically leased for a longer period (usually five years), which means leases won't be canceled just now because of the crisis.
While small and midsized companies, including those in the financial services sector, may suffer disproportionately during the COVID19 crisis, larger firms (and thus larger tenants) are well-positioned to weather the storm.
As for industrial facilities, The Coronavirus crisis has two sides: on the one hand, more shopping has shifted online. On the other hand, supply chains and manufacturing have been disrupted, leading to less business for logistics facilities.
So, logistics real estate remains in high demand, potentially even more so due to an increase in online shopping, food delivery, etc.
Most commercial construction projects are proceeding as usual during the COVID-19 pandemic, with construction considered an "essential business" in all but a few states and cities hardest hit by virus.
On the positive side, Marketdata analysts think that certain segments of the industry will be stimulated by the crisis—namely services such as disaster restoration. More facilities will need to be "deep cleaned" in the aftermath of the virus, and building managers will probably increase the frequency of cleaning to prevent future outbreaks.
In addition, there should be increased usage of cleaning and sanitizing services by all healthcare facilities (hospitals, clinics, physician offices, outpatient facilities, etc.).
According to Verticaliq…
The impact of the coronavirus outbreak on janitorial services will vary based on each firm's customer base, according to some industry experts.
Firms with many clients that are likely to be exempted from mandatory closures are likely to benefit from intensified cleaning routines put in place to combat the infectious virus.
Most janitorial services firms are inundated with commercial cleaning jobs as a result of the coronavirus outbreak. OpenWorks claims that clients who normally request cleanings four to five days a week are now requesting their services six to seven days a week.
As businesses and schools close to control the spread, they are calling on janitorial services to deep clean their properties.
Some cleaning services are experiencing such high demand that they are contacting other businesses affected by coronavirus closings and cancellations — such as the construction, service and hospitality industries — to see if any of their out-of-work employees want jobs.
Experts note, however, that firms experiencing strong demand may soon struggle with supply chain issues because many cleaning products are manufactured in China, where the coronavirus outbreak began.
In addition to aggressive nightly cleaning and disinfection measures taken throughout the building in accordance with CDC and WHO protocol — which began long before the Coronavirus occurred — cleaning may also include the additional measure of an electrostatic sprayer application of a virus-killing cleaning product on common area touch points.
Personnel at the International Sanitary Supply Association trade group point out that many professional cleaners aren't trained in the kind of precautions and procedures necessary to safely combat the coronavirus. This is potentially a gap in the industry.  Properly sanitizing buildings can require specially trained and experienced professionals as well as advanced equipment, such as electrostatic sprayers.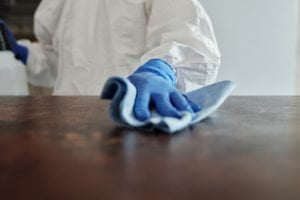 Opinions of Industry Leaders
BSCAI (trade association)
According to the BSCAI (Building Service Contractors Association International), the impact of the COVID-19 pandemic crisis on commercial cleaning members has been significant.
"Early on, it seemed like it would be a major opportunity for contract cleaning companies with extra requests from customers and prospects for additional cleaning and disinfection services.  Our members were doing what they could to simply meet the needs of customers, and many were not able to staff additional requests from prospects.  This demand changed quickly with stay at home orders being issued throughout the United States."
"Some of our members who serve retail outlets, schools, and even commercial office spaces are seeing steep declines, request for credits, withholding of payment, and facility closures.  Depending on the client mix, some members are experiencing reduced revenue, cash flowThe net profit before taxes plus payments to the owner(s), interest, and depreciation of assets…. impacts, and are struggling to keep staff in place."
"COVID-19 may well redefine the industry, with many small or heavily leveraged businesses closing.  It also depends on how long this crisis lasts.  Suppliers and distributors are going to be the biggest benefactors of this crisis, but even so, cash flow, raw material access, supply chain logistics, and production issues are real challenges. Those contractors who do survive this crisis could capture additional market share from those who do not.  One thing is clear, the value of "clean" will mean more than ever to customers, and the public and our members will be ready to meet those needs."
Marketdata Forecasts
The bulk of this industry's establishments, by number, are small cleaning companies – sole proprietorships. According to Census data fully 93% of the industry's 1.4 million establishments were those without payrolls – 1.3 million of them. The same ratio was true for janitorial services.
These small cleaning companies generated $27.5 billion of the $102.9 billion – 26.8% of sales.
Marketdata analysts believe that it is these small firms with no payroll or small payrolls, that will suffer this year, and a good number of them will go out of business. These firms don't usually have the cushion to weather a 2-3 month stay at home order. They will lose staff. In addition, they probably don't have access to sophisticated cleaning equipment such as electrostatic sprayers, now in demand by larger accounts.
Therefore, at a minimum, 27% of the industry's revenues will be under extreme pressure this year.
All of this considered, Marketdata analysts estimate that the larger cleaning contractors may get a 5-month boost from March through July, but smaller ones will see revenue declines.
We think that revenues will decline this year by 1.6%, to a value of $117.3 billion.
2021 – 2025 Forecast for Commercial Cleaning Businesses
 Marketdata analysts think that 2021 will be a recovery year for the U.S. economy overall, as the recession fades and companies and employees return to work post COVID-19 crisis. Commercial cleaning as a service will take on a new importance and the frequency of cleaning will increase.
That said, we feel that after a turbulent and anemic 2020, revenues will grow better than average, by 7.4%, to a value of $126 billion.
Beyond 2021, growth rates should return to more "normal" historical average of
5-6% annually. Industry receipts are forecast to reach $155 billion by 2025.
Year
Projected Receipts
($ billion)
Annual % chg.
2020
$ 117.3
-1.6
2021
$ 125,980
7.4
2022
$ 132,783
5.4
2023
139,953
5.4
2024
147,511
5.4
2025
155,476
5.4