SourceBased on Business Listings, Vetted Biz requires Businesses for Sale to share financial information on sales and earnings through credible sources, including but not limited to Tax Returns, Accounting Software, Point of Sale Software, etc….: 2020 WOW 1 DAY PAINTING FranchiseA franchise is when a business (franchisor) allows a party (franchisee) to acquire its know-how, procedures, processes, trademarks, intellectual property, use of its business model, brand and rights to sell its products and services. The franchisee signs a contract (franchise agreement) with the franchisor to acquire the franchise and generally has a territory granted to operate. What is a Franchise?… More Disclosure Document (FDD)
What is WOW 1 DAY PAINTING?
WOW 1 DAY PAINTING is a professional commercial and residential painting business founded in 2005 and is a franchise concept in the Home Services industry.
The parent company of WOW 1 DAY PAINTING inc. is "1Day Corporate" a British Columbia, Canada corporation.
Brian Scudamore co-founded the company in December 2010 and has served as its Chief Executive Officer and as director since its formation. Brian Scudamore also has served as CEO of 1-800-GOT-JUNK? since 1989 and of Shack Shine Home Services LLC since July 2015, all three of his companies are located in Vancouver, B.C. Mr. Scudamore has served as the Chief Executive Officer of O2E Brands since April 2015, the brand that encompasses all three companies.
Brian Scudamore success with 1-800-GOT-JUNK? promoted him to organize and professionalize brick and mortar home service businesses. Currently WOW 1 DAY PAINTING has 34 franchise locations across the United States and has 15 locations across Canada.
Initial Franchise Fee
$32,000 – $56,000
The initial franchise fee is a minimum of $32,000, which includes $20,000 for the first sub territory, plus $12,000 for one additional sub territory. The minimum initial investmentThe amount of funds necessary to begin operations of a business or franchise including the first three months of operation…. is a territory consisting of two sub territories. Each additional sub-territory is $12,000.
If granted multiple sub territories within which to operate your Franchised Business, the franchisor may allow you to pay the initial franchise fee with respect to some of the sub territories in equal monthly installments, without interestA payment from a borrower or deposit-taking financial institution to a lender or depositor of an amount above repayment of the principal sum, at a particular rate. In Vetted Biz, it is typically the additional rate of a loan a business buyer would pay off over time to borrow in purchasing a business…., for a period not to exceed one year, however no other financing is offered by the franchisor.
WOW 1 DAY Painting Franchise Cost
The total investment necessary to begin operation of a WOW 1 DAY PAINTING franchised business is $67,000 to $129,500.
The territory you are granted will generally consist of two to four of these geographic areas, each of which will be considered a "sub territory." The minimum population in a sub territory will be 50,000 households.
Additional Cost Breakdown:
Below is a list of the costs that factor in the range of startup costs from $67,000 to $129,500.
Initial Franchise Fee: $32,000 – $56,000
Initial Marketing Expense: $15,000 – $20,000
Computer Hardware and Software: $1,000 – $3,000
Vehicles & Graphics (Lease / Purchase Deposit): $0 – $5,000
Real Estate / Rent: $0 – $3,000
Training Expenses: $3,000 – $6,000
Insurance: $1,000 – $4,000
Office Equipment & Supplies: $0 – $1,000
Licenses and Permits: $500 – $2,000
Professional Fees: $2,000 – $5,000
Equipment: $2,500 – $4,500
Additional Funds (3 months): $10,000 – $20,000
Ongoing Franchise Costs and Fees:
Royalty: 6% of Gross Revenues*
SalesThe total amount in dollars made in the business before expenses are deducted. See also Gross Revenue…. Center, Marketing & Technology Fee: 5% of Gross revenueThe total amount in dollars made in the business before expenses are deducted. See also Sales….
Payment: RoyaltiesFees paid by a franchisee to their franchisor in order to operate a franchise location. They are usually on a weekly or monthly basis…. More are due semi-monthly
*Minimum Royalty: Depending upon your year of operation, the Minimum Royalty will range from $2,000 to $4,200 per Sub territory per calendar year.*
Local Advertising Payment
You are required to pay $15,000 for Initial Marketing Expenses. The company will spend this amount in your area to market and promote your Franchised Business before you open and during the first 6 months after you begin business.
If you purchase additional sub territories, or are in a brand-new major market, the company may recommend that you spend an additional $5,000 for Initial Marketing Expenses. The Initial Marketing Expense is non-refundable.
On-Going Marketing
During your first four full fiscal quarters of operating the Franchised Business, you must spend an amount equal to 12% of Gross Revenue quarterly on local advertising and promotions.
During the fiscal quarters thereafter of operating the Franchised Business, you must spend an amount equal to 7% of Gross Revenue quarterly on local advertising and promotions.
WOW 1 DAY PAINTING Sales Figures:
This information excludes information from six franchisees that closed during the 2019 Reporting Year (two of which were open less than 12 months), and eight US franchises that opened during 2019 and were therefore not in operation for the entire 2019 Reporting Year.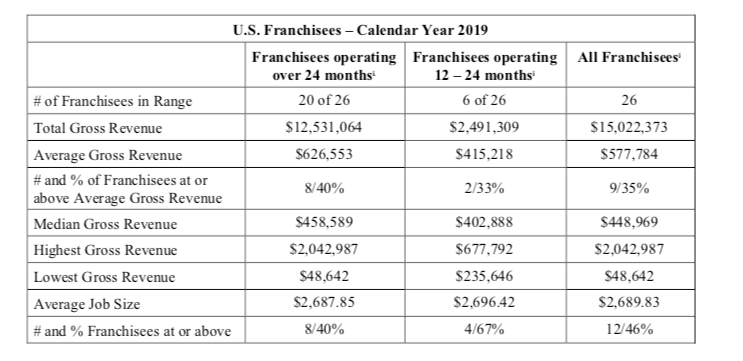 Key Highlights from Sales Figures:
Average Franchise Gross Revenue (26): $577,784
Average Gross Profit MarginThe gross profit margin shows how much a business is generating profit for every dollar of cost involved, displayed as the percentage of revenue that exceeds the cost of goods sold.Gross Profit Margin = ((Revenue – Cost of Goods Sold)/Revenue) * 100…: 41.9%
As seen in the chart about the businesses in operation over 24 months had both a higher gross revenue and higher gross profitThe profit a business makes after deducting the costs involved in making, providing, and selling the goods and services. In an income statement, it is the sales minus the cost of goods sold.Gross profit = Revenue – Cost of Goods Sold… margin, which is a good indication of increased profit as you become more comfortable with running your business.
Competition:
The market for this service is competitive. You will be competing with other painting business, including local painting companies, individuals performing painting services, other franchised painting operations, as well as seasonal student painting companies.
The main national competitors include: Certa Pro Painters, Five Star Painting, 360 Painting, College Pro (and other student painting companies) and Fresh Coat Painting. All of these companies are franchised operations with a range of 13-300 franchises each.
Conclusion:
WOW 1 DAY PAINTING is a well-established business and run by a very successful serial entrepreneur Brain Scudamore. This innovative business model and great leadership will position franchisees for success.
While this may be the business for you, make sure to also check out other businesses offered on Vetted Bizz and in the home services industry.
Analysis Provided by: Brooks Gammill Vetted Bizz Intern
Want to know how WOW 1 DAY PAINTING compares to other home service franchises? Download our industry guide!