The above charts show the numbers of licensed stores that opened, closed, and the net change from 2019 to 2020. In the U.S., they ended the 2019 fiscal year with 6,250 stores, having opened 210 and closed 73 for a net change of +137 by the end of the 2020 fiscal year.
For the Americas as a whole, they ended the 2019 fiscal year with 8,093 stores. Having opened 281 and closed 129 for a net change of +152 stores by the end of the 2020 fiscal year. Internationally, they ended the 2019 fiscal year with 7,329 stores, having opened 620, closed 175, and transferred 4 for a net change of +449 stores by the end of the 2020 fiscal year.
In total, they started with 15,422 licensed units at the end of the 2019 fiscal year. Having opened 901, closed 304, and transferred 4 for a net change of +601 by the end of the 2020 fiscal year.
Licensed Starbucks units account for 10% of their total gross revenue

The total amount in dollars made in the business before expenses are deducted. See also Sales.

. According to the annual report, licensed stores have a lower gross margin and a higher operating margin than company owned stores.

Overall, for both company owned stores and licensed stores, there is a net growth in the number of units added and retained in Starbucks.
4. Starbucks Risk Factors
The following are risks that Starbucks faces as a company and to their business model, as well as an analysis of how it affects them both at the individual unit and corporate level.
COVID-19 Pandemic:
Like many other businesses, Starbucks units both across the United States and the globe encountered challenges from mandatory shutdowns due to the onset of a global pandemic. Even as units began to reopen, Starbucks establishments continued to struggle with modified hours and reduced traffic. Furthermore, the economic downturn brought on by the pandemic has also adversely affected Starbucks. Both in terms of increasing the volatility of their stock price and decreases in consumer activity. Which in turn negatively impacts revenue.
Brand Relevance and Changing Consumer Preferences: 
Much of Starbucks business success relies on their brand image and consumer perceptions of their brand. Any controversies or negative press associated with the name of Starbucks will have a damaging effect on their brand. Also, a detrimental effect overall on their revenue. In terms of consumer preferences, while coffee remains a very popular commodity with both domestic and international consumer markets, this is always subject to change.
If consumers believe that the adverse health effects of coffee or sugary caffeinated beverages outweigh the benefits, they will be less likely to purchase Starbucks products, which will hurt their revenue.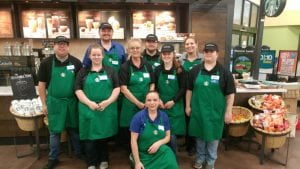 Cybersecurity:
Like the vast majority of businesses in the modern age, Starbucks is heavily reliant on information technology systems for their business operations. This leaves them heavily susceptible to cyber attacks from hackers, which can severely disrupt the everyday operations of their business.
Labor and Supply Chain.: The increasing cost of coffee beans and decreasing availability has a significant impact on the business operations of Starbucks. Increased costs and decreased availability will lead Starbucks to increase their coffee prices, which could in turn decrease consumer demand and potentially revenue.
Running a Global Business: 
Although Starbucks is primarily dependent on the financial performance of their domestic units, they have become increasingly dependent. Especially on the financial performance of certain international markets that have experienced a large boost in customer demand. This includes China. Which has an enormous consumer market but is also often subject to rocky relations with the United States.
Governmental and Regulatory Changes: 
Finally, Starbucks is subject to the laws and regulation of the governing bodies of the countries in which they operate. Since Starbucks has become a global brand, this not only includes US business and consumer protection laws and regulations, but for each country they have units in.
5. Starbucks Revenue: Financial Statements Analysis