Starbucks FranchiseA franchise is when a business (franchisor) allows a party (franchisee) to acquire its know-how, procedures, processes, trademarks, intellectual property, use of its business model, brand and rights to sell its products and services. The franchisee signs a contract (franchise agreement) with the franchisor to acquire the franchise and generally has a territory granted to operate. What is a Franchise?… More Cost and Profit
Have you ever thought about running your own Starbucks business? After all, Starbucks is a dominant force in the
coffee industry
, maintaining the highest share of the coffee shop market with 40% as of
October 2019.
Their total net revenue, according to their
2020 annual report,
was over $20 billion in 2020. 


One thing to keep in mind, however, is that Starbucks is NOT a franchise. The majority of their units are company owned, which means that earned revenue stays within the company and does not go to outside investors. The rest of their stores are licensed, where outside operators are allowed to use the brand's trademark and sell their products, but are not obligated to follow any specific business plan or rules. In exchange, licensees must pay a royalty fee to the company. 

The following article analyzes Starbucks' most recent annual report and their quarterly filings to determine the strengths and weaknesses of their business model and their role as a major contender in the ever growing coffee industry.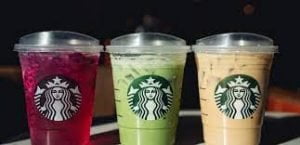 Starbucks Coffee Background
Starbucks was founded in 1971 and became a corporation in 1985. It is a publicly traded company and is listed on the Nasdaq under the ticker symbol "SBUX". The president and CEO of Starbucks is Kevin R. Johnson, and he has served in his position since April 2017. Their flagship coffee brand is known as "Starbucks", but they also sell goods and services under the subsidiary brands Teavana, Seattle's Best Coffee, Evolution Fresh, Ethos, Starbucks Reserve, and Princi. 


Currently, they operate in 83 different markets, with stores across the globe. According to their annual report, they have three main "operating segments" — the Americas, which encompasses the U.S., Latin America, and Canada; International, which includes China, Japan, Asia Pacific, Europe, Middle East, and Africa; and Channel Development, which refers to Starbucks or affiliated brand products being sold outside of their stores. 
Starbucks Revenue, Costs, Number of Units (2019 & 2020)
1. Starbucks locations across the world
As mentioned above, the majority of Starbucks establishments are
company owned
, making up
55% of the total domestic units
. The
remaining 45% of the units are licensed,
and these stores can usually be found in non traditional establishments like airports or bookstores.
Internationally
, however, there are more licensed units than company owned units, with
54% of stores licensed and 46% company owned
outside of the United States. Ultimately, company owned stores still have an edge over licensed units in total, with
51% for company owned stores and 49% for licensed establishments
.


The following numbers are taken from Starbucks 2020 FY Annual Report, and are true as of September 27, 2020.


Company owned stores (Domestic): 10,109


Company owned stores (International): 8,245


Company owned stores (Total): 18,354


Licensed stores (Domestic): 6,528


Licensed stores (International): 7,778


Licensed stores (Total): 14,306


Total units (Domestic): 16,637


Total units (International): 16,023

Total Starbucks Locations (Worldwide): 32,660
2. Starbucks Owned Locations