Published on
10 Nov 2023
●
Time
9 min read
●
Last update by
13 Nov 2023
Smashburger vs. Five Guys: Choosing Your Burger Business Path
In the fast-paced world of fast-casual dining, the battle of the burgers is a saga of sizzling grills and flavorful franchise opportunities. As American as apple pie, the burger business has seen a surge of interest from entrepreneurs and foodies alike, all eager to take a bite out of this billion-dollar industry. At the heart of this culinary contest are two heavyweights: Smashburger vs. Five Guys.
Both chains have grilled their way to the top, but which one offers the juicier slice of the franchise pie? Whether you're an aspiring entrepreneur considering a "smashburger franchise" opportunity, a "five guys franchise" enthusiast, or a burger aficionado curious about the "shake shack franchise" landscape, this article dives deep into the meaty details. We'll explore the origins, compare financials, and savor the unique flavors that set Smashburger and Five Guys apart in the competitive burger space.
Origin of Smashburger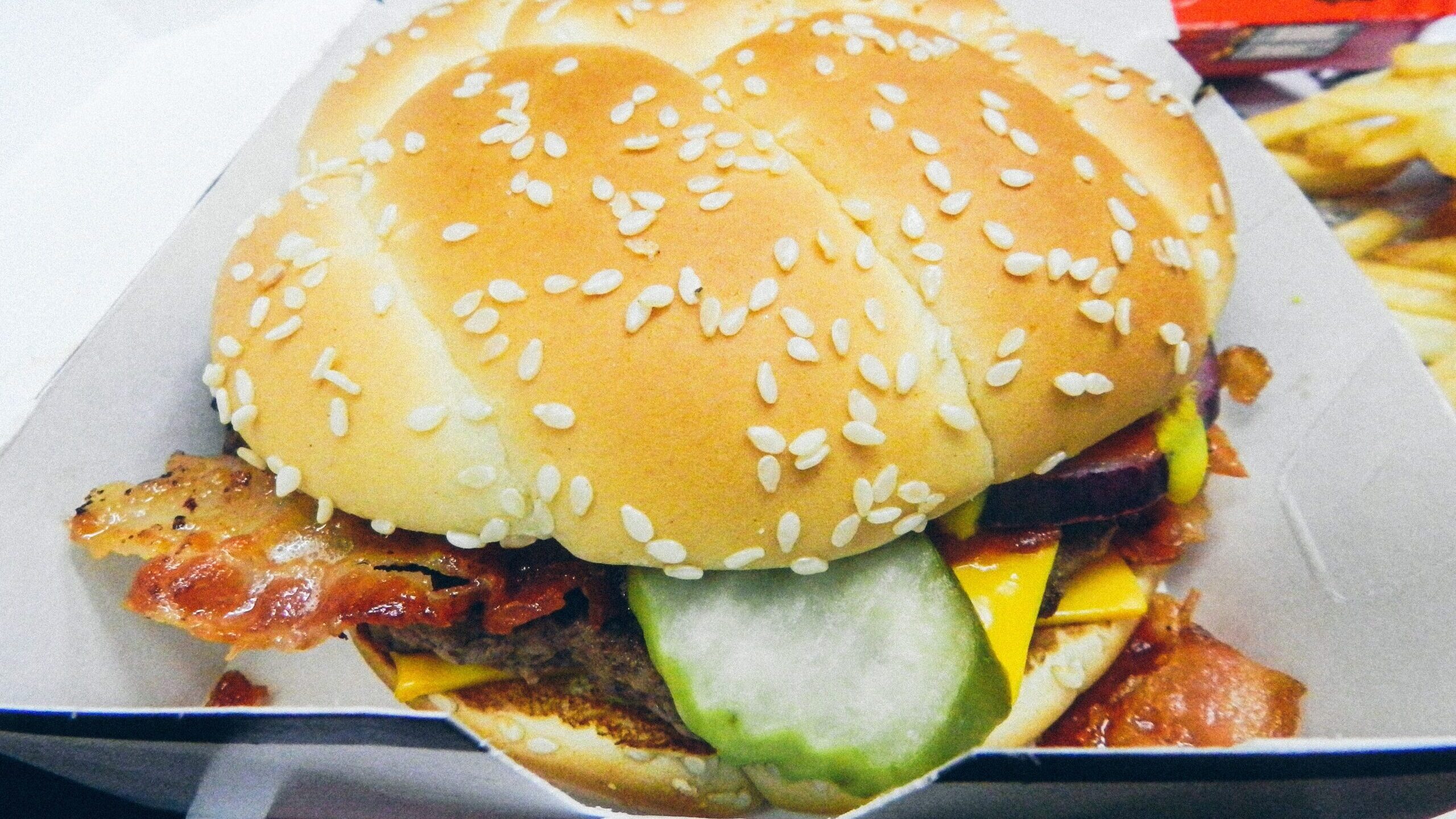 In the heart of the Rocky Mountains, a culinary adventure began in 2007 that would reshape the American burger landscape. Smashburger was born out of a dynamic partnership between industry veterans Rick Schaden and Tom Ryan. These pioneers shared a vision of a higher market for hamburgers amidst the burgeoning "better burger" trend, alongside brands like Shake Shack. With a Ph.D. in flavor and fragrance technology, Tom Ryan brought a scientific approach to the art of the perfect burger, while Rich Schaden brought his experience from Quiznos to the table​​.
Their dedication to quality led to a unique "smashing" cooking method, where patties are seared on a flat top grill to lock in flavor, a technique that hails from the Great Lakes' pressed-chuck burger joints​​. This innovation was not just about taste but also about efficiency. The founders designed a modular kitchen, centralizing operations around the griddle to speed up service without compromising on quality​​.
As of 2023, Smashburger operates over 227 locations across the globe, a testament to the brand's robust growth and appeal​​. The franchise's commitment to hand-crafted quality and its unique cooking method sets it apart in an industry that's always hungry for innovation.
Origin of Five Guys
The tale of Five Guys began in 1986 with a humble burger joint in Arlington, Virginia. Jerry and Janie Murrell offered sage advice to their four sons: "Start a business or go to college." The business route won, and Five Guys was born, its name a nod to the Murrell brothers. Their family-centric approach infused the burgeoning chain with a sense of homegrown charm and dedication to quality​​.
The concept was straightforward: burgers and fries cooked to perfection with no shortcuts. Starting with a modest storefront, Five Guys emphasized quality ingredients and customer experience over expansion. Yet, they did. After shifting to a franchise model in 2003, Five Guys exploded onto the scene, with over 1,700 locations globally as of 2021. The chain's commitment to heaping portions and a no-frills menu has garnered a loyal following, turning a family operation into an international sensation​​.
Each Five Guys store celebrates the same ethos that marked the original location: fresh, hand-formed burgers grilled to order, and fries cooked in 100% peanut oil. This dedication to quality has made Five Guys a cornerstone in the fast-casual dining industry and a formidable competitor in the "smashburger vs five guys" rivalry.
Smashburger vs Five Guys: Which burger chain is more popular?
When it comes to the sizzle of popularity, Five Guys takes a sizable bite. A Market Force Information survey crowned Five Guys as America's favorite burger chain, with Smashburger also ranking high among the contenders. Five Guys' victory in the survey is consistent with its rapid growth and the palpable buzz around its food and vibe​.
Analyzing the data regionally within the United States, Five Guys maintained its dominance across the Northeast, Midwest, South, and West. This regional sweep showcases the brand's universal appeal, likely due to its commitment to taste, service, and cleanliness. Notably, Smashburger has also carved out a significant space in diners' hearts, especially for those looking for an artisanal touch to their burgers​​.
How many locations do they have?
The number of locations a franchise has often reflects its popularity and market penetration. As of 2021, Five Guys boasts over 1,700 locations worldwide, signifying its expansive global footprint. The brand has firmly established itself in North America to the UK and continues to grow. Smashburger, on the other hand, has a more boutique presence, with 205 locations across the United States as of October 2023. Colorado enjoys the distinction of hosting the most Smashburger restaurants, underscoring the brand's strong local roots​.
Smashburger vs Five Guys franchises: pros and cons
Exploring the franchise options of Smashburger and Five Guys reveals a tale of two distinct business models. Smashburger franchises offer entrepreneurs a chance to tap into a brand known for innovation and premium quality. Their unique smashing technique and commitment to Angus beef appeal to a niche market seeking upscale fast-casual dining experiences.
Conversely, Five Guys franchises benefit from the brand's widespread recognition and a tried-and-tested menu that has remained largely unchanged since its inception. The chain's simple operational model, focused on burgers and fries, has proven itself scalable and successful across different markets.
Both brands offer robust training programs and support systems. However, the initial investment and ongoing operational costs can be a deciding factor. Five Guys' more extensive market presence might suggest a higher potential for profit, yet Smashburger's growing brand could offer more competitive entry points and growth opportunities.
Smashburger vs Five Guys: Are they a good investment?
Determining whether Smashburger or Five Guys is a good investment requires a careful financial examination. Prospective franchisees must weigh factors such as initial investment costs, potential revenue, and ongoing fees. Both franchises have demonstrated growth, but the scale and speed of expansion differ.
Five Guys commands a higher initial investment, partly due to its larger footprint and brand recognition. Smashburger, while potentially less expensive initially, carries its own set of financial considerations, including market penetration and customer loyalty.
For a comprehensive financial comparison, entrepreneurs should utilize resources such as Vetted Biz's comparison tool, which can provide a personalized analysis of each franchise's investment potential.
What is the revenue of Smashburger?
Smashburger's revenue information, while not publicly disclosed in granular detail, is a critical factor for potential franchisees. The revenue for a Smashburger location can be influenced by various factors including geographic location, local market demand, and operational efficiency. The brand's innovative approach to the burger experience and menu offerings that cater to modern tastes suggest a strong revenue potential. For the latest revenue information and financial performance data, accessing Vetted Biz's listing on Smashburger would provide the most up-to-date insights.
What is Five Guys worth?
Five Guys has demonstrated remarkable financial success in the fast-casual sector. In 2021, the chain reported a revenue of $1.711 billion, reflecting its strong market position and widespread consumer appeal. The company's value is not just in its revenue but also in its consistent quality and customer loyalty, which have cemented its status as a leading burger franchise. Potential investors should consider these factors alongside the costs of entry and operation when evaluating the worth of a Five Guys franchise.
Smashburger vs Five Guys: How much does it cost to franchise them?
The cost to franchise a burger business can be substantial, and both Smashburger and Five Guys come with their own set of financial prerequisites and obligations. For Smashburger, the initial investment can range significantly depending on real estate and construction costs but typically includes a franchise fee, marketing fees, and other startup expenses. Similarly, Five Guys requires an initial franchise fee along with build-out costs, which can be on the higher side due to the brand's specific design and kitchen equipment requirements. For detailed cost breakdowns, aspiring franchisees should refer to the Vetted Biz listings for Smashburger and Five Guys, which offer in-depth financial analyses.
INVESTMENT & FEES: Franchise Cost and Requirements
Investing in a burger franchise is a significant commitment, and understanding the associated costs and requirements is crucial. Both Smashburger and Five Guys have their unique fee structures and investment requirements. For instance, opening a Five Guys franchise requires a liquidity of $150,000 and a net worth of $500,000, along with a commitment to open at least five stores over a set period of time. Smashburger's financial requirements might differ, focusing on the owner-operator model, which could influence the total investment.
Smashburger vs Five Guys: How much does a franchise owner make?
The earning potential for a franchise owner in the burger industry varies widely. Smashburger and Five Guys franchisees' profitability will depend on numerous factors, including location, operational efficiency, and market saturation. While exact figures for Smashburger are not publicly available, Five Guys franchisees have reported high sales volumes, reflecting the brand's robust consumer base. It's important for prospective franchise owners to conduct thorough due diligence and consider market trends and brand support when estimating potential earnings. Vetted Biz provides resources and listings that offer financial performance insights for both Smashburger and Five Guys to aid in this evaluation.
Smashburger vs Five Guys: Is the franchise eligible for an SBA Loan?
Prospective franchisees looking at Smashburger and Five Guys may consider an SBA loan to finance their investment. SBA loans are popular for their relatively low rates and long repayment terms, which can make opening a franchise more accessible. Both Smashburger and Five Guys are established brands that may be eligible for SBA financing, but this will depend on various factors including the franchisee's financial situation and the specific SBA lender's criteria. Vetted Biz, in partnership with Lumos, offers insights into the SBA loan process and eligibility for franchises, providing a valuable resource for potential investors looking to understand their financing options.
Franchise Comparison Tool
In the ultimate showdown of "smashburger vs five guys," the decision to invest in one franchise over the other should not be taken lightly. Vetted Biz provides a comprehensive franchise comparison tool to help potential franchisees make an educated decision. This tool allows users to compare the investment costs, potential earnings, growth trends, and more side by side. It's an indispensable resource for conducting due diligence and selecting the franchise that best fits one's financial goals and business aspirations.
Conclusion
In the flavorful fray between Smashburger and Five Guys, both franchises offer distinct paths to business ownership in the booming burger industry. With the right ingredients—thorough research, financial acumen, and a dash of entrepreneurial spirit—prospective franchisees can make a well-informed decision. Whether it's Smashburger's innovative approach or Five Guys' proven traditionalism, the opportunity to grill up success is within reach.