SourceBased on Business Listings, Vetted Biz requires Businesses for Sale to share financial information on sales and earnings through credible sources, including but not limited to Tax Returns, Accounting Software, Point of Sale Software, etc….: 2020 Poop 911 FranchiseA franchise is when a business (franchisor) allows a party (franchisee) to acquire its know-how, procedures, processes, trademarks, intellectual property, use of its business model, brand and rights to sell its products and services. The franchisee signs a contract (franchise agreement) with the franchisor to acquire the franchise and generally has a territory granted to operate. What is a Franchise?… More Disclosure Document (FDD)
What is Poop 911?
Poop 911 operates a pet waste removal service business featuring residential, commercial, community & park services. Is a franchise concept in the Cleaning and Maintenance industry.
Poop 911 is a Texas corporation incorporated on November 15, 2005 under the name "Hounds Mounds, Inc." Geoffrey Bodle has been the Chairman and President since incorporation. The company has 62 franchise units across numerous states and 1 corporate owned location. The company projected 8 new openings for the 2020 year.
The simplicity of the business model and the need for minimal equipment allows for franchisees to begin the business one to two weeks after signing your Franchise Agreement.
Initial Franchise Fee
Poop 911 is a unique franchise as in it has initial fee of zero dollars. This helps a franchisee to see profits in the short term compared to other cleaning and maintenance industries where a profit may not be returned until 12 to 18 months after starting the business
Franchise Cost
The total investment necessary to begin operation of a Poop 911 franchise business ranges from $3,620 to $25,970.
In starting a Poop 911 franchise you are granted a territory that has a minimum of population of 250,000 people. The company requires a minimum of one vehicle for every 125 enrolled customers in your Territory.
The franchise provides extensive marketing through the web site, a central call and scheduling center and a website for the franchise system. Appointments for service are made into the system and routing and customer billing provided through Poop 911' proprietary automated BARCS system.
Additional Cost Breakdown:
Below is a list of the costs that factor in the range of startup costs from $3,620 to $25,970.
Rent: $0 – $1000
Opening Advertising: $100 – $200 / month
Internet Advertising via Partner Websites: $45 / month
Office furniture, computers, GPS, phone: $0 – $1000
Liability Insurance: $300 – $525
Vehicle Wrap / Advertising Signage: $1,000 – $2,500
Vehicle (unless already owned): $0 – $15,000
Training Costs / Travel: $325 – $1,000
Professional Fees: $500 – $2,000
Pet Waste Equipment: $100 – $200
Additional Funds (3 months): $1250 – $2500
Ongoing Franchise Costs and Fees:
Continuing Royalty: 23% of Gross Revenues
Customers pay and subscribe for the service through the Poop 911 website and the company will pay you net proceeds (after royaltiesFees paid by a franchisee to their franchisor in order to operate a franchise location. They are usually on a weekly or monthly basis…. More and all adjustments and deductions authorized in the Franchise Agreement) based on amounts received from your customers twice a month, 6th and 21st day of each month.
Local Advertising Payment
It does not require or provide advertising in any media, nor do they provide an advertising program.
Poop 911 initially provides business cards, t-shirts, promotional brochures and media as part of your franchise package.
Poop 911 Sales

The total amount in dollars made in the business before expenses are deducted. See also Gross Revenue….

Figures
Poop 911 DOES NOT disclosure financial as per item 19.
Revenues received from all franchisees in 2019 and 2018 totaled $10,272,235 and $7,725,811, respectively per the income statementOne of the major financial statements focused on a business's revenues and expenses in a particular period. It is also known as the profit and loss statement. The income statement includes the gross profit, earnings before tax, and net profit.Tax Returns: The forms a business makes on an annual statement of income and personal circumstances sent to the IRS to… in the 2020 FDD. Payments to franchisees in 2019 and 2018 totaled $8,564,557 and $6,218,989, respectively.
In 2018 there were 60 franchise locations and in 2019 there were 62 franchise locations:
To calculate the average franchisee revenue (net of the 23% royalty), we divided payments to the franchisees by the number of locations.
Revenues
2018 estimated Average Revenue (60): $103,649
2019 estimated Average Revenue (62): $138,138
This numbers indicate a gross increase year of year from 2018 to 2019 of 33%.
Keep in mind, that the Average Revenue (again net of 23% royalty) can be skewed low provided recently opened locations are also included. For example, a location that opened in December, 2019 with only $700 of revenue for 2019 will weigh down the average number.
 Hound Mounds, INC. Income Statement: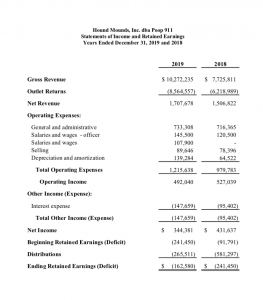 The company has seen positive revenue growth from 2018 to 2019 and has kept a consistent ratio of operating expenses compared to net revenue. This provides insight about the overall health of the Franchisor company and their ability to maintain good margins for revenue for franchisees.
Competition:
While this is a relatively new industry, there is considerable competition for pet waste removal services. It varies depending on your location in the country and upon the particular market you are in. You should expect competition with national franchise systems, regional companies and a variety of local independent operators that offer pet waste removal services.
Conclusion:
If you are looking for a business that has low start-up costs and an initial fee of zero dollars, with profit in the short term, Poop 911 could be for you. The company requires little training, no office, and allows freedom to scale your customer base with the support of an organized and a well-established Poop 911 business model.
However, make sure to check out other businesses offered on Vetted Biz and in the cleaning and maintenance industry.
Content and Analysis provided by Brooks Gammill (Data Analyst Intern at Vetted Biz)
Want to know how Poop 911 compares to other cleaning and maintenance franchises? Download our industry guide!