Massage Green Spa Franchise

A franchise is when a business (franchisor) allows a party (franchisee) to acquire its know-how, procedures, processes, trademarks, intellectual property, use of its business model, brand and rights to sell its products and services. The franchisee signs a contract (franchise agreement) with the franchisor to acquire the franchise and generally has a territory granted to operate….

Background
Massage Green
is a spa that focuses on affordability with easy booking and flexibility. They strive to make every visit to fit the client's schedule and budget. Their massages are soothing, relaxing and helps the client find commitment to incorporate massage therapy into their an important part of their wellness routine.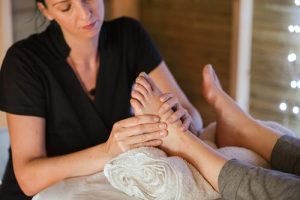 Massage Green
offers six types of massage therapies at their locations: Swedish, Deep Tissue, Sports, Trigger Point, Prenatal and Reflexology. They also offer facials and infrared saunas.
Management Team
llie T. Mallad is founder, chairman and CEO of three national franchise brands,
Massage Green Spa
, RED EFFECT Infrared Fitness and Stretch Smart Infrared Therapy Centers. Recognized as an Ernst & Young Entrepreneur of the Year award winner, Mallad made his mark in franchising as one of the fastest-growing Little Caesars franchisees in company history. Mallad went on to parlay his franchising success with 10 additional national brands including Golden Corral, Big O Tires, Arco AM/PM, Applebee's, Baskin-Robbins, Bruegger's Bagels, Mobil Oil, Chevron Oil, Ryder Truck and Jiffy Lube. In 2008, Mallad founded his own company and became a franchisor for
Massage Green Spa
. In 2016, Mallad launched a second major national franchise, RED EFFECT Infrared Fitness. In 2018, he launched Stretch Smart which is the first in the market to fuse stretching with infrared therapy. The very experienced management team is ready to help franchisees in all stages of the process, from site selection to ongoing training after the unit is up and running.
Franchise Health and Beauty Industry Analysis 

Franchise Strengths
Spa concept that offers a strong sense of community, personalized attention, technology and good energy
Recurrent revenue streams with monthly membership fee structure
Infrared saunas
Experienced management team
Affordable prices
Franchise Weaknesses
Reliant on finding, training, and retaining good therapists to deliver the services and engage the members
Operates in a competitive environment with low barriers to entry
Mature industry in the U.S.
Franchise Opportunities
Brand awareness will continue to grow as the concept expands
Low cost concept in the spa industry
Over the past five years, the Massage Services industry has grown by 7.3% to reach revenue of $18bn in 2018. (IBIS World)
Franchise Threats
Operating in a very large, competitive market that is rapidly changing
Profits can be negatively impacted due to close proximity of a similar competitor
Consumers can opt to have spa services at home
How Much is a Massage Green Spa Franchise?
Massage Green Spa Franchise cost ranges from $175,000 to $287,000 according to the 2019 FDD.
Item
Estimated Amount (in USD)
When Due
To Whom Payment is to Be Made
Low
High
Initial Franchise Fee
$50.000
$50.000
Upon signing Franchise Agreement
Franchisor
Leasehold Improvements
80.000
150.000
During Construction
Contractors/Third Parties
Initial Lease Payment
5.000
15.000
Monthly
Lessor
Furniture and Fixtures
10.500
20.000
Before Opening
Suppliers
Equipment, including POS System Computer, Software and Set-Up
3.500
6.000
Before Opening
Suppliers
Signage
3.500
7.000
Before Opening
Suppliers
Travel and Living Expenses While Training
2.000
5.000
During Training
Airlines, Hotels and Restaurants
Security and Utility Deposits
500
1.000
As Agreed
Landlord and Suppliers
Grand Opening Advertising
6.000
6.000
As Agreed
Suppliers
Opening Inventory

The value of the total finished and unfinished goods and materials the business holds for future sale….

and Supplies
1.000
3.500
Before Opening
Suppliers
Insurance Costs
2.000
4.500
As incurred
Insurance Co.
Miscellaneous Opening Costs
1.000
4.000
As incurred
Suppliers, Utilities or Franchisor
Additional Funds (3 months)
10.000
15.000
As incurred
Franchisor, Employees, Suppliers and Utilities
TOTAL                                              $175.000                   $287.000