Martinizing Dry Cleaners Franchise

A franchise is when a business (franchisor) allows a party (franchisee) to acquire its know-how, procedures, processes, trademarks, intellectual property, use of its business model, brand and rights to sell its products and services. The franchisee signs a contract (franchise agreement) with the franchisor to acquire the franchise and generally has a territory granted to operate….

Review (2019) 
Franchise Background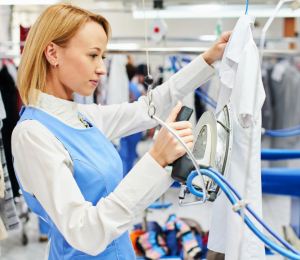 Martinizing Dry Cleaning is dedicated to making their customer's buying experience seamless. The goal is to make customer's life easier by delivering quality garment care along with new technologies. They are the largest and best known dry cleaners in the U.S.
They provide dry cleaning, shirt laundry, alterations, wash & fold, bulk laundry, leather cleaning, wedding gown cleaning and wedding gown preservation in addition to many bulky household items such as comforters
Martinizing offers counter service, pick-up and delivery service (residential and commercial), lockers and on demand (via smartphone)
Management Team
Martinizing Dry Cleaning was founded in 1949 as a family-owned business. Martin Franchises which is the parent company, is the largest dry cleaning franchise in the United States and has over 450 franchised stores.
In 2014, the company was acquired by The Huntington Company. They are based in Berkley, Michigan, and are a multi-concept franchisor focused on providing the absolute best textile restoration and retail dry cleaning and laundry services. They are operators, giving them the experience, core competencies and leadership capabilities and enable them to provide world-class support to help their companies grow and succeed in their local market
Franchise Cleaning and Maintenance Industry Analysis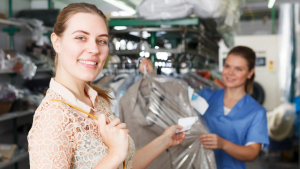 Franchise Strengths
EstablishedThe year a Business for Sale was established. If the business has been running for a minimum of ten years, Vetted Biz will qualify the business for sale as a "Well-Established Business."… franchisor that provides strong training and support
Recurring revenue model where most clients become repeat customers
Brand name is very recognized in all demographic groups
Recession-proof industry
It is a need based service rather than a luxury
Franchise Weaknesses
Labor-intensive industry, may de difficult to find qualified employees
Very mature industry with many competitors
Cleaning and Maintenance Industry Franchise Opportunities 
The dry cleaning industry is worth $9 billion dollars in the U.S. (Martinizing brochure)
Territories available all over the U.S.
No other competitors as large as Martinizing
Ability to buy existing locations, convert them to Martinizing, then expand in the area by creating "routes"
Technology utilization will create more opportunities for revenue growth
Threats in the Cleaning and Maintenance Industry Franchise Market
Depending on the city, the market might have many competitors
Potential for employee turnover if employee is not the right fit for business model
People may choose to wash and clean clothes at home
Martinizing Dry Cleaners Franchise Cost (2019 FDD)
How Much is a Martinizing Dry Cleaners Franchise?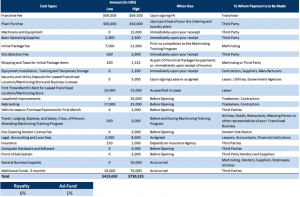 According to Item 7 of Martinizing Dry Cleaning 2019 FDD
Estimated Initial Investment

The amount of funds necessary to begin operations of a business or franchise including the first three months of operation….

– Drop Store Franchise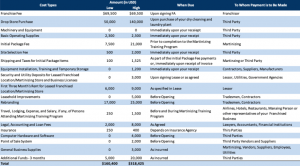 According to Item 7 of Martinizing Dry Cleaning 2019 FDD
Historical Revenue for Martinizing Dry Cleaners
FDD Disclaimer: "The details applicable to each set of financial performance representations are set forth below, however, the following information applies to all representations. As of December 31, 2018, there were 101 Martinizing franchisees operating 193 Martinizing franchises in the United States (not including the one Martinizing franchise owned by our affiliate, Huntington). 
These numbers include two categories of franchisees and franchises: 1) royalty Martinizing franchisees (each a "Royalty Franchisee" and collectively, "Royalty Franchisees") operating under franchise agreements obligating them to pay a percentage of gross salesThe total amount in dollars made in the business before expenses are deducted. See also Gross Revenue…. (each a "Royalty Franchise" and collectively, "Royalty Franchisees"); and 2) Fixed fee Martinizing franchisees (each a "Fixed Fee Franchisee" and collectively, the "Fixed Fee Franchisees") operating under franchise agreements obligating them to pay a predetermined annual fee to us (each a "Fixed Fee Franchisee" and collectively, the "Fixed Fee Franchisees"). 
In the United States, as of December 31, 2018, there were 64 Royalty Franchisees operating 103 Royalty franchises and 37 Fixed Fee Franchisees operating 90 Fixed Fee Franchises None of the representations below include information regarding franchisees operating under the Dry Cleaning Station 1-800-DryClean, Bizzie or Pressed 4 Time brands."
Historical Information Regarding Retail Services and Route Services
The charts below include findings of a survey we provided to all of the Martinizing franchisees in the United States regarding their gross sales, net revenue and various other details related to their operations for the period of January 1, 2018 to December 31, 2018 (the "Measured Period"). The survey was sent on March 5, 2019 and was closed on May 30, 2019.
There were 21 respondents to the survey (each a "Respondent" and collectively, the "Respondents"); however, the number of Respondents for each question varied, as further detailed in each chart below. The 21 Respondents own a total of 36 franchises including 27 Plant Stores and 9 Drop Stores. 
Of the Respondents, 17 were Royalty Franchisees and 4 were Fixed Fee Franchisees. The Respondents were from the following states: Texas (4), Arizona, Pennsylvania (2), California (2), Colorado (2), Indiana, Florida (3), Ohio (2), Michigan (2), North Carolina and New Mexico. Unless otherwise noted, the information depicted in the charts below is provided on a per-franchisee basis, not a per-location basis. We cannot verify the information provided by the Respondents.
Please note that the figures below are solely derived from the Respondents' performance of Retail Services and, in some cases, Route Services. Specifically, 16 of the 21 Respondents perform Route Services.
For purposes of the charts below, the following definitions apply and were provided with the survey: "Plant Stores" are considered locations where clothing is cleaned and where customers can drop off and pick up clothing; "Drop Stores" are stores where clothing can be dropped off and picked up, but where no clothing is cleaned; "Gross Sales" means total revenues derived from the sale of goods or services less sales tax, discounts, allowances and returns/refunds or credits; "Gross ProfitThe profit a business makes after deducting the costs involved in making, providing, and selling the goods and services. In an income statement, it is the sales minus the cost of goods sold.Gross profit = Revenue – Cost of Goods Sold…" means Gross Sales minus cost of goods sold; "Net ProfitAlso known as net income or net margin, the net profit is the net income on an income statement. It is the revenue minus the cost of goods sold, expenses, interest, and taxes.Net Profit = Revenue – Cost of Goods Sold – Expenses – Interest – Taxes…" means Gross Profit less all ordinary and recurring operating expenses, interestA payment from a borrower or deposit-taking financial institution to a lender or depositor of an amount above repayment of the principal sum, at a particular rate. In Vetted Biz, it is typically the additional rate of a loan a business buyer would pay off over time to borrow in purchasing a business…., income taxes, depreciationA reduction in the value of an asset over time, due to wear and tear…. and amortization; "EBITDA" means Net Profit plus interest, taxes, depreciation and amortization; and "Discretionary Cash FlowThe net profit before taxes plus payments to the owner(s), interest, and depreciation of assets…." means EBITDA plus interest paid on debt payments plus dividends paid to owner(s) plus owner(s) salaries plus personal expenses paid for by the business."
How much do Martinizing Dry Cleaners franchise owners make? 
Chart 1: Plant Stores, Drop Stores, Gross Sales, Annual Labor cost and Annual Rent Cost 

According to Item 19 of Martinizing Dry Cleaning 2019 FDD
Of the 21 Respondents, 16 Respondents performed Route Services and all 16 supplied information set forth below, including 14 Royalty Franchisees and 2 Fixed Fee Franchisees.
Chart 2: Route Gross Sales 

Of the 21 Respondents, 16 provided information relating to their average Plant Store ticket, including 13 Royalty Franchisees and 3 Fixed Fee Franchisees. Of the 21 Respondents, 13 provided information relating to their average Route Services ticket, including 11 Royalty Franchisees and 2 Fixed Fee Franchisees. The term "ticket" refers to and is synonymous with a per-transaction invoice.
Chart 3: Average Ticket Details 

Some outlets have sold this amount. Your individual results may differ. There is no assurance that you'll sell as much.
According to Item 19 of Martinizing Dry Cleaning 2019 FDD