SourceBased on Business Listings, Vetted Biz requires Businesses for Sale to share financial information on sales and earnings through credible sources, including but not limited to Tax Returns, Accounting Software, Point of Sale Software, etc….: 2020 JAN-PRO Unit FranchiseA franchise is when a business (franchisor) allows a party (franchisee) to acquire its know-how, procedures, processes, trademarks, intellectual property, use of its business model, brand and rights to sell its products and services. The franchisee signs a contract (franchise agreement) with the franchisor to acquire the franchise and generally has a territory granted to operate…. Disclosure Document (FDD)
What is a JAN-PRO Unit Franchise?
 JAN-PRO offers regional master franchises that have the ability to start unit franchises within their territory. JAN-PRO sells and supports unit franchises that will operate janitorial and building maintenance service businesses. JAN-PRO Master was incorporated in Massachusetts in 1995 and started selling franchises in 2005.
Russell Reynolds has been the President and Chief Executive Officer since October 2018. From July 2001 to October 2018, Russ was the Chief Executive Officer of Batteries Plus, L.L.C. and was a member of its Operating Committee from February 2000 to October 2018.
There are over 7,664 Unit Franchises which are controlled under 96 Regional Master Franchises, and no company owned locations.
The information provided below is from Indiana's Regional Master Franchise, other regional master franchises information could be different.
Initial Franchise Fee Unit Franchise:
$6,750 – $52,500
The company offers 10 Franchise plans "FP", they are listed in the chart below.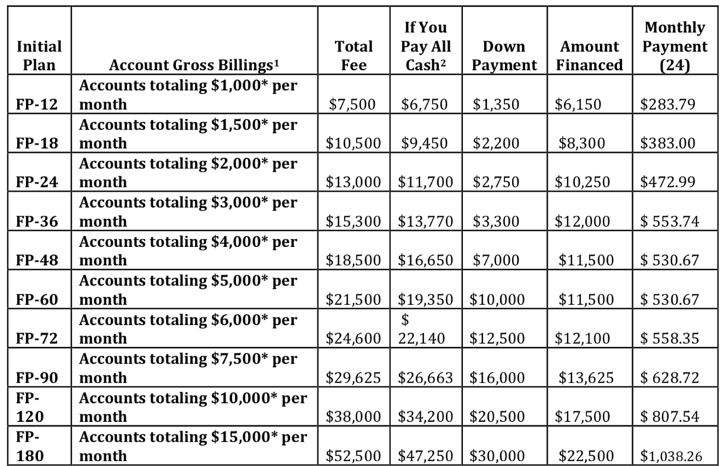 JAN-PRO Unit Franchise Cost:
The total investment ranges from:
$9,875 – $66,495
Additional Cost Breakdown:
Initial Franchise Fee: $6,750 – $52,500
Travel and Living Expenses (Certification Program): $50 – $300
Office and Related Expenses: $150 – $550
Vehicle: $500 – $2,500
Initial Equipment Package: $925
Real Estate: $0 – $550
Floor Buffing Machine: $50 – $900
Carpet Cleaning Machine: $50 – $2,000
Insurance: $200 – $620
Legal & Organizational Costs: $1,000 – $2,000
Criminal Background Check: $50 – $100
Billing Services Deposit (If applicable): $0 – $2,500
Mediation / Arbitration Waiver Fee: $0 – $500
Additional Funds (3 Months): $150 – $550
Ongoing Franchise Costs and Fees:
 Royalty Fee: 10% of Gross Billings (Monthly)
Support Fee: 5% of Gross Billings (Monthly)
JAN-PRO Unit Sales

The total amount in dollars made in the business before expenses are deducted. See also Gross Revenue….

Figures:
The Regional Master Franchise in Indiana does not disclose sales figures of their 59 total units. They did include that they added 17 new JAN-PRO Unit franchisees in the fiscal year of 2019.
However, we can make an estimate based on JAN-PRO of Central Indiana's Income StatementOne of the major financial statements focused on a business's revenues and expenses in a particular period. It is also known as the profit and loss statement. The income statement includes the gross profit, earnings before tax, and net profit.Tax Returns: The forms a business makes on an annual statement of income and personal circumstances sent to the IRS to…:
JAN-PRO of Central Indiana had royalty fee revenues of $199,676 and charged 10% of gross billing for the previous month.
Therefore, in total all 59 JAN-PRO units in 8 months made around $2 million. So $2 million divided by 59 units, has an average Gross Billings on a year adjusted average of roughly:
$42k
Please note this is just an estimate and actual figures are likely higher because 17 new locations opened in the fiscal year of 2019.
JAN-PRO of Central Indiana Income Statement: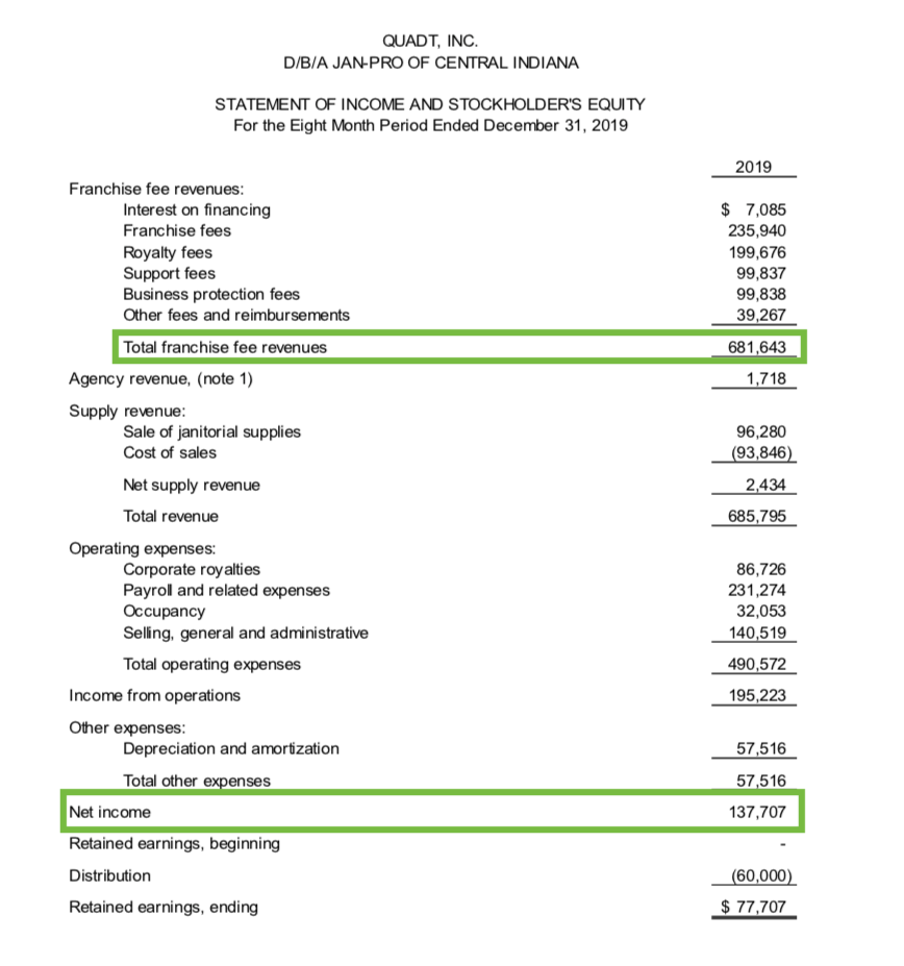 Income Statement Highlights:
JAN-PRO of Central Indiana posted a Net Income of $138k in 2019. The company distributed $60k of these profits and ended the year with retained earningsTotal earnings received by a business based on the U.S. Income Tax Return. The financial numbers of these earnings depend on the type of business, but can include income, guaranteed payments, compensation, interest, depreciation, elective deferrals, and contributions.For further details on how to calculate earnings and where to find financial numbers on tax return forms based on the type of… of $78k.
JAN-PRO of Central Indiana had $682k of revenue from their 59 locations, and 17 of these locations were opened in that fiscal year.
Competition:
The market for commercial janitorial service franchises is well developed and competitive. Unit Franchisees also must compete with national and local businesses offering the services that are the same as or similar to the Services. Other competing janitorial services include Coverall, Vanguard Cleaning Systems, and Anago.
Conclusion:
JAN-PRO Unit Franchises are an opportunity to own a franchise in a very establishedThe year a Business for Sale was established. If the business has been running for a minimum of ten years, Vetted Biz will qualify the business for sale as a "Well-Established Business."… cleaning service. JAN-PRO has 96 Regional Master Franchisees which control 7,664 Unit Franchises. Cleaning services and maintenance services will continue to be in high demand because of the COVID-19 pandemic and its lasting effects.
While this may be the business for you, make sure to also check out other businesses offered on Vetted Biz and in the Cleaning and Maintenance Industry.
Analysis Provided by: Brooks Gammill Vetted Biz Intern
Download our guide! See how JAN-PRO Unit Franchises compare to its peers and explore other cleaning and maintenance franchises!