SourceBased on Business Listings, Vetted Biz requires Businesses for Sale to share financial information on sales and earnings through credible sources, including but not limited to Tax Returns, Accounting Software, Point of Sale Software, etc….: 2020 Jamba FranchiseA franchise is when a business (franchisor) allows a party (franchisee) to acquire its know-how, procedures, processes, trademarks, intellectual property, use of its business model, brand and rights to sell its products and services. The franchisee signs a contract (franchise agreement) with the franchisor to acquire the franchise and generally has a territory granted to operate…. Disclosure Document (FDD)
What is Jamba?
Jamba branded stores have a wide variety of fresh, blended-to-order smoothies and other cold or hot beverages and offering fresh squeezed juices and portable food items for snacks and meals. There are three types of Stores: A Traditional Store, a Non-Traditional Store and a Food Truck.
The CEO is James Holthouser and Jim has been the Chief Executive Officer since February 2020. Jamba is a wholly owned subsidiary of Focus Brands LLC, a Delaware limited liability company ("Focus Brands").
The company offered franchises under the Jamba Juice® trademark from October 2018 to June 2019. In June 2019, we began offering franchises under the Jamba® trademark.
As of December 31, 2019, there were about 777 franchised Stores in the United States and 62 franchised Stores outside the United States.
Initial Franchise Fee:
Traditional / Non-Traditional Store: $35,000
Food Truck: $10,000
Jamba Juice Franchise Cost:
Traditional / Non-Traditional Store: $290,450 – $560,500
Food Truck: $164,750 – $301,500
Additional Cost Breakdown:
This is an example of costs for a traditional store which ranges from $290,450 – $560,500
Initial Franchise Fee: $35,000
Construction and Build Out Costs: $101,500 – $204,000
Permitting: $500 – $1,000
Equipment Package: $47,500 – $90,000
Millwork: $13,000 – $15,000
Furniture: $950 – $2,000
Menu Board, Graphics, and Interior Signage: $2,000 – $4,500
Exterior Signage: $7,500 – $17,000
Computer System and Software Training: $8,500 – $17,500
TV / Music: $0 – $3,500
Architect / Engineer: $11,000 – $15,000
Rent: $4,000 – $10,000
Grand Opening Marketing: $10,000 – $12,000
Legal and Accounting Fees: $5,000 – $10,000
Insurance: $5,000 – $10,000
Opening Costs / Office Supplies: $9,000 – $14,000
Security Deposits: $0 – $15,000
Travel and Living Expenses during Training: $10,000 – $25,000
Opening Inventory

The value of the total finished and unfinished goods and materials the business holds for future sale….

: $5,000 – $10,000
Additional Funds: $15,000 – $45,000
Ongoing Franchise Costs and Fees:
Royalty Fee: 6% of net salesThe total amount in dollars made in the business before expenses are deducted. See also Gross Revenue…. (monthly)
Advertising Contribution: 3% of Net Sales
Local Marketing Obligation: 1% of Net Sales on local market advertising
Jamba Sales Figures:
The company included a Profit and Loss Statement for traditional stores operated under the Jamba name.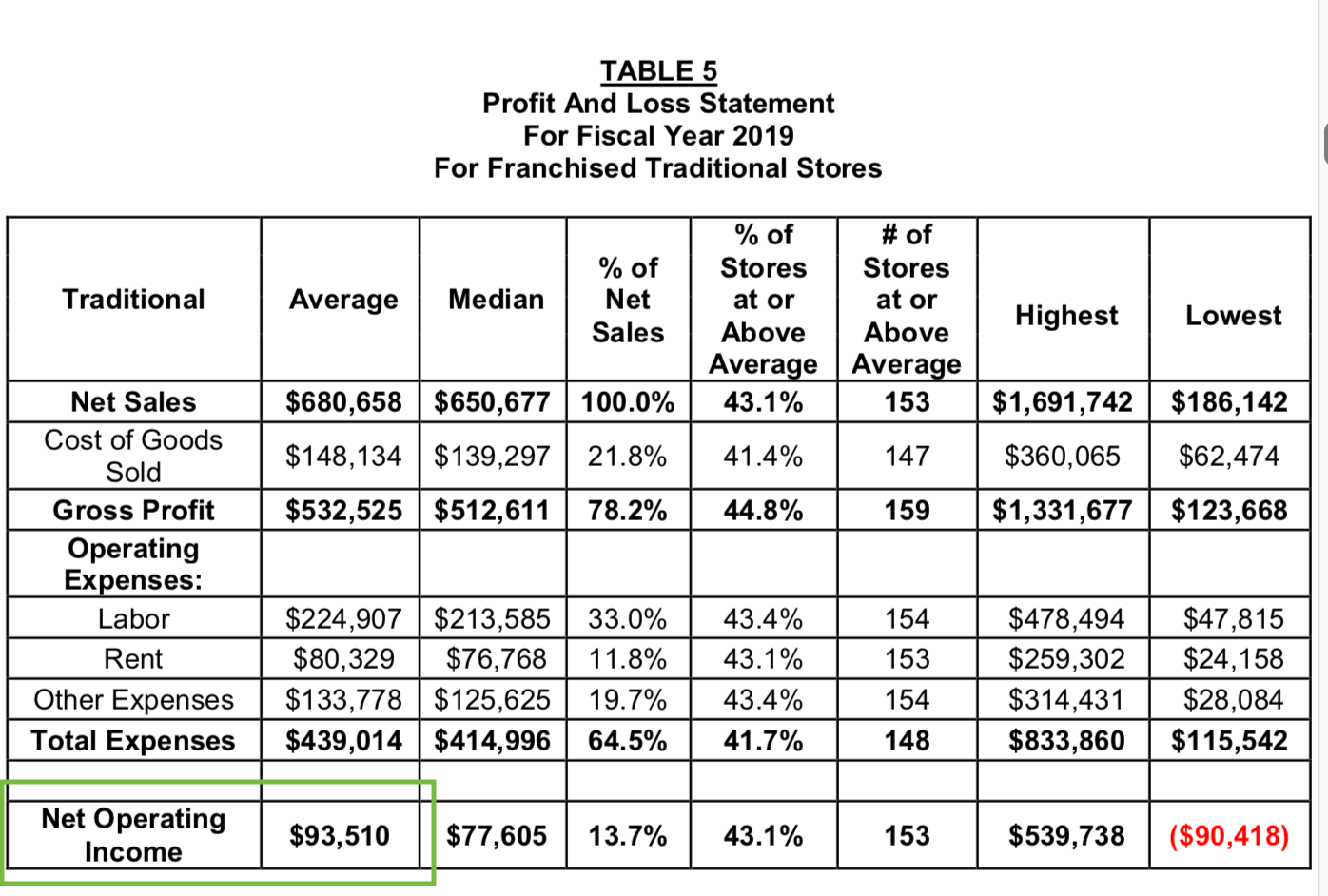 Key Highlights from Sales Figures:
The chart above shows a profit and loss statement for the traditional stores and shows the strength of these individual stores based on their aggregate statistics.
The average net operating income was $93,510 and if you invested in the middle range of the total investment which was $290,450 – $560,500 it would take about 4.5 years to payback your initial investmentThe amount of funds necessary to begin operations of a business or franchise including the first three months of operation…. (if you do not take out a loan).  However, these calculations are just based on the average net income and average total investment cost.
Highest Net Operating Income: $539,738
Lowest Net Operating Income: ($90,418)
Focus Brand Systems LLC and Subsidiaries Income Statement

One of the major financial statements focused on a business's revenues and expenses in a particular period. It is also known as the profit and loss statement. The income statement includes the gross profit, earnings before tax, and net profit.Tax Returns: The forms a business makes on an annual statement of income and personal circumstances sent to the IRS to…

: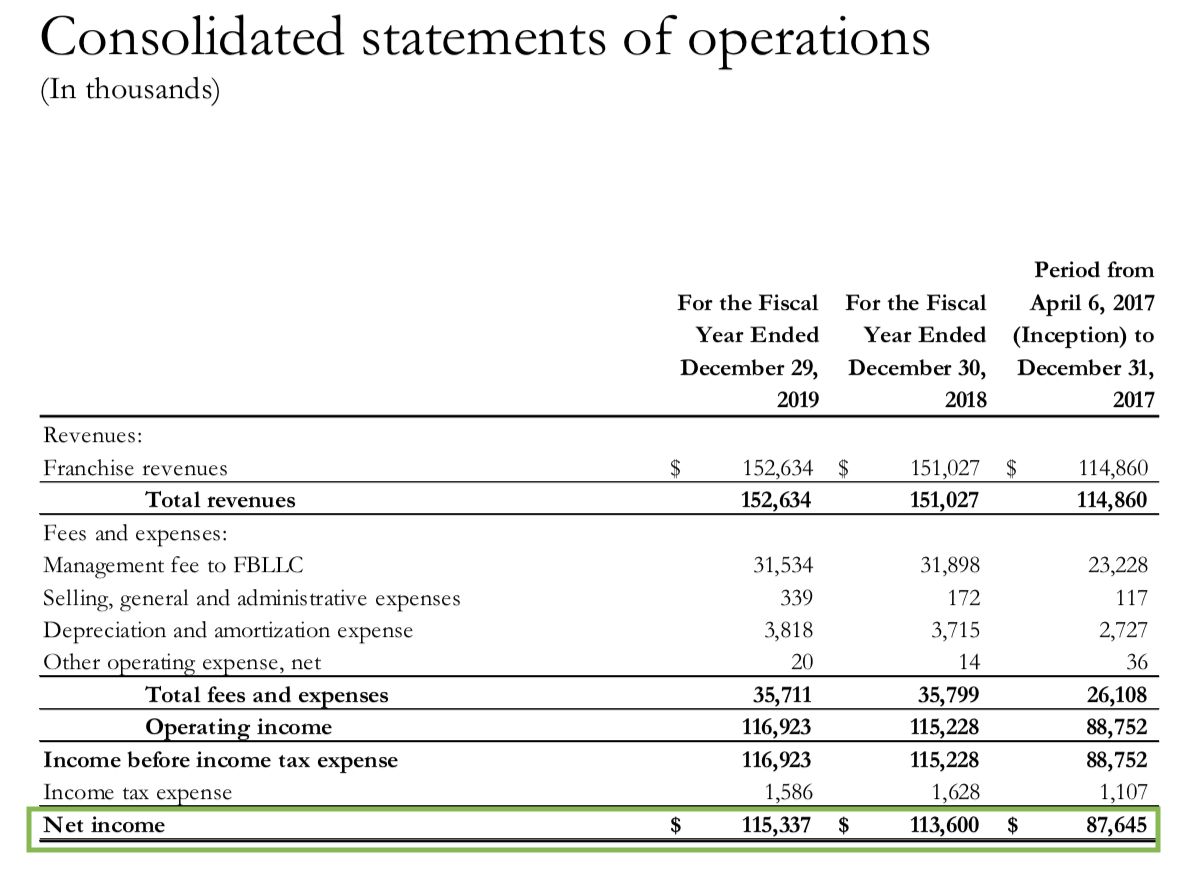 Income Statement Key Insights:
The parent company of Jamba Juice made over $115 million in net income which is about a $2 million increase from the previous year. The company has healthy financials and is shown also in item 19 as they allow potential franchisees to see exact profit and losses of current storefronts.
Competition:
The market for smoothies, alternative healthy choices for meals and snacks is developing in the United States and globally. You will compete with restaurants, sandwich and salad stores, juice bars, and other businesses which offer health food products, smoothies, juice, frozen yogurt, or similar products, as well as other food service businesses.
Conclusion:
Jamba is in a growing market of healthy foods on the go. While this may be the business for you, make sure to also check out other businesses offered on Vetted Biz and in food and beverage industry.
Analysis Provided by: Brooks Gammill Data Analytics Intern 
Download our industry guide today to see how Jamba franchise compares to others in the food and beverage industry!