Got Produce Franchise

A franchise is when a business (franchisor) allows a party (franchisee) to acquire its know-how, procedures, processes, trademarks, intellectual property, use of its business model, brand and rights to sell its products and services. The franchisee signs a contract (franchise agreement) with the franchisor to acquire the franchise and generally has a territory granted to operate….

Review (2020) 
Franchise Background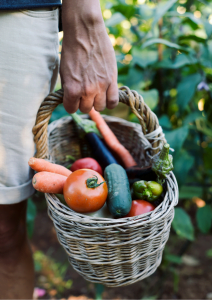 Got Produce is a farming franchise company offering technology controlled greenhouses, with smart hydroponics and patented growing recipes to the commercial grower and food service industries 
Their greenhouses reduce the amount of water, land, and energy required to grow fresh fruits and vegetables by using hydroponic methods in a distributed production model.
Use less water: A head of lettuce takes 40 gallons of water when grow in soil, but only one gallon when grown hydroponically.
Grow better produce, faster: greenhouses with advanced fertigation systems to grow with a higher yield, all year round. 
Grow local & eliminate transport costs: transporting food can be costly while increasing the carbon footprint of our food.
They use only non-GMO varieties and encourages use of local seeds in many regions around the world. Seeds are selected by Got Produce experts specifically suited to a client's water sourceBased on Business Listings, Vetted Biz requires Businesses for Sale to share financial information on sales and earnings through credible sources, including but not limited to Tax Returns, Accounting Software, Point of Sale Software, etc…. nutritional analysis, local market demands, climate temperatures and day length at the location of the greenhouse
They can grow from anywhere from 5 to 100 crop varieties at the same time.
Management Team
The founder, Deborah Walliser, is an internationally known and respected agronomist who has a background anchored in greenhouse production and space biology. She has successfully grown over 100 different edible crops in controlled environment facilities across the globe, and has been at the forefront of creating new hydroponic systems for many other crops including 6 different varieties of wine grapes, edible flowers, and extracts
As an early pioneer and visionary, Deborah designed, built, and operated commercial floating lettuce systems to withstand extreme temperature ranges and pioneered change in water policy and helped found the local food production/distribution movement
Franchise Agriculture Industry Analysis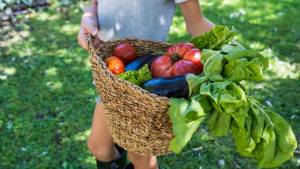 Franchise Strengths
Technology speeds the production process many times more than traditional farming
All products are organic, non-GMO and LCF certified
Offers a strong, proven product that an increasing amount of consumers are interested in
Operationally simple 
Franchise Weaknesses
Margins have the potential to be eroded due to changes in price of ingredients and / or increase in labor costs
Though proven internationally, still pending more than 1 success case in the U.S. market
Agriculture Franchise Opportunities 
88% of people are willing to pay more for healthier food (Nielsen)
In 2015, global salesThe total amount in dollars made in the business before expenses are deducted. See also Gross Revenue…. for organic food was about 81.6 billion dollars (Statista)
99.7% of household purchase produce, of these 82% buy organic products (OTA)
Huge produce market in the U.S. that is only continuing to grow
Threats in the Agriculture Franchise Market
Operating in a large, competitive market 
Potential for more consumers to buy from other brands
Profits can be negatively impacted due to competition
Potential for superior technology to enter the market
Got Produce Franchise Cost (2018 FDD)
How Much is a Got Produce Franchise?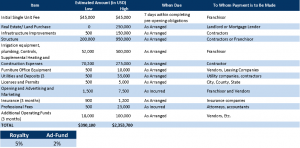 According to Item 7 of Got Produce's 2018 FDD
Historical Revenue for Got Produce
FDD Disclaimer: "The following Financial Performance Representation shows the Gross RevenueThe total amount in dollars made in the business before expenses are deducted. See also Sales…. and certain operating expenses for one (1) Twenty Thousand (20,000) square foot greenhouse operations, known as the "GP 20" model affiliate owned (affiliate disclosed in item 1). 
Operated by our CEO, Deborah Walliser from 2005 through 2010 in Vicksburg, Arizona. The disclosed financial information is listed for the year 2010 in which the business operated a full 12 months."
How much do Got Produce franchise owners make?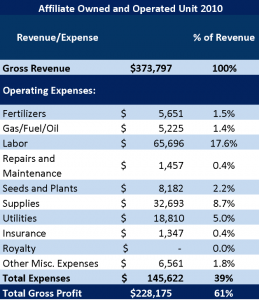 "We include 2010 year financial data as a basis for relating to operations. We believe the financial information, would reasonably relate to 2017 by adding a 11.5% inflation rate. (Estimated inflation from 2011 through 2016 from U.S. Gov. Bureau of Labor Statistics) . Actual results may vary from Got Produce? Businesses to Got produce? Businesses, and we cannot estimate the performance of a particular Got produce? Business. Sales and expenses may vary. In particular, the income and expenses of your business will be directly affected by many factors, such as: 
(a) the crop mixture you chose to grow in your Got Produce? Greenhouse(s); 
(b) local climate conditions; 
(c) whether you operate the business personally or hire a manager; 
(d) employee salary and benefits; 
(e) insurance costs; 
(f) local utility costs and other factors which are unique to each Got Produce? Business and may significantly impact the financial performance of your business."
1. According to Item 19 of Got Produce's 2018 FDD