First Light Home Care Franchise

A franchise is when a business (franchisor) allows a party (franchisee) to acquire its know-how, procedures, processes, trademarks, intellectual property, use of its business model, brand and rights to sell its products and services. The franchisee signs a contract (franchise agreement) with the franchisor to acquire the franchise and generally has a territory granted to operate….

Review (2020)
Franchise Background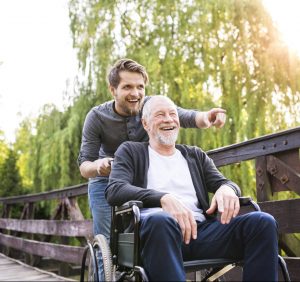 FirstLight Home Care is a leading home care company, providing compassionate in-home care, senior care and respite care to any adult in need. Whether it is illness, injury, dementia, or just challenges that come with old age, FirstLight can help. Their caregivers take on the tasks that can seem overwhelming, such as cooking, laundry, cleaning and running errands. They provide for the loved ones help, hope, comfort, companionship and compassion
They provide: senior services, services for those with disabilities, recovery and rehabilitation services, veteran services and services for busy moms.
Management Team
FirstLight Home Care has been in the industry for 8 years, with over 140 individual owners, more than 200 franchise units across the U.S.
The FirstLight leadership team ensures that the promise of their culture of care is delivered to each and every individual. Their team has a lot of experience, vision, and commitment to service
Jeff Bevis is President and CEO of FirstLight Home Care. With more than 30 years of experience in franchising, Jeff displays a successful track record of accelerating growth in a variety of franchise concepts. His expertise includes senior management leadership, as well as the development of a major senior care franchise brand within in a four-year span. Jeff has earned the Certified Franchise Executive (CFE) designation, meeting rigorous requirements from the franchising industry. He has a trademark reputation for building strong, trusting relationships with franchisees and enabling strong unit economics at the franchise level to build system success.
Franchise Healthcare Services Industry Analysis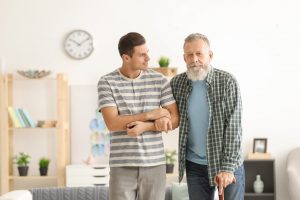 Franchise Strengths
EstablishedThe year a Business for Sale was established. If the business has been running for a minimum of ten years, Vetted Biz will qualify the business for sale as a "Well-Established Business."… player in the Home Care industry
High margin, recurring revenue business where most costs are only incurred during home visits
Wide range of potential clients
Known for high-quality, unique approach to client care where they get to understand the client on as personal level as possible in order to deliver a more personalized service
Franchise Weaknesses
Reputation-heavy industry, which means that bad experiences with other franchise operators can significantly impact the system
Success dependent on finding competent staff and home care providers
Healthcare Services Industry Franchise Opportunities
Very large market, with over $88 billion in revenue a year that has grown an average of over 4% per year since 2011
Over 96% of the population over the age of 75 have a chronic disease
As hospitalization costs have increased and aging consumers have embraced the home healthcare trend, many new firms have entered the industry in the past five years, signaling opportunity
Technology is expected to continue to allow for improved service in the industry
Threats in the Healthcare Services Industry Franchise Market
Profitability can be negatively impacted by close location of like competitors
Potential for government to implement more oversight and regulations within the homecare industry
First Light Home Care Franchise Cost (2020FDD)
How Much is a First Light Home Franchise?

According to FirstLight Home Care 2019 FDD
Historical Revenue for First Light Home Care
FDD Disclosure: "The tables do not include data regarding 34 FirstLight Home Care businesses that have been operating for 12 months or longer.
We did not include these businesses in this Item 19 because these businesses were atypical and experienced unusual individual circumstances that impacted their performance or lead to a temporary suspension of services.
These circumstances include the following: 6 FirstLight Home Care businesses experienced significant delays in obtaining state licensure; 7 FirstLight Home Care businesses were operated by individuals who experienced serious medical issues (such as cancer or a major surgery); 2 FirstLight Home Care businesses were operated by individuals who dissolved their management team (for instance, through divorce) within the first year of operations; and 19 FirstLight Home Care businesses which did not follow the required 2 full-time person model.
There were a total of 118 FirstLight Home Care businesses in operation for these periods as of December 31, 2017, and which had been in operation for a minimum of 12 months as of the issuance date of this Disclosure Document.
The Item 19 Businesses consist of 84 of the franchised FirstLight Home Care businesses that were in operation during the entire Reporting Period and do not include the 34 locations which were atypical due to personal circumstances (described in the paragraph above). We have not audited the figures below, although we believe them to be reliable. No FirstLight Home Care business closed during the same time period surveyed after being open less than 12 months."
FDD Disclosure: "For purposes of the charts below, "Net Revenue" means that revenue for the calendar year 2017, on which a franchisee pays royalty fees (which is referred to as "Gross RevenueThe total amount in dollars made in the business before expenses are deducted. See also Sales…." in the Franchise Agreement). This is the total amount of money the franchisee and its owners receive for all goods and services rendered in connection with the Marks, and all other income of any kind derived directly or indirectly in connection with the operation of the Item 19 Business. The term "Hours Per Week" in the charts below refers to the number of hours that home care services were provided to (and billed to) clients each week."
How much do First Light Home Care franchise owners make?
According to Item 19 of FirstLight Home Care 2018 FDD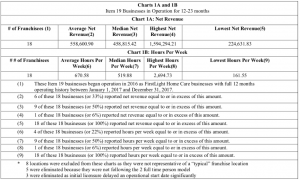 According to Item 19 of FirstLight Home Care 2018 FDD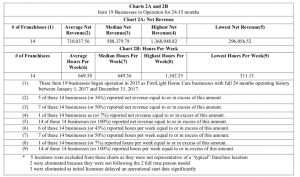 2. According to Item 19 of FirstLight Home Care 2018 FDD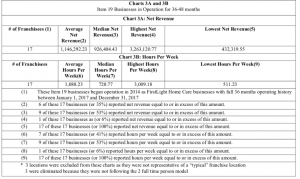 3. According to Item 19 of FirstLight Home Care 2018 FDD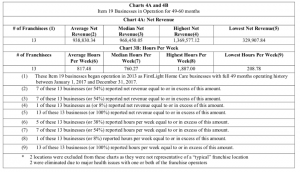 4.According to Item 19 of FirstLight Home Care 2018 FDD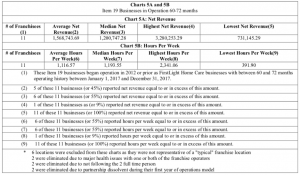 5. According to Item 19 of FirstLight Home Care 2018 FDD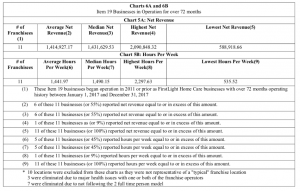 "Some franchised FirstLight Home Care businesses have earned these amounts. Your individual results may differ. There is no assurance that you'll earn these amounts."
According to Item 19 of FirstLight Home Care 2018 FDD