Published on
1 Jun 2021
●
Time
7 min read
●
Last update by
7 Dec 2023
Crumbl Franchise Cost Worth It in 2023?
Play Video
This article is based on the video featured above, originally recorded for Vetted Biz Youtube Channel.
Crumbl franchise is a rapidly growing cookie franchise with over 300 locations across the United States. The company was founded in 2017 by Blake Robinson and Bryan Blakely, two friends who wanted to create a cookie shop that offered something unique and delicious. Crumbl Cookies quickly became popular for its unique and delicious flavors, which change weekly. The company also offers a variety of other products, including ice cream, milk, and coffee. Crumbl Cookies is a popular destination for both locals and tourists alike. The company's cookies have been featured in numerous publications, including Forbes, The New York Times, and The Wall Street Journal. Crumbl Cookies is a great place to enjoy a delicious cookie and a cup of coffee with friends or family.
In addition to its delicious cookies, Crumbl Cookies is also known for its friendly and welcoming atmosphere. The company's employees are always happy to help customers choose the perfect cookie or to answer any questions they may have. Crumbl Cookies is a great place to relax and enjoy a delicious treat.
Did you know that Crumbl franchises perform 3X better than other cookie franchises? Want to know the franchise costs and fees? The total investment amount to open a Crumbl franchise, including additional working capital, is $367,666 – $1,404,333 if signed after June 30th, 2022.
Contents
Crumbl charges $50,000 for the regular initial fee, but for territory reservation agreements, which allow for franchisees to open multiple Crumbl units, the initial fee is $150,000 for the opening of 3 locations.
Besides the initial franchise fee, of $50,000, there are the premises leases. Basically, leasing the premise for a three-month period you can expect to pay $16,000 all the way up to $83,000-plus.
Real estate and improvements to the space is going to range from $75,000 to $250,000 and then equipment, furniture, fixtures, decor, etc., supplies…
All those added together with smaller miscellaneous expenses get the number to $367,666 – $1,404,333. It's really going to depend on the space that you decide to rent and how many improvements you have to do to that existing space or not.
The advertising expenses for franchisees of Crumbl franchise are 2%, which is pretty in line for a food and beverage franchise. On the other hand, the Royalty Fee is above average at 8% of Gross Sales.
Crumbl Franchise Cost Breakdown
Initial Franchise Fee
$50,000
($25,000 if signed before jun 30 of 2022)
Initial Tech and other
Equipment Package
$75,500 – $315,000
Initial training fees, and
travel, lodging, food, and
other expenses while
training
$20,000 – $30,000
Real Estate and Improvements
$75,000 – $640,000
Rent (3 months)
$16,666 – $83,333
Professional Fees
$8,000 – $53,000
Equipment, furniture, fixtures, decor, and supplies
$75,000 – $100,000
POS system, computer hardware & software
$3,500 – $15,000
Signs
$6,500 – $32,000
Misc. Opening Costs
$2,500 – $30,000
Opening Inventory
$5,000 – $16,000
Additional Funds (3 months)
$10,000
How Much Does a Crumbl Franchise Make?
It's good that you understand what the potential profit is by looking at the historics. Whether you're going to open up a Crumbl franchise or whatever franchise.
60% of franchises disclose different financials in their FDD, including sales and often profit. We see only about 20% of franchises disclose the full profit-and-loss statement.
Transparent Infomation
The median Crumbl Cookie Owner in 2022 earned $1,796,339 in total revenue with a net profit of $256,029. The high is $4,022,090 in total revenue and $1,117,012 in profit. The low end is $589,291 in revenue with a $160,202 net loss. Given the $367,666 – 1,404,333 investment to open a Crumbl Franchise that is a pretty standard return on investment. You used to be able to make a lot more money with a Crumbl Franchise, but now it is falling behind its old figures and more in-line with industry standards, specially as the higher end of cost has ramped up from around $650k to almost 2.5x of $1.4 million.
We estimate that there are multiple Crumbl Cookies franchise owners making over $1 million per year!
Find a breakdown of return on investment below. This includes the standard 2 year process from starting the franchise development process to the grand opening of your store.
Now, it's important that the franchisor is also making money. Looking at the income statement for how much the owners of the franchise make from the franchisor level, they collected royalty fees of $30 million and franchise fees they had amortized of $2.5 million. There are also advertising and marketing fees that totaled $8,216,207, as well as other revenue of $422,105. The total revenue of $46.6 million, that's how much the Crumbl Enterprises made in revenue from the 327 locations across the U.S.
And then, in terms of Crumbl's total net income, $22,424,481. Which is pretty impressive. We've added the financials for 2020 to this blog post. Again, these are all the 2021 financial numbers for a Crumbl franchise.
Crumbl Franchise Info
Crumbl is a food and beverage concept and mostly competing with other baked goods. Such as doughnuts and other cookie concepts. Although the company has specialty ice cream flavors, which allows it to compete against multiple sectors within the food and beverage industry.
Some of the competitors that Crumbl has are well-known concepts like Cinnabon, Krispy Crème, Cookie Advantage, Insomnia Cookies, Le Macaron.
CRUMBL MUST BE THE MOST PROFITABLE COOKIE FRANCHISE OR BAKED GOOD FRANCHISE THAT I'VE SEEN.
You look at a relatively low investment amount. If you're investing less than $500k and the net profits are over $200,000, you could expect to get your capital back in three years or less.
How Many Crumbl Franchises Have Opened/Closed?
Systemwide Outlet Summary for Years 2019—2021
Outlet type
Year
Outlets at the Start of the Year
Outlets at the End of the Year
Net Change
Franchised
2020
54
141
+87
2021
141
325
+184
2022
325
688
+363
Company-Owned
2020
1
1
+0
2021
1
1
+0
2022
1
1
+0
Total Outlets
2020
55
142
+87
2021
142
326
+184
2022
326
689
+363
Other Considerations
However, it's not all about the money for many of our clients at Vetted Biz and Visa Franchise. You might want to consider other franchises that aren't basically selling sugar at the end of the day. Principally to young kids.
If you're interested in maybe having a higher social good, you could consider looking at some different healthcare franchises. As well as senior care options. You can look at some videos that we've recently done with Success on the Spectrum. Which is a school for kids with autism using applied behavioral therapy. And the numbers are really good and you're having a better societal impact than just selling cookies.
As well as 1Heart Senior Care and Golden Heart Senior Care. Those are two other ones that have done interviews with the management team and/or the founders of those three franchises.
Cookies might be something that you're passionate about and want to get involved in, and also the numbers are good. With all that, you might consider some other franchises that could have a lower investment cost. As well as a higher impact on your community.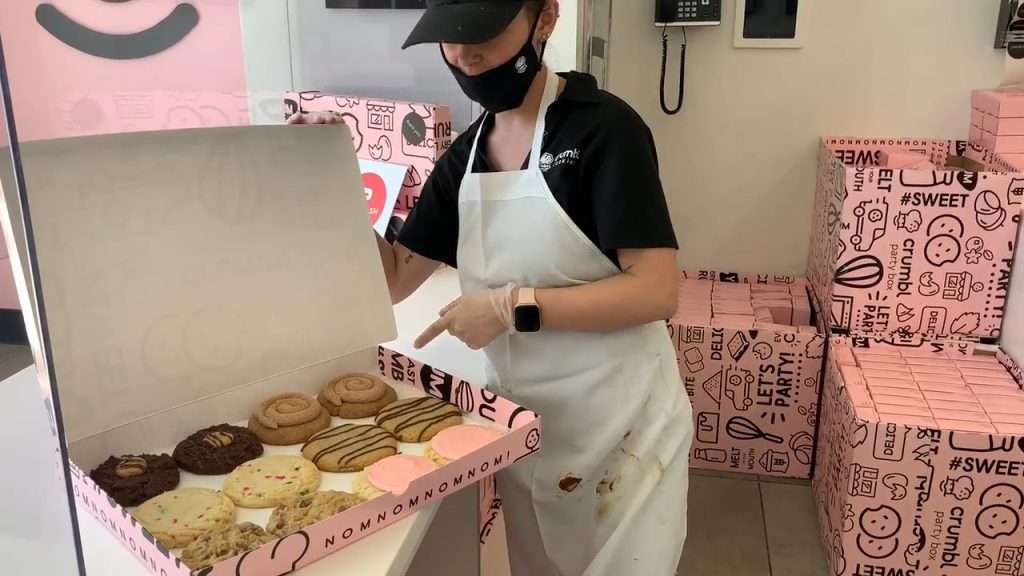 Green Card
An important note for those interested in obtaining an E-2 visa and might be interested in a cookie franchise like Crumbl…
Crumbl right now does not work with those that are seeking an investor visa like the E-2 or EB-5 through investment in that franchise. You already need to have a U.S. Green Card if you're looking to invest and operate a Crumbl franchise in the United States.
Crumbl Conclusion
Crumbl has had tremendous success in the few years since it opened its first location in Utah. The low start-up cost to open a franchise with the significant annual profit makes it an ideal investment opportunity for anyone looking to open a Food and Beverage Franchise. That said, it is still a relatively new concept when compared to franchises that have thousands of locations across the country. Crumbl provides extensive training on how to maintain quality standards, and it is important as an owner to have an effective management structure and plan to attract a customer base.
Thankfully, Crumbl has done an excellent job marketing the brand on social media platforms such as Tiktok. Ultimately, Crumbl has the potential to be one of the biggest desert players for years to come and be sure to take advantage of this sweet opportunity.