Crepe Delicious Franchise

A franchise is when a business (franchisor) allows a party (franchisee) to acquire its know-how, procedures, processes, trademarks, intellectual property, use of its business model, brand and rights to sell its products and services. The franchisee signs a contract (franchise agreement) with the franchisor to acquire the franchise and generally has a territory granted to operate….

Background 
Chef Oded Yefet embarked on an international quest to find the perfect addition to a vibrant North American quick-service restaurant industry. His travels took him around the world. While visiting Paris, France, Oded observed street vendors serving crepes in a manner similar to the hotdog stands of North America.
He immediately began to visualize the combination of North Americans' love for street food with the delights of a fresh crepe. He took this simple yet stylish concept, combined it with his hotel/restaurant experience of more than twenty years, and founded Crepe Delicious in 2004 in Canada. Success was virtually immediate and the brand was franchised the following year.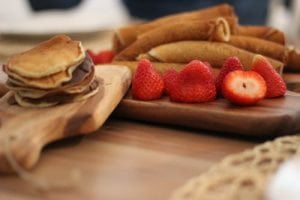 They have been serving a unique menu of sweet and savory crepes as part of their commitment to lead the resurgence in healthy eating. They are recognized  their world-class crepes and take great pride in creating an exquisite experience each and every time a client visits a location – all crepes are made fresh to order. The crepe itself has just 170 calories and 3 grams of fat, and the client can fill them with their favorite fresh ingredients for a healthy meal on-the-go.
Management Team
Oded Yefet is the President & CEO of Crepe Delicious & Froshberg Gelato. Prior to founding Crepe Delicious in 2004, Oded had graduated from culinary school and worked in numerous capacities in restaurant and hotel management. Currently, Oded is focused on expanding his concepts nationally and internationally and introducing new food concepts to the Crepe Delicious & Froshberg Gelato family.
Their management team is very experienced and helps the franchisee from the moment the franchise agreement is signed. Crepe Delicious helps with real estate, site build support, salesThe total amount in dollars made in the business before expenses are deducted. See also Gross Revenue…., marketing, project management and they believe extensive support & comprehensive training is key for the success of their Franchise Owners. The team is also very diverse and speak French, Cantonese/Mandarin, and Spanish in their corporate office apart from English.
Franchise Food Services Industry Analysis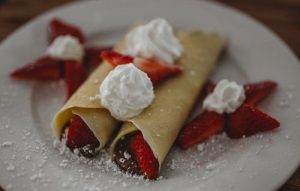 Franchise Strengths
Artisanal, high quality and healthy
Operationally simple, easy to learn
Franchisor provides training and support with suppliers and opening the store
Strong leadership team committed to helping franchisees grow their markets
Franchise Weaknesses
Success of business is highly dependent on location of the store
Highly priced products
Typically located in shopping centers which means that the success is partly dependent on the success of the shopping center
Franchise Opportunities
Ability to adapt and grow with an emerging franchisor in the U.S. an under-penetrated market
Consumers are becoming more health-conscious when making their dietary decisions
According to Multi Briefs, 75% of Americans self-reported having healthy eating habits
Franchise Threats
Profitability can be negatively impacted by close location of like competitors
Potential for change to consumer tastes and preferences
Population may not be familiarized with the product
How Much is a Crepe Delicious Franchise?
Crepe Delicious Franchise cost ranges from $284,751 to $931,900 according to the 2020 FDD.
Cost Types
Amount (in USD)
When Due
To Whom Payment is to Be Made
Low
High
Initial Franchise Fee
$35.000
$35.000
Upon Signing FA
Franchisor
Territory Reservation Fee
$0
$10.000
Due before Franchise Agreement is Signed
Franchisor
Design Fee
$5.000
$10.000
Upon ordering designs
Franchisor
Mechanical, Electrical, Plumbing, and Architectural Fees
$5.000
$25.000
As Agreed
Third Parties
Real Estate Agent Fees
$10.000
$15.000
As Agreed
Third Parties
Rent, Security Deposit, Utility Deposit
$5.000
$40.000
As Agreed
Landlord, Utility Companies
Additional Storage
$656
$15.000
As Agreed
Landlord
Leasehold Improvements
$65.000
$350.000
As Agreed
Landlord, Contractors, Other Suppliers
Furniture, Fixtures and Equipment
$85.000
$250.000
As Agreed
Approved Suppliers
Initial Inventory

The value of the total finished and unfinished goods and materials the business holds for future sale….

and Supplies
$15.000
$25.000
As Agreed
Approved Suppliers
Insurance
$2.000
$4.000
As Agreed
Insurance Providers / Approved Suppliers
Business Licenses and Permits
$1.000
$20.000
As Agreed
Thirs Parties
Professional Fees
$5.000
$10.000
As Agreed
Attorney, Accountant
Signage
$10.000
$25.000
As Agreed
Approved Suppliers
Office Equipment and Supplies
$3.500
$5.000
As Agreed
Approved Suppliers
Grand Opening Promotion
$2.500
$5.000
As Agreed
Approved Suppliers
Uniforms
$800
$1.200
As Agreed
Approved Suppliers
Initial Training Expenses
$2.500
$10.000
As Agreed
Airlines, Hotels, Restaurants, Etc.
POS Set Up Fee
$800
$1.600
As Agreed
Approved Suppliers
Digital Signage and Setup, License and Maintenance Fee
$2.195
$24.400
As Agreed
Approved Suppliers
Miscellaneous Opening Expenses
$10.000
$25.000
As Agreed
Third Parties, Approves Suppliers
Additional Funds – 3 Months 
$18.800
$25.700
As Incurred
Franchisor and Third Parties
Crepe Delicious Franchise cost ranges from $189,751 to $506,900 according to the 2020 FDD.
Cost Types
Amount (in USD)
When Due
To Whom Payment is to Be Made
Low
High
Initial Franchise Fee
$35.000
$35.000
Upon Signing FA
Franchisor
Territory Reservation Fee
$0
$10.000
Due before Franchise Agreement is Signed
Franchisor
Design Fee
$5.000
$10.000
Upon ordering designs
Franchisor
Mechanical, Electrical, Plumbing, and Architectural Fees
$5.000
$25.000
As Agreed
Third Parties
Real Estate Agent Fees
$10.000
$15.000
As Agreed
Third Parties
Rent, Security Deposit, Utility Deposit
$5.000
$40.000
As Agreed
Landlord, Utility Companies
Additional Storage
$656
$15.000
As Agreed
Landlord
Leasehold Improvements
$35.000
$100.000
As Agreed
Landlord, Contractors, Other Suppliers
Furniture, Fixtures and Equipment
$25.000
$75.000
As Agreed
Approved Suppliers
Initial Inventory and Supplies
$15.000
$25.000
As Agreed
Approved Suppliers
Insurance
$2.000
$4.000
As Agreed
Insurance Providers / Approved Suppliers
Business Licenses and Permits
$1.000
$20.000
As Agreed
Thirs Parties
Professional Fees
$5.000
$10.000
As Agreed
Attorney, Accountant
Signage
$5.000
$25.000
As Agreed
Approved Suppliers
Office Equipment and Supplies
$3.500
$5.000
As Agreed
Approved Suppliers
Grand Opening Promotion
$2.500
$5.000
As Agreed
Approved Suppliers
Uniforms
$800
$1.200
As Agreed
Approved Suppliers
Initial Training Expenses
$2.500
$10.000
As Agreed
Airlines, Hotels, Restaurants, Etc.
POS Set Up Fee
$800
$1.600
As Agreed
Approved Suppliers
Digital Signage and Setup, License and Maintenance Fee
$2.195
$24.400
As Agreed
Approved Suppliers
Miscellaneous Opening Expenses
$10.000
$25.000
As Agreed
Third Parties, Approves Suppliers
Additional Funds – 3 Months
$18.800
$25.700
As Incurred
Franchisor and Third Parties
Total                                                                  $189.751                      $506.900
| | |
| --- | --- |
| Royalty | Ad-Fund |
| 6% | 3% |
| 8,0% | 2,0% |