Cinnaholic Franchise

A franchise is when a business (franchisor) allows a party (franchisee) to acquire its know-how, procedures, processes, trademarks, intellectual property, use of its business model, brand and rights to sell its products and services. The franchisee signs a contract (franchise agreement) with the franchisor to acquire the franchise and generally has a territory granted to operate….

Background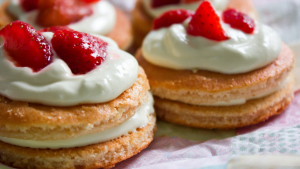 In early 2009, Shannon and Florian Radke had the idea to start a business that would serve mouth-watering, gourmet, cinnamon rolls. The goal was to introduce a new and exciting experience by offering a variety of different frosting flavors and toppings giving the customer the ability to design their very own gourmet, custom cinnamon roll
Cinnaholic is not a typical cinnamon roll shop, they are not just 100% vegan they also offer a variety of flavors made with high quality ingredients, which are all dairy, lactose, egg and cholesterol free.
All of the products are hand made and baked to order. Each roll takes about 30-45 seconds to be ready to eat
They offer cinnamon rolls, brownies cookies, cakes, mini buns, party trays, tea, coffee and bottled beverages. Catering is also available
Management Team
Florian and Shannon met on Couchsurfing.com in September 2008. Florian and his best friend were planning a California surfing trip and "couch surfing" their way up the coast. Florian found Shannon in a 'vegans and vegetarians' group. They connected online and agreed to meet up when he got to San Francisco. Two months later they met face to face, and the rest was history. She fell in love with his accent, he fell in love with her baking, and with a little help from friends and family, Cinnaholic was born
Shannon Michelle Radke is the baking behind Cinnaholic. Her passion for animals began in high school after watching PETA's 'Meet Your Meat' video and refusing to dissect in science class. At the age of 28 she met Florian, transitioned from a vegetarian to an all vegan diet, and accepted a once in a lifetime opportunity to turn her passion for baking into her everyday dream job
Florian Radke focuses on the management side of Cinnaholic. Florian has his background in brand marketing and helped to create many successful brands and businesses with his former creative agency in Berlin, Germany. Florian has been practicing a vegan diet for 10+ years and counting. He relocated to California in 2008 after meeting Shannon and now manages all marketing aspects of Cinnaholic
Dessert Franchise Industry Analysis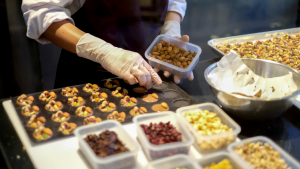 Franchise Strengths 
Artisanal, high quality and healthy
Operationally simple, easy to learn
Franchisor provides training and support with suppliers and opening the store
Strong leadership team committed to helping franchisees grow their markets
Franchise Weaknesses
Success of business is highly dependent on location of the store
Solid corporate store financials but relatively new to franchising
Highly priced products
Dessert Franchise Opportunities 
Ability to adapt and grow with an emerging franchisor in an under-penetrated market
Opportunities for B2B business, coffee salesThe total amount in dollars made in the business before expenses are deducted. See also Gross Revenue…., etc.
39% of the American population is trying to have a plant-based diet1
Consumers are becoming more health-conscious when making their dietary decisions
According to the latest research from Nielsen
Threats in the Dessert Franchise Market
Profitability can be negatively impacted by close location of like competitors 
Potential for change to consumer tastes and preferences
Cinnaholic Franchise Cost (2020 FDD)
How Much is a Cinnaholic Franchise?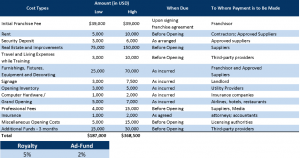 *According to item 7 provided by Cinnaholic 2020 FDD 
Historical Revenue for Cinnaholic
FDD Disclosure: "The data in this Item 19 predates the worldwide COVID-19 pandemic. The impacts of the COVID-19pandemicincludetheneedfor: social distancing, greater sanitization procedures; governmental orders or recommendations for all or certain types of persons to stay at home; infected persons to be subject to quarantine; certain industries like restaurants, food service establishments and other places where groups of people congregate, to temporarily or indefinitely suspend or modify operations; and the like. We currently have no plans to approve the opening of any franchised unit while stay at home orders or recommendations are in effect, or while recommended or required business closures for our, or our system's primary customers industries, are in effect in a given area. We do not know how long the COVID-19 pandemic will last. We currently do not have the ability to project what the longer term impacts of the COVID-19 pandemic will have with respect to the future performance of activities for our franchisees or how their future performance will compare to the data shown in this Item 19."
This Item sets forth historical annual revenue for the year ending December 31, 2019 for all Cinnaholic units operating the full twelve months of 2019.
How much do Cinnaholic franchise owners make? 
According to item 19 provided by Cinnaholic 2020 FDD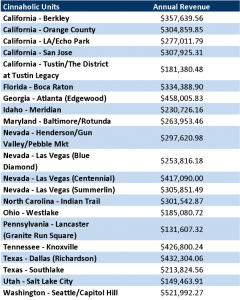 FDD Disclosure: "In 2019 the median unit annual revenue was $301,542.87. Ten units were above the median and ten units were below the median.
In 2019, the average unit annual revenue was $302,518.38. Ten units were above the average and eleven units were below the average. Cinnaholic Washington (Seattle/Capitol Hill) had the highest annual revenue at $521,992.27, while Cinnaholic Pennsylvania Lancaster (Granite Run Square) had the lowest annual revenue at $131,607.32.
"Annual Revenue" means all revenue, exclusive of returns, sales taxes and similar governmental imposed fees or taxes. "Gross RevenueThe total amount in dollars made in the business before expenses are deducted. See also Sales…." has the same meaning, but may be for a shorter period, such as a monthly period.
The COVID-19 Pandemic has not adversely impacted Cinnaholic franchise units for several reasons. To begin, Cinnaholic's business model requires a very small retail footprint, typically less than 1,000 square feet, with space afforded for in-store seating of approximately 6 customers only, so most of its customers are not dine-in customers, but rather carry-out. Also, since widespread store reopenings, that meaning June, July, and August of this year, year over year sales from 2019 to 2020 for those months have held steady or improved. Finally, Cinnaholic's POS system shows that sales have shifted from roughly 50% consumed on site in 2019 to only 20%, with 80% of sales now being carry out or delivery. Delivery sales have increased substantially."
The table below includes the gross sales from June to August 2020 and the gross sales from June to August 2019 for the 26 franchised units that were open as of June 2019 and have remained open for all of 2020 through August 31.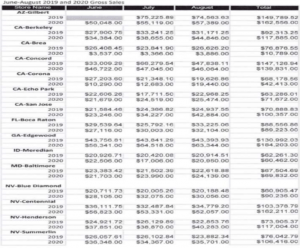 1. According to item 19 provided by Cinnaholic 2020 FDD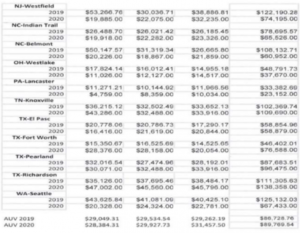 The average gross revenue for units open June 2020 to August 2020 was $89,769.54. The median gross revenue was $82,905.50. 13 were above the median and 13 were below the median. Cinnaholic Georgia (Edgewood) had the highest revenue at $184,203.00 while Cinnaholic California (Brea) had the lowest revenue at $10,789. 
The average gross revenue for units open June 2019 to August 2019 was $86,728.76. The median gross revenue was $77,786.06. 13 units were above the median and 13 were below the median. Cinnaholic Arizona (Gilbert) had the highest revenue at $149,789.52 while Cinnaholic Pennsylvania (Lancaster) had the lowest gross revenue at $23,152.00. 
1. According to item 19 provided by Cinnaholic 2020 FDD