Published on
26 Oct 2021
●
Time
11 min read
●
Last update by
1 Dec 2023
Which Is the Best Pizza Franchise? (2023)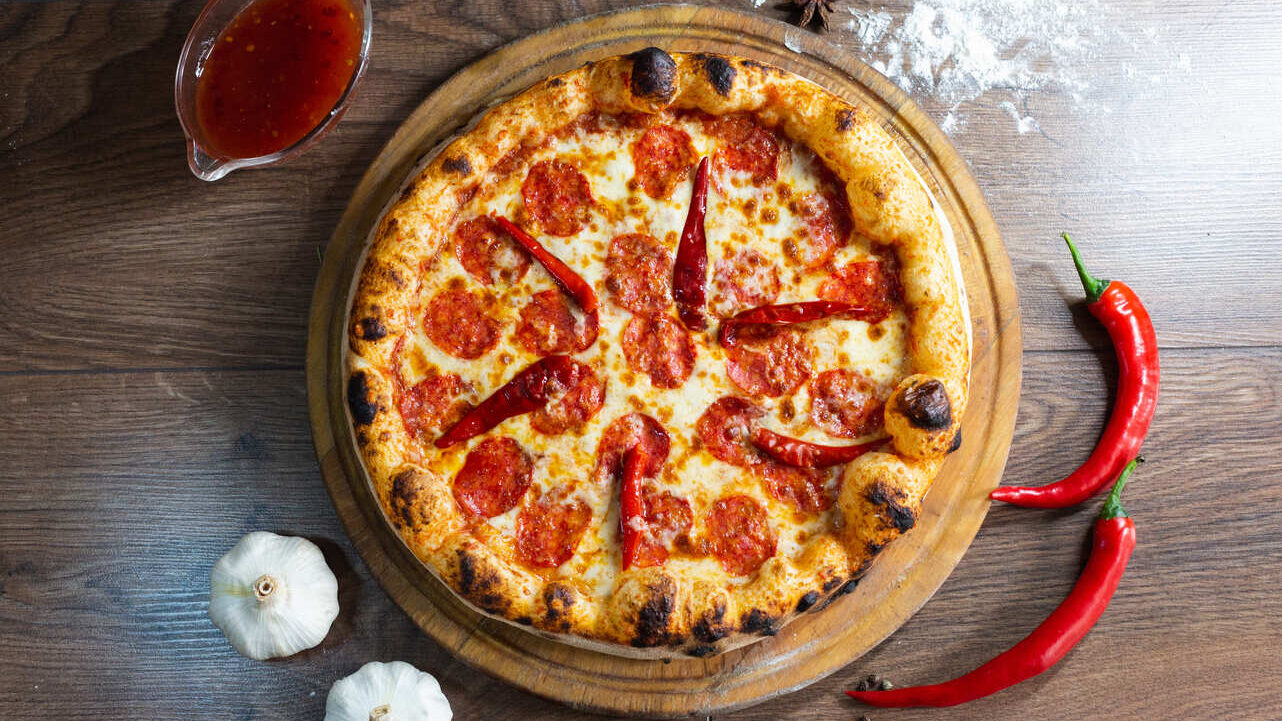 Do you love pizza? Enjoy sharing pizza with friends? How about investing in a pizza franchise? Know the Best Pizza Franchise.
In this review, we will bring you the 6 best pizza franchise for you to invest in the USA.  We've ranked 6 popular pizza franchise based on the top 10 franchise metrics for each brand. Watch our video on Domino's Pizza Now!
Domino's Pizza Franchise
In the United States, it's pretty impossible to never have heard of Domino's Pizza. Domino's Pizza is a high street and sports stadium staple. Enjoys a great reputation and a steady fan base across the country. 
Domino's Pizza franchise sell pizza and other authorized products through delivery and carry-out services. The pizza franchise offers both traditional and non-traditional stores in the food & beverage industry. 
Dominos entices customers with a variety of toppings and coupons. So customers can secure a meal at a reasonable price. In recent years, Dominos has branched out from just selling pizza to bread sticks. And also buffalo wings, pastas, sandwiches and desserts as well.
Domino's Pizza is the second-biggest pizza chain in the country, with shops in every single state. There are currently 6,157 Domino's stores in the U.S. 5,815 are franchised operated. While 342 are company-owned. Throughout the world, there are over 17,000 Domino's locations.
Domino's Pizza Franchise Cost
More than half of Domino's Pizza franchisees own more than one location. Absentee ownership is not permitted. Franchisees must complete a training course at headquarters. And also a training store lasting from six weeks to two months.
The Total investment ranges from $144,450 to $582,500 for Traditional Store's (retail outlets primarily in shopping centers, strip centers, and similar retail locations with appropriate parking for delivery vehicles). Meanwhile, the total investment ranges from $101,450 to $573,500 for non-traditional stores (office buildings, shopping malls, stadiums. These stores usually only offer carry out service).
Domino's Pizza Franchise provides traditional and non-traditional locations that fit a wide variety of requirements for potential franchisees. And allows you to open a store in different locations such as malls, free standing units and delivery-only units.
Or how about a pizza franchise that highlights recycling? Blaze pizza uses packaging that is recyclable. Also, compostable and/or made from post-consumer reclaimed materials. And the straws, lids and cups are made from plants, not petroleum.
Blaze Pizza owns and operates a chain of fast-casual pizza stores in the United States. It provides signature pizzas, salads, and drinks and desserts. The company sells T-shirts and gift cards online. 
There is a California-based franchise within the fast-casual dining sector. Which requires franchise owners to purchase 3-10 units in a period of 2-3 years. Blaze Pizza does not sell single franchises.
This modern day Blaze pizza franchise focuses on serving custom-ordered, amazingly delicious pizza quickly. While at the same time protecting the planet and connecting with its patrons. 
There are 296 Blaze Pizza Franchise locations in the United States. Of which 7 are corporate units and 289 are franchise units.
The minimum amount required for a franchisee to invest is $541,500. And can go all the way up to $1,150,500. In total, there are 31 units of this franchise open today.
Pizza is very important. The flavor, the style too. But focusing on the employees is even better than all of the above. The main point is the living wage of the staff, and that's going to translate into hard work and a blissful experience for the pizza mod user.
MOD Pizza is a pioneer of the fast casual pizza segment. And there is a lucrative fast casual pizza company, established in Seattle in 2008 by a couple, Scott and Ally Svenson.
MOD pizza individual artisan-style pizzas are made on demand. Providing customers with the platform to create their own pizzas and salads. Using fresh-pressed dough, signature sauces and over 30 toppings, all for one incredible price. This pizza company boasts of over 320 locations system-wide across 27 states and the United Kingdom. As of the 2021 Franchise Disclosure Document, there are 82 franchised Mod Pizza locations in the USA. It began offering franchises for MOD Pizza Restaurants in 2013.
The culture of MOD Pizza franchise is not to build a franchise system with numerous franchisees. Instead, the company strives to form an alignment with a small team of franchisees that are very willing to help them strengthen and better the business.
Mod Pizza Franchise cost has a franchise fee of up to $30,000, with a total initial investment range of $714,000 to $985,000.
The total investment of a Mod Pizza Franchise ranges from $588,000 to $955,000.
MOD Pizza Franchise has a good business model and is trying to execute in the fast-casual space. Their model also has the added benefit of serving alcohol. This to improve average ticket sales and reach a broader audience. 
Better Pizza is not just a slogan. Papa John's is the 3rd largest pizza delivery company in the world, with over 5,200 restaurants worldwide. They are in 50 states and 43 countries. Annual system-wide restaurant sales are over $3 billion.
The Papa John's Franchise is an American restaurant franchise company. Papa John's Franchise restaurant was founded in 1984. The company went public in 1993. A year later it had 500 stores, and by 1997 it had opened 1,500 stores. In January 2002, Papa John's became the first national pizza chain to make online ordering available to all of its U.S. customers. 
Papa John's is a quick service restaurant devoted primarily to the sale of pizza and other related food products. The majority of these restaurants are franchised, and operators of Papa John's are considered independent contractors.
Papa John's Franchise Cost
Papa John's franchise offers franchisees both standard and non-standard venues.
Most traditional Papa John's franchise locations offer delivery and take-out orders only; however, a small group of these locations will allow for customer eat-in. Because of their heavy (or exclusive) focus on delivery and take-out service, traditional Papa John's units are ordinarily located along or close to major roads and highways.  
Non-traditional Papa John's locations include placements in venues such as mall food courts, hospitals, schools, airports, theme parks, sports stadiums, concert venues, and travel rest stops. These non-traditional formats typically do not offer delivery.
The total investment necessary to begin operation of a standard Papa John's franchise is from $130,120 to $844,420.
Franchisees must also pay an ongoing 5% royalty on monthly net revenues to the franchisor, ongoing monthly contributions to the brand's national advertising program, and commit to advertising spend in their local market.
The toll of the 2018 controversy has been significant on franchisees, according to one article published in 2019 by Restaurant Business. The pizza market is extremely competitive, with the determining factor for consumer loyalty being price. If franchisees are already struggling due to a low volume of sales, offering discounted prices to compete with other names in the industry could be even more damaging.
Although Papa John's has made efforts to provide financial relief to their operators by easing royalty payments, the article estimates that Papa John's domestic franchisees earn about $40,000 before interest, taxes, depreciation, and amortization (EBITDA), a relatively low number compared to others in the industry like Domino's Pizza.
Little Caesars is the third-fastest growing pizza chain in the United States. Behind competitors, Pizza Hut and Domino's Pizza. The company's signature competitive differentiations are its HOT-AND-READY. Which allows walk-in customers to purchase fresh, pre-made food with little to no wait time, as well as its large $5 pizza offerings.
The base of Little Caesars is in Detroit, Michigan. It was founded in 1959 as a single, family-owned restaurant, and sold its first franchise in 1962. Little Caesars franchise is a take-out style pizza restaurant that sells pizza, chicken wings, "Crazy bread", and other food related products. The franchisor offers both individual franchise units and a "territory reservation agreement". Which is when a single investor can reserve an entire area of land to develop multiple Little Caesar's restaurant franchises. 
As of the end of 2020, there were 4,211 total outlets, with 3,629 units franchise owned and the remaining 582 company-owned.
Little Caesars Franchise Cost
The Little Caesars Franchise Cost Fee is $20,000, but allows for $15,000 in certain circumstances. The total investment necessary to begin operation of a standard Little Caesar's franchise is from $359,700 to $1,686,000. Franchisees pay an ongoing royalty that is the greatest of 6% of the week's gross sales or $100, payable weekly. For national advertising, franchisees must contribute up to 7% of gross sales toward the franchisor advertising fund.
One area to consider before investing into a Little Caesars pizza franchise is the lack of financial information that is provided upfront. Although this aspect of the Franchise Disclosure Document, called the Item 19, is not required by law, it is unusual for a good-standing franchisor to exclude financial performance information from prospective investors.
At the same time, the expansion of Little Caesars franchise units across the United States mainly seems to be occurring from the company owned end rather than in franchises. After all, in 2020 alone 23 franchised units closed down for various units, while 21 company owned units were added to the enterprise. A closer look at their FDD reveals that 15 of the new company owned outlets that were opened were in fact reacquired from franchisees. 
Although there could be several reasons behind this trend, one possible explanation is that Little Caesars is shifting resources AWAY from franchise development and shifting most of their energy and resources towards internal development.  
Marco's is unique among the big five pizza franchises, as it is the only chain started by a real Italian. They take great care to use only the freshest ingredients on our pizzas, and they work hard to deliver pizzas to your home in about half an hour.
Founded in Toledo, Ohio, in 1978 by Italian transplant Pasquale "Pat" Giammarco, Marco's has been a cult-favorite in the Midwest. When current CEO Jack Butorac took over in 2004, he set his sights on becoming the largest authentic pizza franchise in the world.
Marco's Pizza prides itself on product, service and image. Their teams make every pizza by hand every day. It's not a bargain pick-up pizza, but it's definitely an affordable family meal. Customers love the handmade crust, the flavorful sauce, the quality meats, cheeses and toppings that go on every pizza. They also love their delicious subs, salads, CheezyBread and Cinna Sqaures.
The Marco's Pizza Franchise industry produces $46.9 billion in revenue and $2.3 billion in profits. 
The initial cost is quite reasonable. If you compare it to other franchises, which usually can cost franchisees millions of dollars. 
The initial franchise fee for one store is $25,000. But it can be lowered if you qualify for their promotional incentives. If you are a first responder with five or more years of service, it will cost you $20,000 instead.
If you are a qualified U.S. veteran, it will be discounted to $15,000. There are three levels of management employees and the more experience you have the less it will cost. With this, it can cost from $10,000 to as low as $5,000. Depending on how many years you have as a director.
There is also a discount with current franchisees. And with the more stores you have, the lower the cost of the initial fee will be.
Marco's Pizza Franchise Cost
The opening of a Marco's Pizza franchise cost will be between $183,408-$552,713. Not including the development fee, which can add up to $10,000. There is a wide range of expenses, and many of these are necessary. Leasehold improvements can cost up to $235,000. Equipment fixtures can add up to $97,725. Both of which are the most expensive costs. Equipment is always a major expense. But it also tends to be a one time rather than an ongoing expense. 
Most recently, Marco's Pizza Franchise was ranked No. 4 in Forbes "Best Franchises to Buy" 2019 Study/Medium Investment, and No. 39 on Entrepreneur's 2019 Franchise 500 ranking.
Other recent accolades include ranking No. 2 on Entrepreneur's 2018 Top 200 Food and Restaurant Franchises in the pizza segment, and No. 8 on the Military Times Best: Franchises 2018 list.
Franchise Times named us No. 8 on its Fast & Serious list, which evaluates franchise companies that show strong staying power and sustainable growth over a period of three years.
No. 5 in Forbes "Best Franchises to Buy" 2018 Study/Medium Investment
No. 25 on Entrepreneur's 2018 Franchise 500 ranking
No. 2 on Entrepreneur's 2018 Top 200 Food and Restaurant Franchises in the pizza segment
No. 8 on the Military Times Best: Franchises 2018 list.