SourceBased on Business Listings, Vetted Biz requires Businesses for Sale to share financial information on sales and earnings through credible sources, including but not limited to Tax Returns, Accounting Software, Point of Sale Software, etc….: 2020 Liberty Tax Financial Disclosure Document(FDD)
What is Liberty Tax?
Liberty Tax has been in the income tax preparation business and has offered franchises in this business since 1997. As of December 28, 2019, there were 2539 Liberty offices in the United States, 2407 of which we franchised and 132 of which Wefile operated. Liberty Tax is a retail income tax return preparation business, which primarily attracts customers from the low to middle income brackets. The business is seasonal with most of the customer flow occurring from early January through the middle of April each year.
Initial Franchise

A franchise is when a business (franchisor) allows a party (franchisee) to acquire its know-how, procedures, processes, trademarks, intellectual property, use of its business model, brand and rights to sell its products and services. The franchisee signs a contract (franchise agreement) with the franchisor to acquire the franchise and generally has a territory granted to operate….

Fee
$0-$40,000
The initial franchise fee and resale franchise fees are $40,000. The resale franchise fee applies to a territory that has been previously sold. If a territory includes existing operations, the total cost will vary depending upon the Gross Receipts of the Territory and other pertinent market and economic factors. You are not required to spend any specific amount of money on any initial advertising for the opening of your Liberty office, but most franchisees will spend between $5,000 and $7,500 on initial advertising. 
Liberty Tax Franchise Cost:
The total investment necessary to begin operation of a Liberty Tax office is $20,700 to $73,900. 
Additional Cost Breakdown:
Below is a list of the costs that factor in the range of startup costs from $20,700 to $73,900.
Initial Franchise Fee: $0-$40,000

Initial Advertising: $5,000-$7,500

Travel and Living Expenses While Training: $1,000-$2,500

Equipment & Furniture: $3,000-$5,000

Signs: $500-$1,000

Rent: $3,000-$6,000

Payroll: $5,000-$7,000

Insurance: $200-$400

Additional Funds (3 months): $3,000-$4,500
Ongoing Franchise Costs and Fees:
Royalty: 14% of Gross Revenues*
Advertising: 5% of Gross revenueThe total amount in dollars made in the business before expenses are deducted. See also Sales….
Payment: Royalties are due on 5th day of month 
*Minimum Royalty: Depending upon the year of operation, the Minimum Royalty will range from $5,000 to $11,000.
Franchisor Liberty Tax Consolidated Statements of Operations: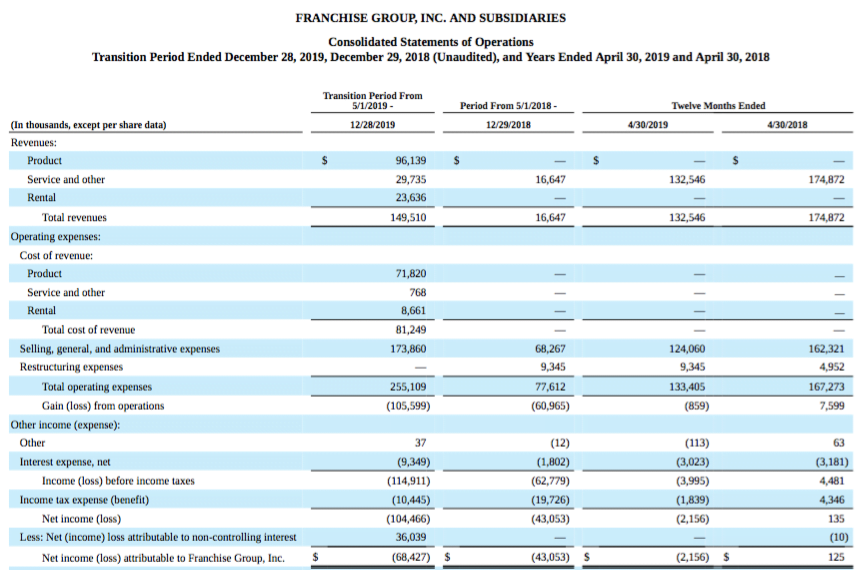 Key Takeaways: 
The Franchisor Liberty Tax is not a profitableWhen the earnings in a given period of time is more than the expenses in a business…. business with a net income loss in 2019 of 68 million in Liberty Tax has seen a decrease since 2018 when net income was a loss of 43 million.
Competition:
The primary competition in this market is from H&R Block and Jackson Hewitt. Other competition comes from other national, regional, and local tax return preparation and accounting businesses, as well as from the Free File Alliance, online income tax preparation services, and nonprofit tax preparation assistance groups. There is also competition from SiempreTax+.
Conclusion:
Liberty Tax Service offers a franchise program to operate tax return preparation offices utilizing special marketing techniques and operating procedures. 
While this may be the business for you, make sure to also check out other businesses offered on Vetted Biz and in the business services industry.
Download our guide! See how Liberty Tax compares to its peers and explore other business services franchises!