SourceBased on Business Listings, Vetted Biz requires Businesses for Sale to share financial information on sales and earnings through credible sources, including but not limited to Tax Returns, Accounting Software, Point of Sale Software, etc….: 2020 1-800-GOT-JUNK? FranchiseA franchise is when a business (franchisor) allows a party (franchisee) to acquire its know-how, procedures, processes, trademarks, intellectual property, use of its business model, brand and rights to sell its products and services. The franchisee signs a contract (franchise agreement) with the franchisor to acquire the franchise and generally has a territory granted to operate. What is a Franchise?… More Disclosure Document (FDD)
What is 1-800-GOT-JUNK?
1-800-GOT-JUNK? is a franchise for qualified candidates in the United States for the operation of retail junk removal in the Home Services industry. Brian Scudamore, the founder and CEO, developed a unique method for operating and franchising junk removal businesses (the "System").  The System includes proprietary software, brand development, training, marketing programs and access to the exclusive service of the call center and online booking system.
Brian Scudamore founded the Rubbish Boys in 1993, which is a Canadian incorporated company. 1-800-GOT-JUNK? is a subsidiary company that offers franchise locations in the United States. Mr.  Scudamore formed 1-800-GOT-JUNK?  LLC in October 1998 and has been its Chief Executive Officer since formation.  Mr. Scudamore is also the Chief Executive Officer of O2E Brands which encompasses 1-800-GOT-JUNK? Shack Shine, and WOW 1 DAY PAINTING.
Brian Scudamore has successfully scaled this innovate junk removal services to currently 130 franchises across the United States.
Initial Franchise Fee
$160,000
This figure includes the Sub territory Initial Fee of $25,000 for the first Sub territory, plus $15,000 for each of the nine additional Sub territories. The normal size of a new franchise has 10 sub territories.
1-800-GOT-JUNK? Franchise Cost
The total investment necessary to begin operation of a 1-800-GOT-JUNK? franchised business ranges from $241,800 – $289,680.
Additional Cost Breakdown:
Below is a list of the costs that factor into the range of startup costs from $241,800 – $289,680.
Initial Franchise Fee: $160,000
Initial Marketing Expense: $12,000
Computer Hardware and Software: $1,500 – $4,000
Miscellaneous Opening Costs: $5,000 – $15,000
Equipment (Vehicle Lease with dump body): $) – $10,000
Real Estate / Rent: $1,200 – $5,000
Local Marketing: $3,600
Insurance: $800 – $5,000
Training Expense: $1,500 – $4,000
Additional Funds: $56,200 – $71,080
Ongoing Franchise Costs and Fees:
Royalty: 8% of Gross Revenues semi-monthly*
 *Minimum royalty of $1,050 – $2,800 per sub territory per calendar year depending on when the franchise was opened*
SalesThe total amount in dollars made in the business before expenses are deducted. See also Gross Revenue…. Center, Marketing & Technology Fee: 8% of Gross revenueThe total amount in dollars made in the business before expenses are deducted. See also Sales….
Local Advertising Payment
Franchisee will expend an amount that is equal to 8% of its Gross Revenue in each quarter of your fiscal year on local marketing and promotions within the Territory.
During the first-year franchisees need to spend no less than $3,600 per quarter on marketing.
 1-800-GOT-JUNK? Sales Figures: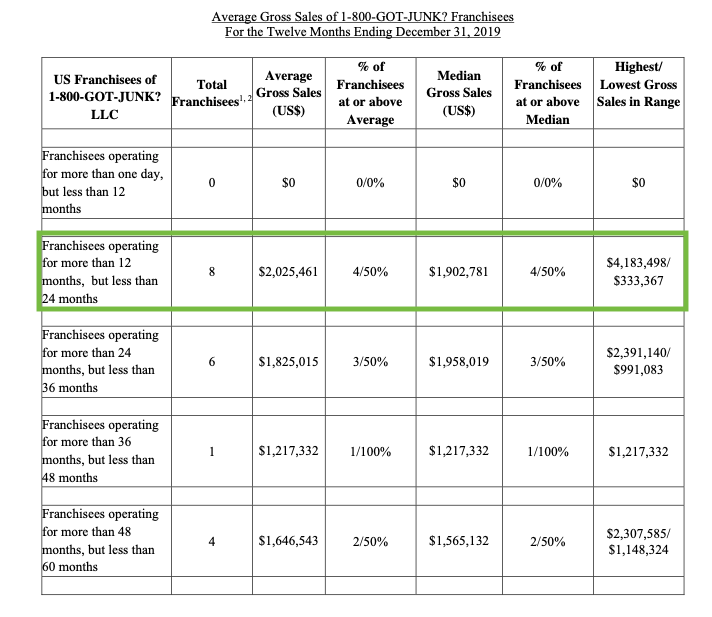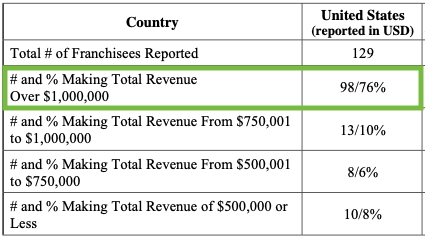 Key Highlights from Sales Figures:
Average Gross Revenue for companies after 1 year of business (8): $2,025,461
Average Gross Revenue for companies after 6 years of business (109): $2,562,510
This sales figures indicate steady revenue streams during the operation of the franchisee term agreement of 5 years and indicates a majority of franchisee's renew their contract after it has terminated.
These numbers vary depending on location, expertise, marketing strategies, and other factors that may affect your overall revenue.
1-800-GOT-JUNK? Income Statement

One of the major financial statements focused on a business's revenues and expenses in a particular period. It is also known as the profit and loss statement. The income statement includes the gross profit, earnings before tax, and net profit.Tax Returns: The forms a business makes on an annual statement of income and personal circumstances sent to the IRS to…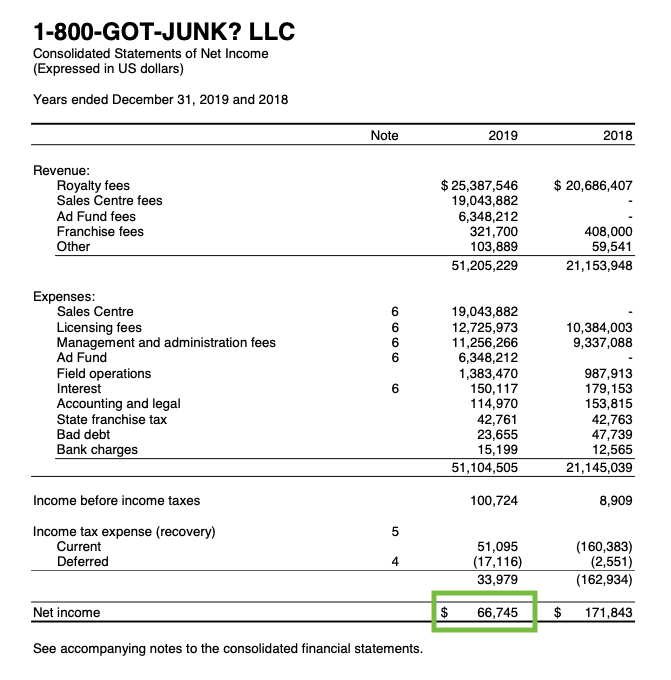 Income Statement Key Insights:
The company in 2019 posted a positive net income, which indicates the company is liquid and has a higher probability of paying off its debts, paying dividends to shareholders, and paying its operating expenses.
Competition:
1-800-GOT-JUNK? does not grant exclusive territory as you may face competition from other franchisees, from outlets that they own, or from other local or national junk removal services such as College Hunks Hauling Junk.
Conclusion:
1-800-GOT-JUNK? is a well-established that has been around since 1998 and has shown strong revenue figures from their franchisees. Brian Scudamore has run three successful franchise companies and 1-800-GOT-JUNK? is their premier national business!
While this may be the business for you, make sure to also check out other businesses offered on Vetted Biz and in the home services industry.
Analysis Provided by: Brooks Gammill Vetted Biz Intern
Download our Home Services Industry guide and see how 1-800-GOT-JUNK compares to its franchise peers!