Patrick: Hi, everyone. You have Patrick Findaro here, co-founder at Vetted Biz as well managing partner at Visa Franchise.
Today, I have a very special guest, Philip Jacobs, the VP of Franchise Development at Rush Bowls. He started with Rush Bowls when they only had one corporate location. They waited about 10 years to start franchising the concept and that's when Philip Jacobs joined in as well as with the other co-founder of the brand. He joined when there was one location in Colorado, Boulder, and now they're up to 35 locations open and they have a hundred more in development. So really excited to have Philip on.
Again, this is Patrick Findaro, co-founder at Vetted Biz. We're an online platform to help you find, vet and finance your next franchise or business for sale.
Rush Bowls is riding the wave of healthy eating in the U.S.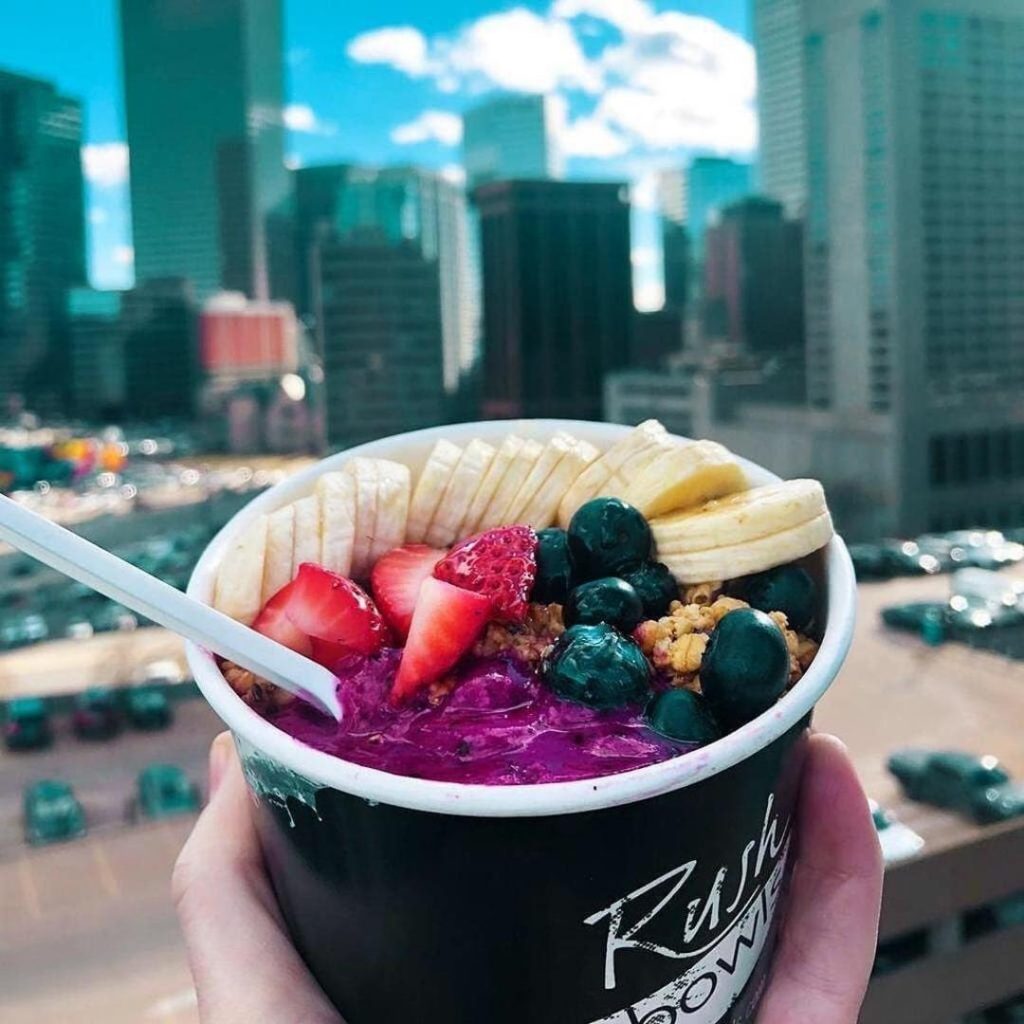 I was talking to Philip a little earlier. Now, you know, we've both learned a lot. He's been in the franchise space for over 25 years now. He tried to start a few different concepts himself and he never got traction, got off the ground, and he went back into franchising, which was a sure bet for himself as well as the clients and future franchisees that he's working with now.
So, Rush Bowls is definitely riding the wave for healthy food in the U.S. People are a lot more concerned with what they're eating, obviously, how they look, but also what they eat, how it makes them feel, longevity, and really taking in natural products as much as possible.
They're also riding some waves in terms of small office or home office where their best locations have always traditionally been in residential communities, suburbs, upper middle-class-income neighborhoods, not at office parks. So it's not like some other quick-service restaurants where they focus a lot on the office worker. It's never been the model for Rush Bowls that was founded, what now, about 15 years ago. So they've always been in neighborhoods where it's more residential and less on the commercial side and catering to office workers in particular.
Again, so, very excited to have Philip Jacobs on. We were chatting earlier. He played lacrosse at Ohio State, I played lacrosse as well at Colby College, definitely, a better program than myself and I'm sure a much better lacrosse player. And I'm sure a lot of what he learned on the lacrosse field and playing at the Division I sports team at Ohio State, he's been able to apply in the business world and with his acumen, especially on the development side for many leading franchises.
He's been out in California for many years now and has worked with some of the largest franchise brands, Mailbox, etc., what is now The UPS Store. He joined when they had about a hundred locations. And now, the rest is history. They're well over 3,000.
So he's gained a lot of experience at some of the largest franchisors and he's growing Rush Bowls to become the go-to option for people that want healthy fast food on the go as well as other products, you know, whether it's smoothies, the different bowls that they have. They have all different types of refreshments and meal alternatives for what is generally middle income, upper middle-income Americans.
So we're very excited to have Philip on. Feel free to check out the Rush Bowls profile on vettedbiz.com. We have over 50 different metrics on Rush Bowls and you can see how it compares to their industry peers. I'll ask Philip a little bit about the competitors in the space later on today.
I'm going to add Philip on. But first, before I turn it over to Philip, I'd like to just have us play and set the stage and play a short two-minute video on Rush Bowls. So if you don't mind, turning away your phones and focusing on this video and focusing on our talk, I promise we'll keep it quick. And if you like this video, please subscribe to vettedbiz.com and visit the Rush Bowls' listing, as well as you can schedule a call with Phillip Jacobs, the VP of Franchise Development, following this call to see if Rush Bowls might be of interest to you.
So I'm going to add Philip on and we'll start with the video. Philip, if you don't mind playing the video and then I'll turn it over to you.
Introducing Rush Bowls
Buddy: Rush Bowls opened in Boulder Colorado in August of 2004. The concept of Rush Bowls is healthy meal replacement.
Andrew: When people get a bite, not only are they getting the creaminess of the fruit blended, but they're also getting the crunch of the granola or whatever topping they may have. Anyone can approach it, eat it and be happy with it.
Mark: They're looking for convenience and they're looking for things that are easy to grab on the go that cater to their lifestyle.
Andrew: People are very excited when they have healthy choices.
Buddy: From a franchisee standpoint, you don't have to have a huge culinary or restaurant background to get into it.
Mark: Andrew did an amazing job building that store and getting a regional following and getting some really loyal customers.
Andrew: Since '04, I was asked to franchise every year since I opened. And only when I met Buddy did I really feel that this was a valuable next step. And that's because Buddy has franchisee experience.
Buddy: Capstone Restaurant Group is a franchisee of Carl's, Hardee's and others. But the Capstone Restaurant Group has an infrastructure. Nationally, we have over 7000 employees.
Whitney: I help you with the architects, contractors, permitting.
Mark: The packaging, the website, the digital media channels…
Buddy: They'll always have the backing and the infrastructure no matter how many stores. It has to support each and every franchisee in the same way.
Whitney: We want to make sure you're set up for success.
Philip and his involvement in Rush Bowls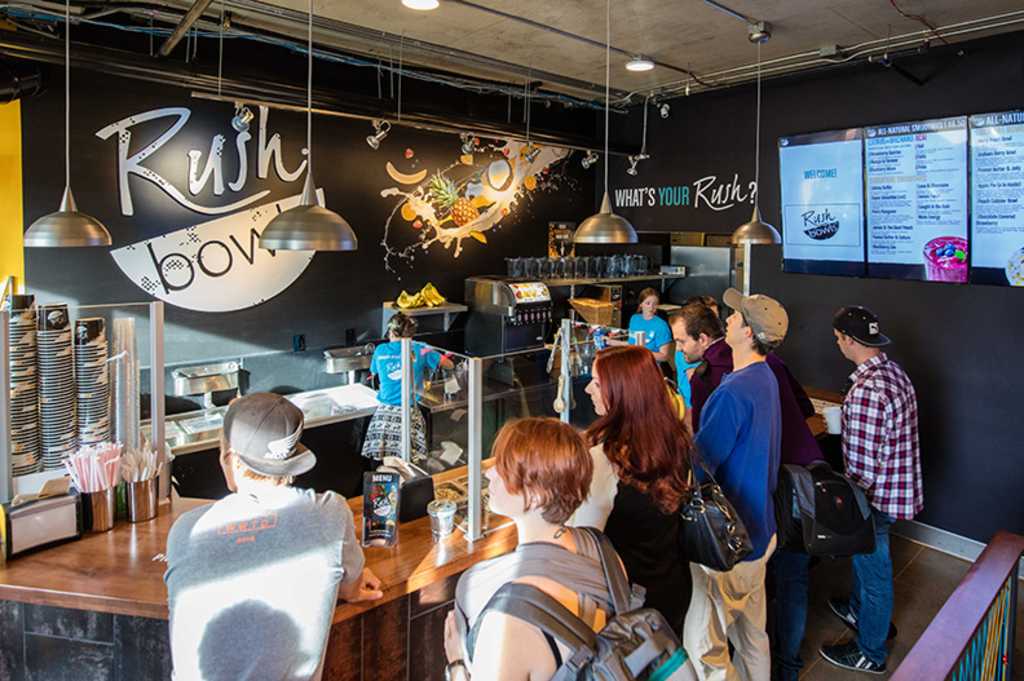 Patrick: You know, I did give a very brief intro about yourself. Tell me a little bit about your franchise background, how you got involved with Rush Bowls?
Philip: Well, thank you. Well, yeah, I've been very fortunate. I've been in franchise development for over 25 years. I have helped build several large networks, a few smaller ones, others haven't gotten much traction. I did try three of my own concepts and, admittedly, I failed. So three strikes and I'm out. Right now, I take other people's ideas where I can and run with those.
You know, but we all, everybody, we all learn every day. We never, I should say, "We've seen and learned it all." But I have seen a lot in the franchise. So in order for me to get excited about a concept, it needs to be different. It needs to be special. You know, where's the secret sauce? And if I don't see that sauce within literally, maybe 30 or 45 seconds, like the "Shark Tank" type of thing, I'm gonna lose interest.
So when I was introduced to Rush Bowls five years ago, and I saw that Andrew, the founder, had this fantastic concept with, you know, that had maturity to it, he was in business 10 years, which says something, and then he partnered with Buddy Brown and Capstone Restaurants. With that, that was huge horsepower. Overnight from…
Patrick: Tell us a little bit about Buddy. What's his background? And I understand there was an original concept and then he got involved.
Philip: Yes, Buddy, was a… He is the founder of a different Boulder-headquartered company, strictly coincidental, named Capstone Restaurants, and five years ago at the time. But Capstone owned 400 franchise restaurants, Carl's Jr., Hardee's…
Patrick: So a lot of different brands or was it just one brand?
Philip: Carl's Jr., Hardee's, Taco Bell, Pizza Hut, maybe some Dunkin Donuts thrown in there.
Patrick: Yeah, this is a serious player in the franchising business.
Philip: Twenty-fourth largest restaurant franchisor at the time, with about 400 stores. And he had this huge infrastructure right there in place, purchasing, for everything, staffing, training, marketing, so that's what happened…
Patrick: Supply chain…
Patrick: Everything. So Buddy had heard about Rush Bowls, secret shopped it in Boulder, like everyone else, loved the product. But for Buddy, the light bulb went on, thinking like in a comic book idea bubble, "You know, I think that's the next big thing in healthy eating and franchising. Let's look into taking this national and then global."
And then through sheer force of personality, and an equally sizable checkbook, Buddy pursued Andrew for about six months, convinced him they should partner 50/50 in Rush Bowls. And that's what happened. They got industrially married as we call it, and launched. So what happened was…
Patrick: And shortly after, you joined?
Philip: Yes. So what happened was, then so when Buddy… What did that mean when Buddy and Andrew got married? It meant that Buddy sent in the development team, a development team the size of…that a $400-million company would have, gave it what we call, for lack of a better term, a franchising colonoscopy. Andrew's store, at that time, that's 10 years old, 400-square feet, doing 250, 300 thousand on a 1000 a day in sales. And bingo, we developed the modern-day Rush Bowls, current market, and we opened the first company-owned, true company-owned, modern-day, Buddy-Brown-envisioned, Capstone-Restaurant-executed Rush Bowls.
Patrick: Okay. Then, where was that first one?
Philip: Downtown Denver. And that, you know, we looked at all different business models, all different budgets, and what we decided upon was about 800-square feet is the sweet spot. And a target budget, in most cities, of about 200,000 to open. That's to-go.
Patrick: So, 800 is pretty small. Are customers just coming in and they're not hanging around?
Philip: Precisely, grab and go.
Patrick: That goes well with COVID right now.
Philip: And will be for the future, yes, but that's how we've always served because our customers are on the go. That's the active, healthy lifestyle of our customers, not sedentary, sitting in a bar, with, you know, their keisters on a stool. You know, they're headed to the gym, wherever it might be, just like in the video.
The enthusiastic feeling generated by this type of franchise
Patrick: You've gone through some of the things that initially attracted you to the brand. What keeps you very excited about the brand? And what should excite potential franchisees?
Philip: That's a loaded question. Rush Bowls serves many purposes. In other words, for me, personally, I'm an athlete, I like to consider myself a jock, I try to eat healthy, I like that lifestyle, I can't do well promoting a brand as I do if I don't believe in it.
Patrick: Yeah, of course.
Philip: Before Rush Bowls, I was involved with UFC gym, you know, and in the gym is all…that's my style. So for people looking for a business that's simple but not easy, that might lend itself to the lifestyle they're living – health, wellness, fitness – and a true belief in that, and wanting to promote that in your community, Rush Bowls is great opportunity, if you believe in the product and if you believe in yourselves.
Is it the right time to open a franchise?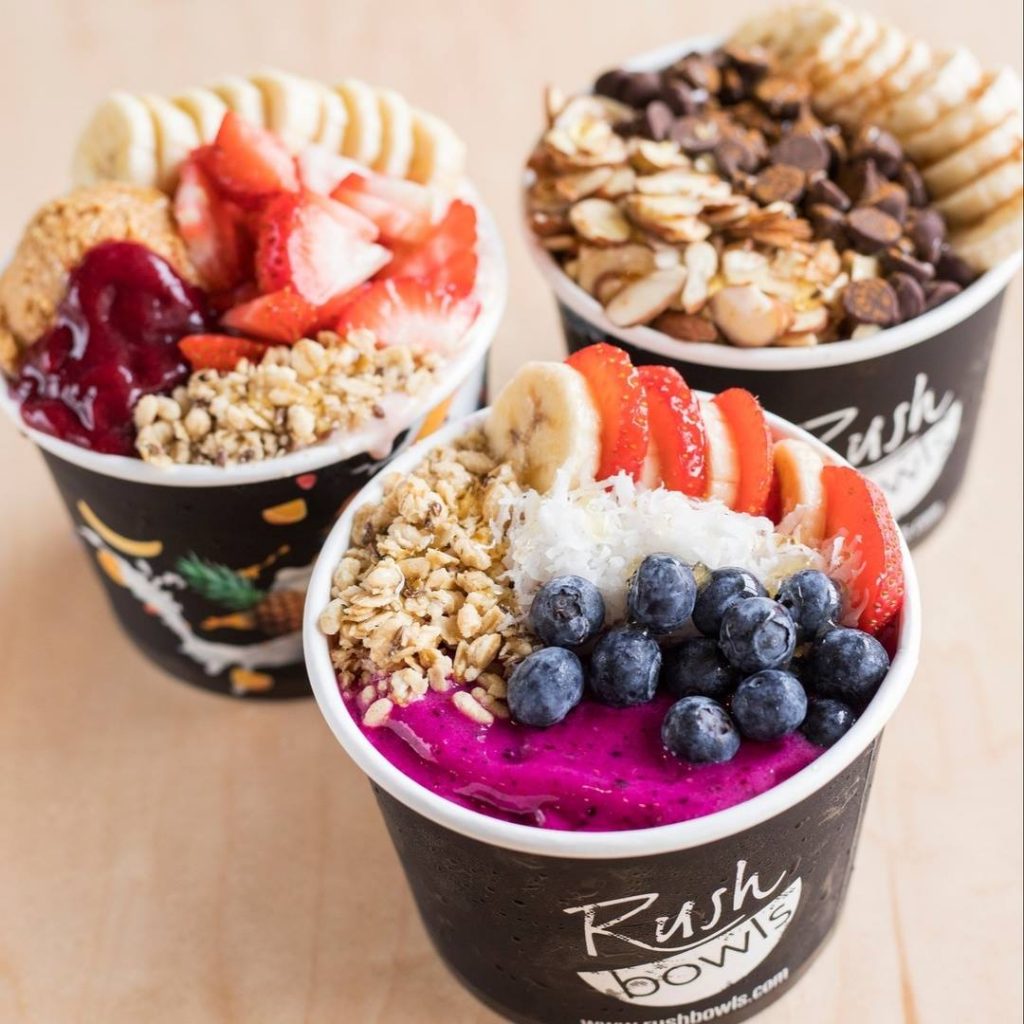 Patrick: And why now? Given 2020, COVID-19, you know, it was just announced, two different vaccines in the Western World, you know, should be approved. But why right now might it be a good opportunity to open Rush Bowls?
Philip: Well, matter of factly is that our stores that are open more than one year have seen sales increase about 20%, year over year. And that is attributed directly to the owners, but also to COVID, the environment, the business, the environment.
Patrick: Is it because of takeout and delivery? I guess everything's just take out now, right?
Philip: Well, yeah, there was that factor.
Patrick: Do you have a third-party app?
Philip: Yes, yes, to all that… I don't want to sound like a wise guy. But between the owner and the founder, being…you know, let's give Andrew all the credit in the world. The man started this 16 years ago, he was way ahead of the curve. And it just celebrated 16 years in the same location in August. So he has seen everything. Now that he's been through the pandemic, he even adds that to his experiences that he has survived and thrived through.
So, Andrew, the founder, and you have Buddy Brown with Capstone, you know, operationally, you know how complicated his concepts are, and myself in franchise development working with people, we really have thought of everything, in terms of questions of how to run the business, hurdles, challenges, what could go wrong, solutions. I really truly believe that. That's what I saw here. That, you know, from day one…
The reasons we believe the business will thrive
Patrick: We were talking earlier, you know, there's some things that have propelled the brand, especially in light of the pandemic, like the focus on grab and go, personal health, which you've already alluded to. Tell me about this home office, small office, how you guys are already positioned, given the locations you're in and the locations you want to expand in?
Philip: All right. So our own business is thriving and will thrive for the foreseeable future for those three reasons. Number one, greater attention being paid to personal health. That was happening before COVID, now it's off the charts. And we're gonna see permanent societal changes, just like after 911, we saw them at security, we're gonna see the same thing with health. People walking around with masks and gloves, taking temperature, it's common, ubiquitous.
Secondly, it's the grab and go. You know, ours is still small, does not lend itself to tables, we don't want to pay for rent. This is not a family of four sitting down for dinner. This is people grab on the go through apps or whatever it might be. We do it all.
And the third reason is, like you talked about, this migration we're seeing of the workforce back to small office, home office, otherwise known as SOHO. And our stores have been open in the suburbs, and not near office parks, typically. So, you know, we didn't have stores that shut down at 5:00 and are quiet on weekends. You know, that environment, that had not been us.
And so now that we're in the suburbs, that has helped us weather the storm and will in the foreseeable future. So those…
Rush Bowls: The business model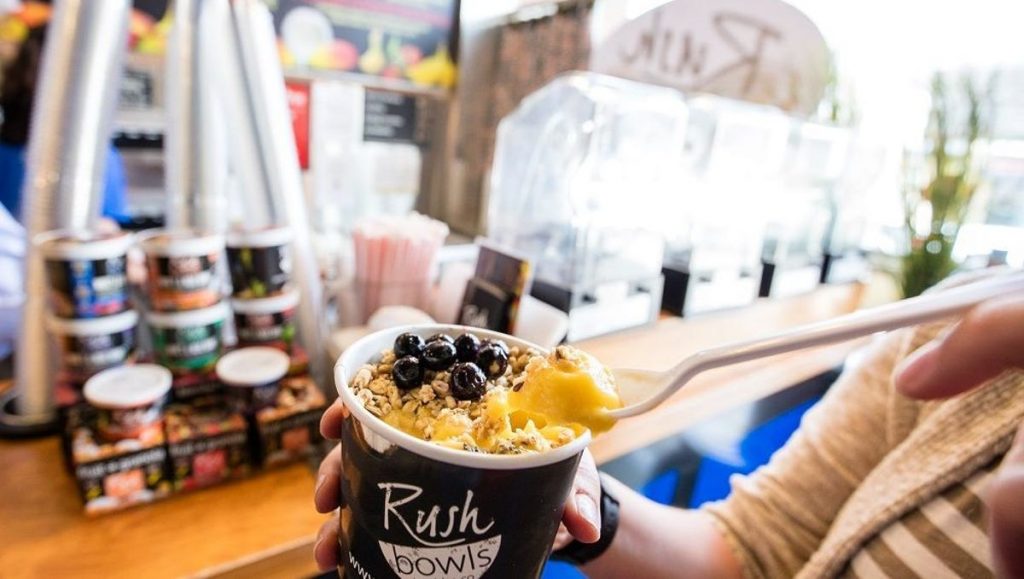 Patrick: So tell me a little bit about the business model. How does it make money?
Philip: How does it make…? By serving in Rush Bowls, profitably. But, you know, that's a question that could take endless discussion. So what I like to tell people, for those that are out there, if you want to just…
Let's just pump the brakes for a moment. And if you have, grab a paper and pen, and, visually, you can think of this business model as a three-legged barstool that you as the owner, owner sit on top of, typically, without the need of a salaried manager.
This business model was developed and we…some people call it semi-absentee ownership, others call it, you know, arm's length, drive-by management. You get the idea. We do not expect owners to be behind the counter. And we don't need owners to change their careers unless they want to. And that's a whole nother subject.
So assuming that someone just staffs this out with part-time, hourly workers, this can be done and is being done semi-absentee because of the three legs. And we label the first leg simplicity. This is all about you as the owners, and your ability to do this, to execute what Andrew has been doing for 16 years and now we have other owners doing it for anywhere from one to four years or one month to four years.
So simplicity means there are not many moving parts to this, very few things that could go wrong as compared to one of Buddy Brown's Carl's Jr, or Hardee's. Easy to train people, easy to replace. You need to parachute in as the owner in an emergency and replace someone behind the counter for a shift, not the end of the world. We don't want you to do it. But if you had to, you could do it.
And there are other parts of the business model that I'll point out to you, if we get into it individually, that lends itself to simplicity. We do keep referring to it.
So the first leg is all about you out there as the owners, your investment history, your expectations, time commitment. It's all there in that first leg of simplicity.
Second leg is about the site, the all-important real estate, the location, and your ability to do it at that site, execution, as we call it. So flexibility, you can open up as small as 500-square feet, if that's the right…what becomes of it, if you like that. 
Patrick: How do you find the sites? Do you work with a national firm? Or does the franchisee come to you with the site? How does that work?
Philip: That's a whole long discussion, but, yes, we assist, depending on how much help is needed. We have national accounts with people with boots on the street looking at sites. And the key is knowing what is going to become available, not what's been picked over that you see the sign. We know it's available. Who's losing their lease? Who's building new stores? Who's getting kicked? That's what we want to know. And by having a national agreement…
Patrick: You get the market cornered with the realtors that are in your network?
Philip: And we want someone to earn their commission paid by the landlord, not by you. So the second one is…and it's also about neighborhoods. Where do we look? Where do you start? Because if you've never done this before, so you could look up, and go, well, look at a skyscraper, "Whoa, where do I begin?"
So in any major city, the first place in terms of priority to look, what the realtor knows to where to look, near schools, university, colleges, high schools even. We want to be near schools. But just because you may want to open there, does not necessarily mean you can because of real estate…
Demographics: the key to understanding the business
Patrick: And is there a particular demographic that you do better with or worse with?
Philip: Well, again, college students are perfect. All right. Plan B, we'd like to open up near hospitals or medical centers. 
A third type of location is what we call gentrified in some downtown areas, urban areas, what used to be skid row, today, brick lawns, condos, yoga studios and Starbucks. Or you go out into the burbs, where you see new shopping plazas, Home Depot, new high schools.
So schools, hospitals, you know, neighborhoods, and lastly, what we call tour-activity neighborhoods: a beach, ski resort, regional airport, tourists' attraction. That type where just people you might never see again, thousands, you know, millions of people walking by.
Patrick: Any lessons learned for locations that didn't do as well, like, that maybe were in one of those categories or were you guys just pretty strict from the beginning?
Philip: Well, yes, but it's always in hindsight. For example, we had a site, we had a store open earlier this year, downtown Detroit. Just killer as killer gets. For those of you that may know Detroit, the landlord was the Ilitch family. They own the Detroit Red Wings. They own Little Caesars Pizza. They're Detroit all over…they own a skyscraper across the street. So they put them in a Fox Theater, you know, where they hold all the Broadway shows. They gave us an entrance off the street, an entrance from the Fox Theater, across the street from the skyscraper, near the ballpark. This thing was perfect…until COVID.
Patrick: Okay, yeah. Theaters, sports…
Philip: Everything shut down. They're struggling. They're struggling, but they're getting relief, free rent, you know, all that. But still, nothing is perfect. Up until now, we've made so much success at universities. That's where we open. A lot of schools have been closed. So this year, the university school stores, they've done less than 20% growth. So that was…
Patrick: Okay. I mean, I heard some food businesses are down 50%, 70%.
Philip: Yes, we have weathered so far, have weathered the storm because of health reasons, grab and go, and along the SOHO. Those are three factors that are reasons for our growth. So we're well positioned.
Patrick: That makes sense.
Philip: And we're well positioned.
Investment cost in a franchise like Rush Bowls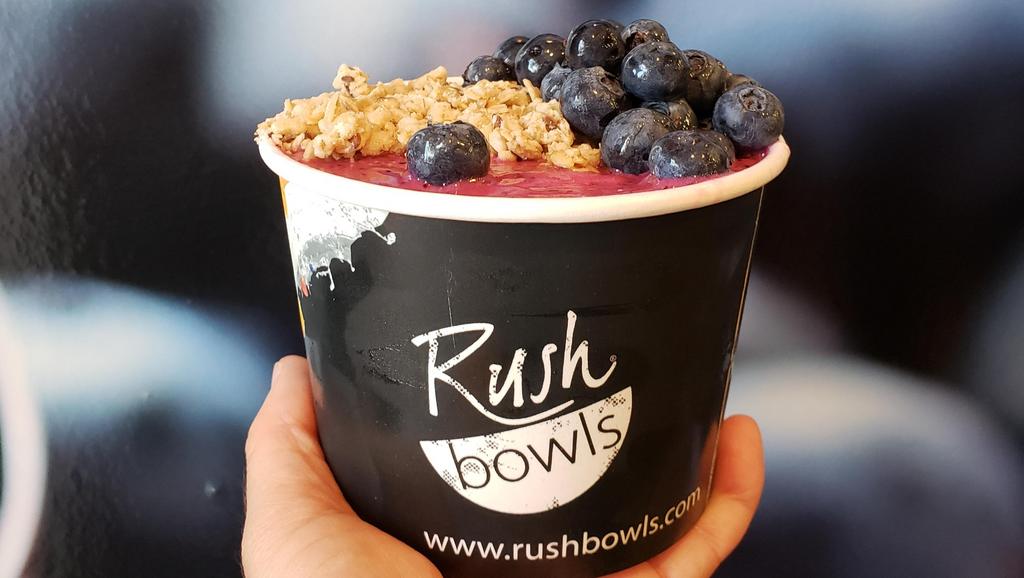 Patrick: And imagine there's some people listening now that might want to invest in Rush Bowls, but just don't know how much it costs to open one, and how much they need to have in terms of cash. Could you talk a little bit about that?
Philip: For now, we're really peeling back the onion, sure. A back of the envelope budget, the idea is that we would like to see you open…it also depends upon the city. Opening up in downtown, you know, if you're going up in Manhattan, New York, or Chicago, it's gonna cost a bit of a premium, about 20%.
Again, go back to the simplicity leg and go back to Rush Bowls. We thought of everything, including site and site selection, and lease negotiation, and budget to get open. We want to see you open for as close to 200,000 as you can.
We may as well break it down. Where does the money go? And what could go wrong? Well, let's not kid ourselves. So if we come to terms with somebody and we want to get married, as we say, then we will, without any hesitation, sign an agreement for one store. And the owner will then write a check for $45,000 to Rush Bowls. That's the licensing fee, one-time lump sum for one store.
Okay, now they have 45,000. Now, we're gonna want to find that site and understand that Rush Bowls makes no money until you open. We charge a 5% royalty on sales. So, we then will, once you have the site, plan on spending up to $80,000 for all your furniture, your fixtures, and your equipment, otherwise known as FF & E. So as…
Patrick: Does the landlord cover any of that? Have you seen that or…?
Philip: Maybe, that's a maybe. So assuming that you do spend the 80,000, and you've already spent the 45, that brings you to 125 invested. All right. Now comes the great variable, literally zero dollars up to $50,000 for what we call tenant or leasehold improvements, what needs to happen to the site to get it ready for Rush Bowls, and who pays for it? Flooring, wiring, plumbing, what was there before, so many factors. And that's all part of negotiating. And we'll help.
But we think worst of the circumstances. We don't want to see you spend more than 50,000 for that, budgeting for that. So assuming you spend that 50, that takes you to 175. And now you'll need to dedicate another 25,000 for what we call administration – your business licensing, your inventory, your training.
Again, go back to simplicity. There's not a lot there. You're not buying all kinds of signs and all types of furniture and it's not for 800-square feet. So somebody's gonna spend 25,000. There's your $200,000 budget.
And if anything could go wrong, where will it happen? At that tenant improvement stage, right? Even if the landlord's paying for it.
Patrick: That's a big variable because the contractor could go over budget.
Philip: If you don't… We do not do it for the owners. The owners must do this for themselves because they're there to, right… We'll show you how, what to look for. But you've got to ride the hurdle over that, otherwise it'll get away from you. But if you manage, if you do it right, if you can execute, go back to simplicity, it should come in and no more than 200,000, maybe 250…
Patrick: Solid. Okay.
Philip: …in Manhattan or Chicago, the major, the A markets. But we like B markets.
Patrick: We have a couple of questions coming in, Philip.
Rush Bowls can evolve or operate as a dark kitchen or ghost kitchen for delivery?
Patrick: One from Luis, "Rush Bowls can evolve or operate as a dark kitchen or ghost kitchen for delivery? Can the franchise adapt to this model? Do you have some pilot or proof of concept around this?"
Philip: No, we do not. You know, we are still considered an emerging brand. So, our business, our theory, our go-to market strategy has been, and we thought this through, to open a storefront and then think of it as a hub and spoke. Whereas, this is a Starbucks' mentality, let me just digress for a moment, where you will see the same customer several times a week, ordering the same thing. And for your employees' behind the counter, it's a bartender mentality. They're proud to work at Rush Bowls, they tell their friends through social media, and they make great tips. So we believe that…
Patrick: So, you prefer to have things like takeout, for example, over delivery, like using third-party apps because you want to have that connection.
Philip: Well, we have the connection, we get the connection through the foot traffic that comes in the door. And then, through the engagement with the customer, they learn what we can do for them, delivery and catering. And that's why we've shied away from anything other than storefront, but we have plans for drive-throughs.
See, drive-through does not give you that engagement. That's more for burgers. So, but once you have that relationship with the customer, we think then you can afford to have the non-engagement.
So the question about a dark kitchen and a proof of concept, not yet. We were waiting for a hub and spoke, where owners are opening their storefronts. Some are building empires, but they've decided on more storefronts as opposed to food trucks, drive-throughs.
Patrick: And it's probably different because a lot of food concepts, it costs like 500k, 700k to open up. So a ghost kitchen might make more sense for them as an alternative.
Philip: But it's also the dark kitchens that need the complex equipment. You know, grease traps and hoods, freezers, blenders and a cash register as the equipment package.
Patrick: So there's lots of value add up for the ghost kitchen for Rush Bowls compared to burger or chicken franchises.
Philip: So far, we've been able to handle the delivery and the catering at the store.
E-2 investor visa: when and how to apply
Patrick: Okay. And we have another question that I'll handle from Mishu, "Any idea when all the U.S. consulates are going to open and start normal visa processing?" So, I imagine Mishu wants to apply for an E-2 investor visa.
Many of the consulates are already open. We've got approvals in Hong Kong and Norway. There are many U.S. embassies and consulates currently processing E-2 visa applications for franchises like Rush Bowls. So, you know, that's something that definitely needs to be consulted with your attorney. But there are ways that you can come to the U.S. on another visa and change your status here in the United States for the E-2.
So there's definitely ways, if you want to move here and you have the cash to invest in a Rush Bowls franchise, there are definitely ways that you can get an E-2 visa right now.
Philip: Yeah, and I don't mean to get political here, but now that. well, we have a change of administration, they're saying that they are going to be more open to accepting E-2 applications.
Patrick: Exactly. And Biden wants to get rid of some of the Green Card caps. So for those that want to, you know, after getting the initial E-2 and then eventually want to get permanent residency, it should be more flexible now that we're…
Philip: Yeah, it's supposedly gonna become simpler.
The right time for the business to run successfully
Patrick: And then, how many hours does a typical owner work in the business?
Philip: Well, it depends upon, of course, experience and skill set of… Again, go back to that first leg of simplicity. Our modeling that we've seen is this. If someone has never done this before, and someone keeps it a separate profession, and they're opening their first store, the first 6 months, we're seeing about 20 hours a week. Second 6 months, we're seeing about half of that, about 10 hours a week.
Patrick: And is it kind of random hours throughout the week? Is it mostly during the week, mostly weekend, or just depends…?
Philip: Well, it depends upon the site. And, you as the owner, again, go back to our first leg of simplicity, 98% plus of the transactions at the store are non-currency, non-cash.
Patrick: So they can monitor from their phone what's going on?
Philip: Well, yes. In other words, there's very little opportunities for sticky fingers. All right, that's why you, as the owner, don't need to be there. Back in the day, that's why owners were slaves to the stores because of the cash register. But now, between electronic banking and real-time accounting from your phones, you'll know when your hours to be busy are.
Patrick: The safeguards are there in place.
Philip: Well, not safeguards, but you'll know when you'll need to pay attention. When you open in the morning, on a Friday morning, November 20th, typically, one person behind the counter, one person. During the…usually two, sometimes three, if the line is out the door, you as the owner will know because of how busy it gets, when you need to be there, if at all.
Resale opportunities available at this time
Patrick: So you talked a little bit about startup costs for the business. Are there any resale opportunities available right now?
Philip: Yes, we have a couple of owners… We're in phase two of franchising. And what that means is that we have had enough owners open long enough to determine whether or not they want to build empires, hubs and spoke. And they're building third, fourth, some are on their fifth store. Others are just happy with one, keeping employment, happy with one store, very happy with the return on their investment, but not living for the income off of it. It's a supplement.
Patrick: Supplemental.
Philip: Supplemental income, correct. Active investing, that's what we call it. It's not just buying a mutual fund, you know, and leaving it to Jim Cramer at night. And it's more active than maybe buying a piece of rental property. And that is…some owners have decided, "You know, Philip, we don't love it enough." You know, and/or personal problems prevented them from executing. And they needed to exit the system.
So a couple of stores have transferred. And a couple of stores, we are encouraging the owner to get the store in shape to be resold. And that's a special situation, it takes a unique type of analysis.
Patrick: Okay, so after initial consultation with you, you can evaluate, basically, if the candidate would be good or not.
Philip: Right, but it's going to be location based. It was the three stores, I mean, that's all we're talking about. You know what I mean? So it's not like it's all over the country. But you never know.
So what about the supply chain?
Patrick: We have another question from Luis, actually, in terms of the supply chain. So what about the supply chain? How is it managed?
Philip: I'll address it this way. Let's go to the third leg. So the first leg, we talked about simplicity, it's all about the owner. The second leg is all about flexibility, the site, size and neighborhood. And the third leg, which we haven't discussed yet, we label it transparency. It's all about us at Rush Bowls. Then you'll see… So the only way we make money is a below market 5% royalty on sales.
Patrick: You don't get cutbacks, rebates from vendors, like many big franchisors?
Philip: Correct. Owners will never buy anything from Rush Bowls except advice, counsel and guidance. So we make the supply chain available to owners. Basically, our distributors, basically, Capstone's distributors, through Buddy Brown, on their account. But you do…
Patrick: So, instead of just 35 locations, it's like being part of 400 locations?
Philip: That's what made it special when I joined the new Rush Bowls franchisees plugged into Capstone for support. They're treated as one of 400 stores from day one. That made a difference because in order to provide the return on investments that, when they sent in the development team and pulled apart the books, in order to deliver the ROI, the expense ratios, as we call them, needed to be in line.
So we make it available to owners, but you're not mandated to use it except for the quality part because we take no remuneration. Any economies of scale, any type of rebating flows right back to the owners. That's what we call…
Patrick: That's great.
Philip: …a Buddy Brown factor. Buddy Brown, being a franchisee of these, you need…
Patrick: And he's a franchisee, yeah.
Philip: Hear me, guys, I've heard the stories. He's been lied to, encroached on, not given rebates entitled to him, rebates hidden from him, all that. So he said, for the first time in his career, he's saying, "I'm the franchisor, I'm going to make the rules." And that's the transparency part. That is a huge advantage for owners because Buddy has lived these battles for 20 years and he knows. So part of the simplicity of this is seeing that, how it benefits, and that's the supply chain.
Rush Bowls and the competitors
Patrick: How do you position? Tell me a little bit, who are the competitors? Because there's nothing like a national healthy food chain? Who do you compete with? And how are you positioned in that space?
Philip: Well, looked at in a couple of ways. The Rush Bowls customers are not considering going to one a Buddy Brown's fast food, Carl's Jr. or Chick-fil-A, or anything like that. The Rush Bowls customer is thinking, "Where's Whole Foods? Where can I purchase a kale salad? Or if I am going to go ethnic, I've been, you know, trained to think of chipotle."
And neither those types of venues, you'll spend $10, $12 for the meal. And that's Rose Bowls' price point. That separates us from dessert, from yogurt. We're a meal. So those are your competitors.
Patrick: Do you see…your average ticket is like above $10?
Philip: Almost, depends upon the market. In Washington DC, it's 11, in, where we just set, in Salt Lake City, it's 9. So…
Patrick: Okay. That's solid. Compared to a coffee shop or a frozen yogurt franchise, it would be like half of that.
Philip: Right, but we do see these healthy food bowls on the menu like a Jamba Juice or Smoothie King, where it's just an add-on to the menu, all right.
Patrick: Okay. And not focus.
Philip: Correct and that helps us, all boats rise with the tide. But we believe we serve a better product. The one thing I can say is that, as a company, Rush Bowls, except for the protecting the brand name, what we, as a company, are most anal about, our third rail, is the actual texture of the product when it's served to the customer. That's a difference maker and that's why we come to the stores to train the staff.
We will not leave that store unless those bowls are perfect. And we secret shop as needed. We'll know if it's not being done right? Because it will…
The best opportunities to grow at this time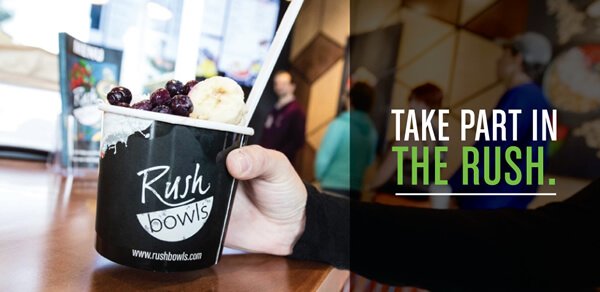 Patrick: And you mentioned DC, where else do you want to grow? Where do you see the biggest opportunities right now for Rush Bowls?
Philip: I don't mean to be a wise guy, everywhere. You know, healthy eating is a trend now. It's slower, and except in…
Patrick: So South Florida, all over Florida?
Philip: Right. But some cities, some geographic areas are more forward thinking than others. And otherwise…the Northeast, the Boston area, is a lot more progressive than Indianapolis. It doesn't mean that it can't be done because it's being done. We're opening in secondary cities. We're educating the public, there's a new way of eating.
But I can tell you, Patrick, and anyone listening out there, if you might be shy about selling and marketing, I can tell you the entire sales presentation for Rush Bowls. The sales pitch, if you want to use that term, has literally three words to it. Three.
Patrick: What is that?
Philip: Here, try this. That's all you need to do to sell the product. And basically, you will buy your customers. No different than Amazon or no different than any other company that hands out coupons and gives out free samples. Because, again…
Patrick: So you're all about the repeat customer having that…
Philip: We're all about it.
Patrick: …customer that comes at twice a week.
Philip: Think Starbucks, right. And not just seeing you, what do you do, what opportunities can I deliver? Can I cater? What can I do? And that's part of it.
Patrick: All right. We're wrapping up a bit with time. Do you have any closing thoughts? What maybe a take away for someone that might be interested in investing in the healthy food space?
Philip: Yes, in terms of, again, go back to the three legs: simplicity, flexibility, and transparency. Each of those is an exhaustive conversation. But I can tell you that the executive team of Rush Bowls – Andrew, the founder, myself, and Buddy Brown, and the support people, the marketing people – are all doers. These are people that have done things, have executed and are successful, and are just applying the skill sets we have to the healthy food space. So that's what…
Patrick: It's well said, I love the track record that you guys have. You know, there's a lot of…
Philip: And what makes us special.
Patrick: …franchises that they have one location and the next year, they start franchising. And the fact that Andrew and Buddy took, what? Ten years and then started franchising, it was really developed.
Philip: That's right. So I'll leave you with this. We can offer people really three and a half levels of investing – the baby, the mommy, the daddy, and then we have the packaging, the wholesale.
So a baby program is a one-store commitment, which we talked about. It starts with that $45,000 franchise fee, we build a store from there, 6 to 9 months, you're open. It's everyday business for us, but a huge deal for you. And we all know that. So that's the one-store commitment.
Then the other store commitment is multiple stores. People that really want to build an empire of three or five-store commitment to be opened in three or five years. And you'll protect territories ahead of time. And we have a real program for that.
Then there is the daddy program, area representative. This is one notch below creating your own concept and franchising it. Like I did, you'll take Andrew's concept and run with that. You'll open a store and use that to help develop your area, your county, your city, maybe even your state. We're gonna do this overseas, and then we'll share in the revenues and we'll share in the support. That's a whole nother story. So that is the daddy program otherwise known as area representative.
And then, next year, we will be reintroducing a wholesale product, Rush Bowls in a package…
Patrick: Okay. That is exciting.
Philip: Yes.
Patrick: So that should help build brand awareness, I imagine.
Philip: Correct, as a brand extension, we, Andrew, the founder, again, give him all the credit in the world, about seven years into his working with his brand, before he met Buddy, he did get a little bored. Instead of opening more stores, he created a packaged product that's frozen, pint sized, with the Rush Bowls label, looks like Haagen-Dazs, the way it's packaged, and it is commercially made with preservatives, with stabilizers.
So it's not as healthy as freshly made, but like Howard Schultz at Starbucks, did develop brand extensions, where you can buy Starbucks coffee on the shelves, and freshly brewed in front, same thing with Rush Bowls. So Andrew, for a short period of time, tested it and he was able to stock it in Whole Foods in Boulder only until it was sold out.
So check mark, supermarkets work. Then you put it up on Amazon. And I think it still might be up there, but it's sold out, so we know that online works. Then he started providing small standalone freezers, about the size of a baby carriage, and put it into some entrances of some hospitals as a point of purchase.
So that's a licensee. So then the cold packer, that's the manufacturer, that's a specialty type of manufacturing that's needed. They went BK, bankrupt. 
Patrick: Put it on hold for now.
Philip: But it will come back next year as a licensing opportunity.
Patrick: Okay, that's exciting.
Philip: That's out there for franchise owners to get involved in packaging. Some people want to ship it overseas, other people have, you know, already contacts in to bodegas or whatever it might be, that'll come down the road once the store is up and running.
So, again, we can offer some…we have express models, some people that might be able to co-brand. We have opportunities in casinos and hotels, with liquor might be a menu item, so lots of options for people.
So on my very point, you can see how excited I am, my very last point, I can tell you through experience, that serious people that have taken a serious look at Rush Bowls and have walked away, primarily because we're not institutionalized. I mean, if the spoons aren't six inches from the napkins, you're not in jeopardy of losing your license, like a Jamba Juice. But conversely, we don't have a lot of stores open for many years, in all different environments, in all different types of neighborhoods. That's the pioneering mentality.
If you tell me, "Philip, you know, pioneers, take all the arrows." You know, that's not what we're looking for. We need people to help us write the playbooks, we can support you. That's the beauty. We don't have to grow into this. Bring us the opportunities. Bring us your ingenuity and your entrepreneurial spirit. Okay? Thank you.
Patrick: Well, Philip, thank you so much for having me on. I just shared a link. If you're interested in scheduling a call with Philip to learn more about Rush Bowls, there's a link here, check it out on vettedbiz.com and take a look at their profile, and Philip is available for any consultations.
Philip: Excellent. I look forward to working with any of you and your individual situations to see if we can make it work.
Patrick: Perfect. Thanks so much.
Philip: Well, thank you.
Patrick: Happy weekend, everyone.
Philip: You too. Bye-bye.